You'll forgive Wilmer Valderrama for his newfound habit of name-checking Steven Spielberg and Robert Rodriguez. It's what happens when, nine years after moving on from playing an iconic, goofy alter ego (i.e. That '70s Show foreign-exchange student Fez), you suddenly find yourself starring on not one but two series produced by the acclaimed aforementioned directors. On FOX's ​Minority Report, a small-screen adaptation of Spielberg's 2002 Tom Cruise-starring sci-fi hit, Valderrama plays detective Will Blake alongside castmates Meagan Good and Stark Sands. Concurrently, he continues vamping it up as undead cartel leader Carlos Madrigal on El Rey's campy From Dusk Till Dawn: The Series. Prior to tonight's new episode of Minority Report, we talked to Valderrama about juggling hard-edged cops and sharp-toothed villains, as well as looking himself up on IMDb.
Being on two shows at once is becoming more commonplace since cranking out 25 episodes a season, like you did on That '70s Show, is becoming obsolete. Is that positive for you as an actor?
To me, that's exciting, to be able to jump in and do 10 or 12 episodes of something. If it comes back, great, you do another stab at it. The format has become so fun, especially because I'm not intimidated by my job. I go from zero to 100 in two seconds.
Your character on Minority Report is named Will Blake, which makes me wonder if he was originally envisioned as being white.
I've got two philosophies: one is that in the future, our names are going to evolve. We live in the most multicultural country on the planet, so what happens to our names in 2065? They evolve and they adapt. The second philosophy is that I'm pretty sure my character was meant for a Caucasian actor. 
Do shirt collars also evolve and adapt in the future? Because your character's always wearing a mock turtleneck or a T-shirt under a blazer. 
Ha! Yeah, so he's a former Marine and he always wants to be action-ready. He embraces the mock turtleneck. He wants to be quite comfortable in case he has to handle some sort of business. 
On Instagram recently, you posted a video doing a little "table dance" with your fingers while killing time on set. Is making TV mostly just about managing your own boredom?
That is probably the most exciting question. This is about to be very therapeutic, I want you to know. We're averaging 15 or 16 hours a day, because some of our setups are so elaborate, and it's such a futuristic world and it's a Steven Spielberg production. So you get bored and you end up posting pretty random stuff late at night. It becomes, like, a really cerebral dimension.
You're one of the good guys on Minority Report, but the villain on From Dusk Till Dawn. Does that induce some actor's schizophrenia?
To be the villain in a Quentin Tarantino/Robert Rodriguez world is so delicious and fun and explosive and unpredictable. And when it comes to being a good guy in a Steven Spielberg world, it's just as explosive. Robert Rodriguez and Steven Spielberg gave me the chance to play two characters that are so far, far, far, polar opposite from one another, it's a dream. Not many actors are given opportunities like that. Sometimes you're given an opportunity and they expect you to play that same opportunity multiple times for three or four years. You know, I refuse to do that. 
Rodriguez recently said that casting you as the villain was "a little out of the box." Were you surprised he was interested in you?
He was one of the first ones to say, "Hey, you can do this. I think you can be the main villain in this." He called me to offer me this part that wasn't even written and he said, "Let's just figure it out. Let's make it up as we shoot." Now, being 35 years old, knowing for a fact that I can do this and that I believe in myself on that level, I'm validated working with Robert Rodriguez.
Recommended Video
This Restaurant Offers 50+ Garlic-Infused Dishes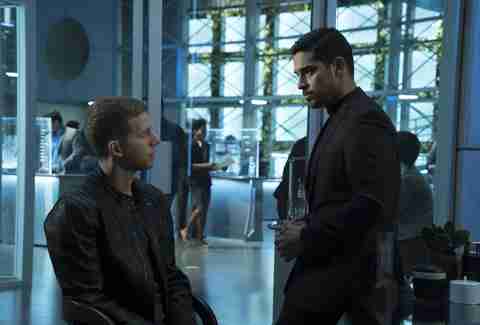 Was there a time in your career when you didn't believe in yourself? 
There was a time when I felt like, "Well, who am I?" You know, what's my lane? And it took me a while to understand that there was no lane. I could just keep walking straight and keep doing things that I love. I took a gamble on myself. But I gotta tell you, I was scared. You hope that people remember your work. You hope that people remember what you did. But then, you know, ready or not, you've got to jump. I was really blessed that when I jumped there were incredible people like [Fast Food Nation director] Richard Linklater and Robert Rodriguez and Steven Spielberg. People that just said, "Hey, I believe in this guy."
I'm glad you brought up working on Fast Food Nation. Have you touched fast food at all since making that movie? 
No, no, I don't eat fast food. I will say this: occasionally, I have cracked and had an In-N-Out Burger, but In-N-Out Burger has certain standards that allow me to sleep at night. 
Do you still have unfulfilled dream projects?
Desi Arnaz is someone I've always wanted to play. You know, he had a sitcom; I did, too. He had his own company; I founded my own production company.
Lastly, be honest: how often do you look at your resume on IMDb?
I don't look at it anymore. I used to look at it all the time. Back when I was like 26 or 27, it was about how much longer I can get it to be, and then once I started getting closer to 30, it didn't really matter.
Sign up here for our daily Thrillist email, and get your fix of the best in food/drink/fun.
Rose Maura Lorre is an American journalist living in Montreal who's entirely too literate in the career of Wilmer Valderrama. She  writes mostly about TV and food, which is sort of like saying your beat is "Netflix and chill." You can find her on Twitter at @rosemauralorre.