It's time to say goodbye to summer in the most glorious way imaginable: Hotel Thrillist – and you're invited. Yes, you can score yourself passes for three days of food, fun, and bacchanalia in San Diego, going down from September 19th–21st as we take over the swanky Hard Rock San Diego. And if the prospect of one last summer throwdown isn't enough, here are ten more epic reasons to go to Hotel Thrillist, complete with some real pics from past parties.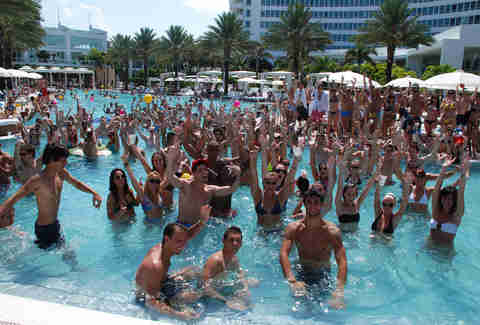 There Are Parties By Pools
Much like Kevin Costner's ghostly ballfield, if you throw a pool party, they will come. "They" as in "tons of fellow party animals ready to kick it by the cabanas". At Hotel Thrillist, the whole weekend will be packed with tons of poolside fun (namely, at the legendary Hard Rock pool), our sunniest refreshments, a freakin' pig roast, and more than a few opportunities to say "eff you" to that whole "don't swim for thirty minutes after you eat" rule.
There Are Some Seriously Hot Dance Moves
Remember all those times you shouted "the dance floor is on fire!"? Well at Hotel Thrillist dance parties, there could be actual fire -- under the astute guidance of nimble, grass-skirt-laden professionals, of course.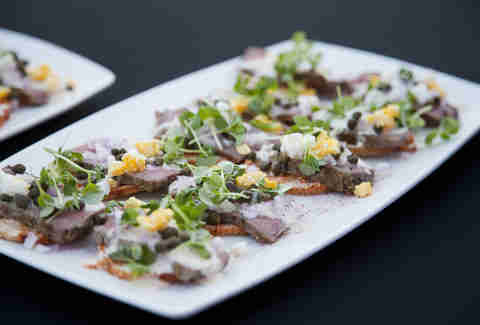 There is So. Much. Food.
If you score a pass to Hotel Thrillist San Diego, you can rest assured that you'll be fed. Ohhhhhh, you'll be fed. Alongside the usual spreads, this year there will be a Friday night feast that highlights San Diego's best chefs as they bring you a smorgasbord of their most inventive dishes, which will be perfect for you to practice your most inventive way of eating (coordinate those elbows!).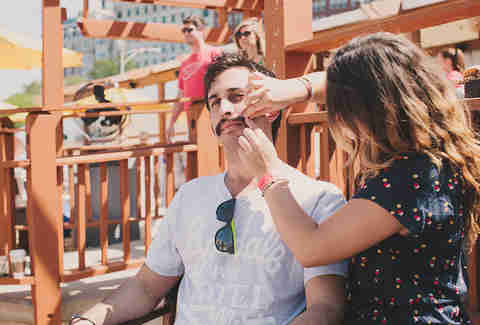 We'll Hook You Up
That's right -- in past years, we've included awesome stuff like indispensable grooming sessions. Will this year's bash feature waxed mustaches? Who knows. But you can bank on there being a whole bunch of free swag from our friends.
There's a Ton of Epic Live Music
Who's gonna show up this year in San Diego to fill your ear holes with sweet, sweet tunes? Well in past years, there have been appearance by folks like J Cole. So seriously, don't miss this year's guests -- unless you hate music, and fun. Then you're probably fine missing this year.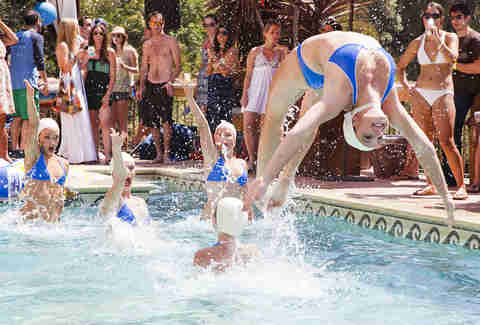 It's Pretty Much a Water Carnival
While there's really no telling what watery shenanigans will happen this year, if that picture up there is any indication, the sun-soaked fun will lie somewhere between synchronized pool acrobatics and you probably hurting yourself trying to mimic said pool acrobatics.
There'll Be Plenty of Expert Beverages
There can't rightfully be a party without a few libations, and Hotel Thrillist always calls on the city's best bartenders and mixologists to craft some of the craziest concoctions you can imagine. And with Malibu Rum as a sponsor, the drinks will most certainly be flowing all weekend long (special coconut drinks? yup.).
There'll Be Cannonball Contests
There's going to be a rooftop pool. There will also be plenty of Thrillist's best party animals in attendance. So do as that picture says and get your best pose ready (sideways, layback rodeo?) -- you'll most certainly be challenging one of us to a splash-off.
You Can Relax, Too
Some people go on vacation to relax (though we aren't sure why). But since this thing will go down in SoCal, you can bet your downward dog there'll be beachy relaxation sessions, tons of organized kick-back time, and maybe even a surf lesson or two.
There Might Be Jungle Birds (and Other Miscellany)
The best reason to grab tix to Hotel Thrillist is that there's no way of knowing what the hell is actually going to happen. Tropical animals? Maybs. Celeb hang sessions? Probably. Temporary, full-body tribal tats? You never know. Grab your spot now, because the only thing worse than missing out on this is missing out on this because you were too lazy to click that link up there.