Netflix's New Poker Movie Is Like 'Drinking Buddies' Meets 'Rounders'
There's a telling moment in Win It All, Netflix's new gambling comedy from director Joe Swanberg, where Jake Johnson's protagonist Eddie, fresh off a humiliating night of poker losses, sulks into an alley, removes his jacket, and throws it against a brick wall in a fit of rage. He's pissed. Unhinged. A wild man. But only for a second: the flustered New Girl star quickly picks up the coat and walks away. Even at rock bottom, he's not throwing away his shit.
That type of wry practicality, the performance of a grand gesture followed by a self-aware step-back, is part of what makes Swanberg's work so refreshing. In 2013's Drinking Buddies, a craft-beer workplace ensemble piece that also starred Johnson, the prolific writer-and-director toyed with the conventions of the rom-com while sprucing up his improvisational filmmaking style. Last year's Easy, a sex-and-star-filled Netflix show, chronicled the romantic fumblings of more than a dozen Chicagoans in a series of low-key, sitcom-ish vignettes. The stories don't always connect on an emotional level, but the observations linger.
In Johnson, an endearing wiseass, Swanberg has found his ideal muse. The director and star share a co-writing credit on Win it All, which tells the story of Eddie, a gambling addict struggling to get his life together. Eddie is a familiar Chicago type: big smile, messy beard, gold necklace, crew-neck sweatshirt. He parks cars during Cubs games and always keeps a few cans of Old Style in his fridge. He's a solid hang.
But, as his Gamblers Anonymous sponsor Gene (Keegan-Michael Key) often reminds him, he's also a loser. "You've never won," says Gene during one of their casual diner meetups. "You lose lose lose."
And the classically structured plot gives Eddie many chances to lose: When a goon-like friend (José Antonio García) asks our hero to watch a bag full of money while he's away in prison, you know it's only a matter of time before he throws the cash away in poker clubs, bars, and racetracks. If you've seen any movie about an addict trying to clean up his life, you know Eddie's going to end up working for the landscaping company owned by his brother (Joe Lo Truglio) and falling for the charming nurse he meets at a pub (Aislinn Derbez).
He'll manage to get his life together. For the second act.
Of course, if you know all that, it's not exactly a spoiler to reveal that the the goon-like friend is going to get out of prison early, meaning Eddie will have go "all in" on a big last chance poker game, a la Rounders, and attempt to win back the money he squandered by testing his bad luck again. There's no Russian-accented gangster played by John Malkovich -- instead the final showdown takes place in the back of a closed appliance store in the suburbs -- but the story beats will be familiar to any fan of gambling movies that attempt to show the seedier side of addiction while also portraying the rush of a hot streak.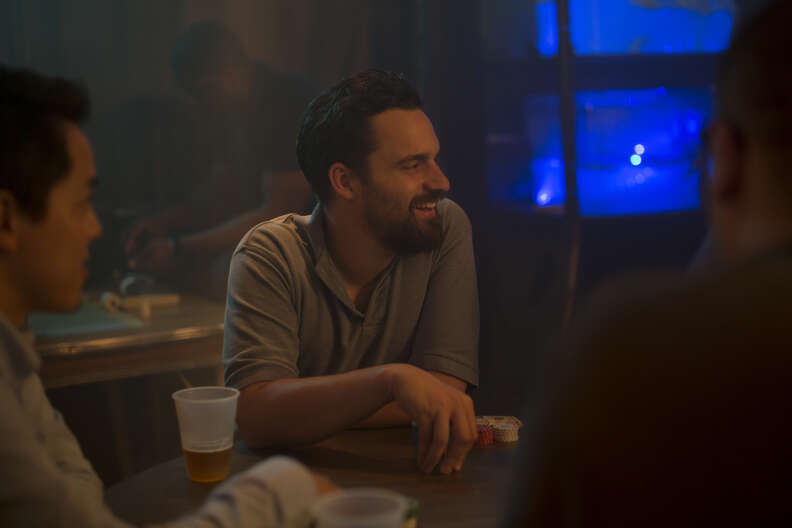 What sets this one apart? As is often the case with Swanberg's films, it's all about the details: the white suit Johnson wears to play the ponies, the way Lo Truglio mocks his brother's parking skills, and the dollar amount that pops up on screen occasionally, reminding us just how deep Eddie is in the hole.
With his grainy Super 16mm cinematography, Swanberg more than earns comparisons to the rough-hewed pleasures of Robert Altman's '70s character study California Split, which found Elliot Gould and George Segal playing lecherous gamblers, and he captures the ambiance of sweaty, dimly lit poker dens in all their dingy glory. But he also nails backyard BBQs, tedious yard work, and a night out dancing.
If he doesn't quite stick the ending, which leans on a few awkward plot twists, then so what? At less than 90 minutes, this is the type of lean, funny movie that works as lazy afternoon viewing or as a nightcap. (The stylish soundtrack featuring multiple songs plucked from Chicago's Numero Group label also helps.) You might not believe everything that happens to Johnson, but the hangdog actor makes you care about every hand he plays. Plus, as the Cubs proved last year, even lovable losers win big sometimes.
Sign up here for our daily Thrillist email, and get your fix of the best in food/drink/fun.