'Winning Time' Is a Show About the Idea of Los Angeles
It's as much about basketball as it is about the city the Lakers call their home.
In the pilot for HBO's new series Winning Time: The Rise of the Lakers Dynasty, Magic Johnson (Quincy Isaiah) comes to Los Angeles where Jerry Buss (John C. Reilly) tries to wine and dine him. But Buss isn't just pitching him on the idea of the Lakers. He's pitching him on the idea of Los Angeles. They eat burgers and fries under the neon lights of Jim's Burgers in Boyle Heights, a casual outing turning into something out of a movie because of the drama of the car culture and the signage. Jerry then lets Johnson drive his car to Santa Monica. There, they go to The Horn, a club on Wilshire that no longer exists but was once a thriving hotspot where Buss was a regular. Magic is starstruck. Diana Ross is there.
For as much as Winning Time—the series created by Max Borenstein and Jim Hecht, which boasts Adam McKay as an executive producer—is about basketball, it's also about the Lakers' version of Los Angeles, the dreamy glittering dream of the city that has lured so many people time and time again. In some ways, the show itself somehow feels like Los Angeles: It can be vast in scope and overwhelming. Sometimes watching it feels like listening to someone who just snorted a huge amount of cocaine. It's occasionally sleazy, and borders, in some moments, on exploitation. If you bail you can't really be faulted. You're just the ingenue who packed her bags and got on a bus back home.
If there's an underlying thesis to Winning Time, it's that Jerry Buss, embodied by Reilly as a jovial horndog with a combover, reimagined the Lakers in the image of Los Angeles—flashy and celebrity-obsessed. On screen, introduced walking out of the Playboy Mansion the morning after what was presumably an orgy, pitching his idea for the franchise. He wants basketball to feel like a night at the Mansion. There will be excitement and celebrities and boobs, the latter of which will come in the form of the halftime entertainment, the dancers that would eventually become known as the Laker Girls.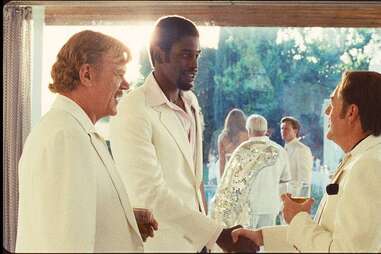 In real life, the aforementioned venue known as The Horn was probably even more inspiring to Buss than the Playboy Mansion. That's how Buss came up with the term that would come to define his team: Showtime. The Horn was a place that attracted, in the words of two Los Angeles Times writers, a "hip Westside set." It was a venue where musicians could be discovered in an intimate room occupied by bigwigs like Buss, whose business was then in real estate. According to Jim Pearlman, who wrote the book on which Winning Time is based, before the big act would take the stage at The Horn, one performer, seated at a table, would stand up and sing the word "showtime" before being joined by a chorus.
It's all a special sort of Los Angeles bullshit—the notion that everything should be flashy and that everyone should be a star. Except in this case: It actually worked, even though, as the show goes out of its way to emphasize, it was built on a house of cards. Buss talked a big game but didn't have the financial standing to back up his purchase.
Los Angeles is, of course, far more than the vast Bel Air mansion where the audience see Kareem Abdul-Jabbar (Solomon Hughes) meditating and contemplating his place in a white man's enterprise. It's also Inglewood, where the Lakers' home The Forum is located. Winning Time isn't all that interested in exploring the Black community just outside of the red doors of the venue that Buss wants to turn into a haven for famous people who can sit on the sidelines. Whenever Winning Time showcases these recognizable mugs it's a bit awkward, like they were puppeted in from a wax museum. There's Jack Nicholson (Max E. Williams) sending over a bottle of champagne to Buss as he tries to woo Great Western; a fresh-faced Paula Abdul (Carina Conti) is recruited to choreograph the Laker Girls' sexy dances.
People from Los Angeles know that it's image-centric reputation is often misleading, but that's also what puts butts in seats and sells plane tickets. Winning Time is perhaps not a great LA show because it doesn't capture the complicated corners of the city that don't look like the Hollywood ideal, but it's a great show about LA because it dials into the mindset that it takes to make it in that town.