10 Women Tell Us Why They Went All the Way on the First Date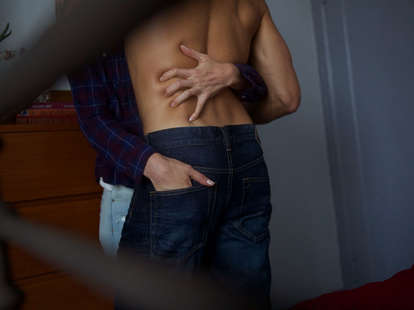 Even in this age of anything goes, there's no guarantee a first date will end up with pants on the ground. That's not a bad thing -- even though we're doing more stuff with more people, we don't need to do it right away. Still, there are times when everything goes just right, and on the ground is exactly where the pants end up. We got 10 women to tell us why they decided to accelerate the process, and while they didn't reveal a magic formula for men to follow (sorry, dudes vainly searching for the next The Game), their stories shed a lot of light on how "Well this was fun" can turn into "Your place or mine?".
The One With The Bullseye
I was set up with Dan by one of my good guy friends and quickly realized that my pal had filled him in on my favorite food (Thai) and my passion for bar games -- specifically beating unsuspecting patrons at Ping-Pong. So when he suggested getting a post-Pad Thai drink at a Brooklyn bar that had all the fixings (as opposed to, let's say, one of those fancy mixology places), my adrenaline was already pumping. We started with Ping-Pong (I won, obviously), then pool (he won, unfortunately), so when he insisted on a tiebreak, we chose darts. I had only played a handful of times before, and with minimal success, but the competition must've gotten to his head because I ended up winning that one, too. And nothing makes me hornier than winning. We promptly hailed a cab and went back to his place for some super-charged sex, and we've been together ever since. So in retrospect, I guess we both won that night.
Brooklyn, NY

The One With Tattoo Show-and-Tell
A friend of mine set me up on a date with a guy she thought I'd like just because he had tattoos. I was skeptical but when he showed up, I was impressed. I pretty much knew on the spot that I wanted to have sex with him; the only question was whether I'd have the opportunity to act on it. After getting lunch at a taco shop, he suggested watching the Kings game at his place. While chilling on his couch, he started asking me the stories behind my own tattoos, which turned into an intimate game of show-and-tell. I felt like he was being really open with me and, given the fact that we were already half-naked, I made it clear that I wanted all the looking to get to touching. Oh, and I have no idea how that Kings game ended.
Los Angeles, CA
The One That Proves It's The Thought That Counts
I decided to jump right into online dating, so I was meeting a lot of guys. After so many dinners and drinks, many of the dates started to feel the same and rather formulaic. You know, like these guys all had the same itinerary for every girl they took out. So when my now-boyfriend offered up the "after work drink" I didn't have particularly high hopes for the evening. But when he showed up with a little gift, he had my full attention. We met on OKCupid and two of my favorite things listed in the "7 things you couldn't live without" section of my profile were Art Deco and penguins. He actually went out and found me a vintage Art Deco penguin broach. It was nothing expensive but it was incredibly thoughtful, and definitely made him stand out from other dates. So much so, that those after-work drinks turned into a nightcap at my place where I gave him a little present of my own.
London, UK

The One With The Suit And Tie
I once dated this banker, which was so against my typical type. For our first date, he took me to a romantic dinner at a tiny Italian place on the West Side. Unfortunately, halfway through the meal, which already had to be scheduled late in the evening due to my work schedule, my boss called and said I had to go to a midnight performance of one of the rock groups we represented. I had to cut our date short, and explained how unhappy I was to be leaving. The banker guy was dressed in a suit and had just pulled an all-nighter, but he offered to accompany me so I wouldn't have to be alone. Clearly this wasn't his scene, but he was patient and pretended to enjoy the night. He even did his best to schmooze with the band after the show while I did the necessary rounds. He just seemed to know how to handle everything so perfectly and even though he was totally out of place, the effort he made to win me over turned me on. We left together, and let's just say the guy pulled another all-nighter.
New York, NY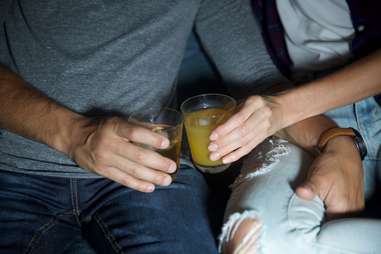 The One That Proves Romance Isn't Dead
Talking via the internet freaks me out because guys typically come on very strong and direct, especially on Tinder. After exchanging numbers to text properly, one guy I had been chatting with started texting really sweet, casual messages to ask how my day was and such. The word "sex" never even came up, nor did any requests for topless photos or late night booty calls. A week later we met in person and I was actually really impressed by the fact that he went the classic route instead of trying to think of something quirky or ironic. He brought me flowers, we ate at one of the nicest sushi spots in LA (Sugarfish), ordered expensive sake, and then topped the evening off with a romantic night stroll through downtown. Even the good night kiss was so perfect that I couldn't resist inviting him in for something that was even better.
Los Angeles, CA

The One That Got A Little Messy
I have a group of graffiti artist friends. They own their own studio so sometimes other artists come and collaborate. While browsing through photos of one of their past events I spotted this this gorgeous, grungy, paint-stained man and was totally captivated. One day I randomly got a friend request from that guy on Facebook. Of course I accepted because he's super hot and talented. A few weeks later I got an invite to one of his live painting events, and I ended up going by myself. Just seeing him killing it in his element was incredibly sexy. He came over to me and said, "Hey! I'm so glad you came! I didn't think you would and I've been dying to meet you." On the inside, I was completely freaking out. I mingled for the next hour or so and then he came up to me, put his hand around my waist, and asked if I wanted go to a club. We danced all night and then he offered to drive me home… but before we even got to the car, he literally swept me off my feet and kissed me for the first time. We rushed back to my dorm room, which was immaculate because I'm really OCD about keeping things clean, and went for it. I didn't even mind that the place got completely covered in paint.
Torina, Italy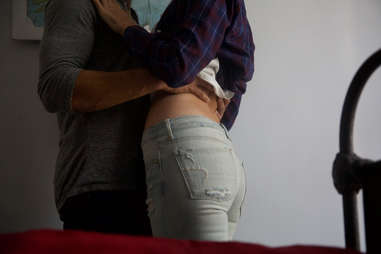 The One Straight Out Of A Romantic Comedy
I had been crushing on the friend of a friend for a while and could tell whenever we hung out in a group that the chemistry was there, though it took him a solid year to ask if me if I wanted to do something as "just the two of us." Because it wasn't, like, an official declaration of 12 months of pining for me, I was expecting something pretty simple like getting a cocktail, tickets to a Mets game, something like that. When I found out we were going out to dinner I realized it was truly a "date date". I'm Czech, and he ended up taking me to a small local restaurant in Queens -- one that takes some actual research to find. He won even more points by ordering for us in Czech, even though he totally butchered the pronunciation. It was obvious that he had put a lot of thought into the evening, more than just the 24 hours since asking me out. Needless to say that since I had been thinking about hooking up with him for much longer than 24 hours as well, I didn't think twice about suggesting skipping any post-dinner drinks and going straight back to my place for the good stuff.
Brooklyn, NY

The One With The Perfect Playlist
After a few weeks of casual flirting, a regular at my coffee shop finally asked me out. Since we were both going to Coachella the upcoming weekend, we made plans to go out the following week. Even though I was secretly hoping to bump into him at the festival, I didn't want to suggest meeting up out of fear that I'd come off as kind of pushy or desperate. Plus I kind of assumed that he'd want to be there with no strings attached. So when he texted me on day one and asked if we should just do our date "right now", I was thrilled. Listening to him talk passionately about DJs and music in general was exactly what I wanted to hear. He also wasn't insecure about dancing and getting touchy-feely in front of all of his friends, so it really felt like foreplay. Chalk it up to the music, the heat, and, well, everything else, but I couldn't think of anything hotter than getting it on in my tent and listening to some great music… surrounded by tons of other people doing the exact same thing.
San Diego, CA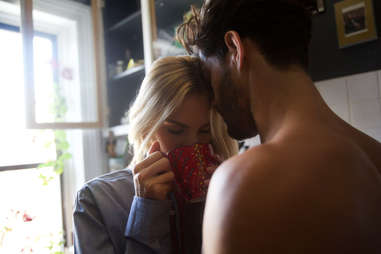 The One With Good Lighting
I met a blind date in the middle of a dark, red bar (which was weird to begin with... who lights a bar with only red lights?), but he assured me that he looked exactly like Orlando Bloom. Considering I was already a few tequila shots in, I believed him. He asked me to walk to Washington Square Park, where we sat in the freezing cold and I listened to him drone on about his ski trips to Switzerland, and his family's private jet. Hey, sounded good to me! When I finally saw his Union Square apartment, which not only had three floors but also a washer and dryer, I was pretty much set. But it was when he insisted on lighting candles instead of turning on the lights, that I really started feeling the vibes. Could this be because he didn't really look like Orlando Bloom? Possibly, but the drunk writer in me only saw true romance in his gesture.
New York, NY

The One Where Everyone Knows Your Name
I was instantly drawn to this hot guy at my local bar, but since I was in a relationship it was only after a year of subtle flirting and glances back and forth that we really got to talk once I was finally single. We stayed until last call and as I was leaving he grabbed me and kissed me, telling me he had wanted to do that since the first time he saw me. The way that he took control was really hot and the kiss was so passionate, my head was totally spinning (okay, maybe it was a combination of the kiss and all the bourbon). The following week he took me on our first date to a fancy French restaurant. I was so nervous I barely put a dent in my food. We loosened up over cocktails at the next place, but we had the best time at our last stop, which was the local bar where we had met. We were both in our element, which helped us open up and reminded me of all the times I saw him there and wanted to jump his bones, which I did shortly after. And we didn't make it far from there either: never has a bar bathroom felt more romantic! Two years later and we are still together -- and that's still our favorite bar.
New Orleans, LA
Sign up here for our daily NYC email and be the first to get all the food/drink/fun New York has to offer.