Yesterday, Oxford Dictionaries announced that its "Word of the Year" would go to the "Face with Tears of Joy" emoji. If you follow dictionary news at all, this choice shouldn't come as a surprise; previous recipients of this prestigious honor include "vape" and "selfie." Like a cool stepdad who lets you take a sip of Keystone Light to show you he's way more chill than your real father, Oxford is obviously attempting to generate publicity by appealing to "the youth." So, in the spirit of "Face with Tears of Joy," here are five pop-cultural touchstones from 2015 that had all of us laugh-crying.
Recommended Video
Big Boi From OutKast Introduces Cliff to Atlanta's Food Scene
Inside Out
Is it a coincidence that one of the most well-reviewed and financially successful movies of 2015 was about how our emotions are often contradictory and complex? The movie's two main characters were named Joy and Sadness. Combine those together and it all but epitomizes "Face with Tears of Joy."
The "Hotline Bling" Video
Is there an entertainer who embodies the full range of emojis quite like Drake? Besides inspiring an app that lets you clean up his tears, the Toronto rapper has spent most of the year playing with the emotions of his fans, perhaps most egregiously with the meme-friendly video for his infectious hit "Hotline Bling." Decked out in a zipper-sweater, Drake upped and Elaine-danced his way across the Internet, inspiring laughter and joy in the process. 
Basketball Hall of Fame/YouTube
The "Crying Jordan" Meme
Technically, the "Crying Jordan" meme, which involves photoshopping a still from Michael Jordan's tear-filled 2009 induction speech at the Basketball Hall of Fame, is an old one. In fact, according to Know Your Meme, it first surfaced in 2012. But it didn't really peak until this year, inspiring Halloween costumes and countless bad Twitter jokes in homage to the NBA legend's happy-sadness. 
The Leftovers
OK, so, on the surface, this show might inspire more of the straight-up sobbing, struggling-to-breathe, hire-a-prostitute-to-shoot-me-in-the-chest emjoi. But there are moments of joy here, and when they happen, your tears are suddenly falling into your grin. You have become the emjoi. Just surrender to it -- it's better than being one of these poop emojis.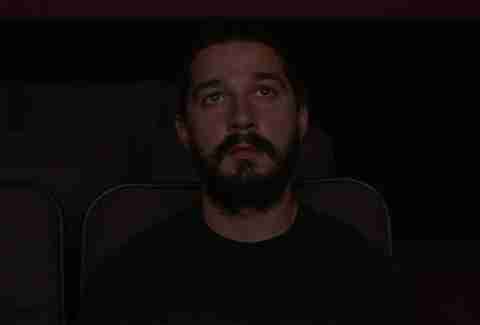 Shia Labeouf
Thank you, Shia. Keep up these art stunts, and maybe next year you'll be the Word of the Year. 
Sign up here for our daily Thrillist email, and get your fix of the best in food/drink/fun.
Dan Jackson is a Staff Writer at Thrillist Entertainment and his favorite emoji is the dolphin one. He's on Twitter @danielvjackson.