What It's Really Like to Work at Pixar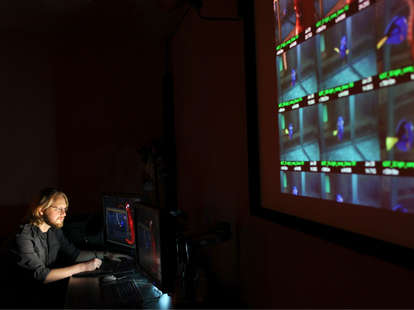 Pixar
Pixar
Working at Pixar isn't all beanbag chairs and snack-fueled brainstorming. It's work, and Andrew Stanton should know: As part of the original creative team that brought Toy Story to the screen in 1995 -- and, more recently, as co-writer and director of this summer's billion-dollar-grossing Finding Dory -- he has played an essential role in the nearly three-decade evolution of America's most consistently innovative animation studio. And it's always been tough.
"Everybody thinks it's fun," Stanton beams through laughs. My talk with the director is his break from what he calls the "intake mode" of reading new material and deciding what his next project will be post-Dory. Or as Stanton calls it, "a messed-up version of having fun."
The 50-year-old filmmaker has been having messed-up fun for a long time -- and won two Academy Awards, one for Finding Nemo and one for WALL-E, for himself along the way. To figure out what it's like to swim in the rarefied CGI waters of Pixar, we asked Stanton to dive into his past and guide us through a typical day at the company's beautiful Emeryville, California, campus.
Pixar is insanely pressurized -- but in a good way
Given how colorful, funny, and joyful most Pixar movies are, it might be easy to assume that working at the animation giant is like manning the sugar nozzle at a candy factory. But don't forget: This is also the company that sent Buzz and Woody into a furnace in Toy Story 3, killed off Bing Bong in Inside Out, and made the gut-wrenching 10-minute intro of Up. These people are monsters -- and not the fuzzy kind you find in Monsters, Inc. So, what's it like to work with them?
According to Stanton, having a job at the studio is like being on a team of incredible athletes -- or living in the Olympic Village. "Everybody is an overachiever," he says. "Everybody is trying to make something the best they can and beat their time. They're trying to break a record and make something better-looking, funnier, and more entertaining. It's invigorating and you get a lot out of it, but you work your ass off."
That hard work shows: Take a look at any random image in a movie like Finding Dory and you'll see countless subtle details that are labored over for hours by skilled animators. The film's jokes, character arcs, and story beats are treated with the same care. Stanton describes making a movie as a marathon. "You're not relaxed," he says. "You're not kicking back and laughing."
There are so many meetings
Stanton is quick to clarify that as a filmmaker at Pixar he doesn't direct computers; he directs people. However, there are some key differences between the production of an animated feature and a live-action movie like his 2012 blockbuster John Carter. For one thing, when he's making a movie like Finding Dory, Stanton isn't flying to a foreign country to spend time on set with actors or diving to the bottom of the ocean to get stunning underwater visuals. He's going to an office every day and working something similar to what he calls a "regular day job."
Also, unlike on a live-action film, where a script is shot with actors then assembled in an editing room, the production process on a Pixar movie works in reverse. The average Pixar film has a four-year production cycle: As the director, Stanton spends the first two years in story meetings and in an editorial room, where he's helping to rewrite the film's script and simultaneously edit what he calls a "rough draft of the movie." Pixar employees then provide the voices and use temp music to finish this rough cut. Once they've made a temp version of the movie they like, they start working with big-name Hollywood voice talent to record dialogue and gifted animators to make the CGI imagery pop.
How does a team of Olympic-ready animators complete such a complicated task? Tons of meetings that take place in screening rooms, where new footage is picked apart every day. It's not enough to simply be good at your job: Pixar employees also have to defend their ideas and talk through their processes to the other teams. As with most office jobs, communication is key.
"We'll have a lighting meeting, we'll have a sets meeting, an animation meeting, or a camera meeting, and everybody will meet that's on that crew," explains Stanton. "So, when I'm directing and talking to people, I'm actually talking to a crew of people and I'm repeating myself many times. And everybody gets to put in their two cents, so it is a bit like being on set, but it's in a screening room."
Yes, the Pixar offices are stunning
What helps alleviate the stress of all those meetings? A beautiful office space is a good start. Luckily, Pixar employees work out of a 22-acre office space with the Steve Jobs Building at its center, which (as its name would suggest) was designed by the Apple visionary himself. In addition to artwork lining the office walls, there's also a giant statue of Luxo Jr., the official Pixar mascot first encountered in Toy Story director John Lasseter's first short in 1986, hanging outside for visitors to take pictures with.
To an outsider, it can look a bit like an adult day camp. As this 2013 BuzzFeed article about the campus shows, Lasseter even has a toy room of his own, complete with a wall dedicated to Japanese animation maestro Hayao Miyazaki.
For a veteran like Stanton, going to work isn't always fun and games. "It can feel like I've been stuck in high school forever," he says. "I'm literally in the same building 27 years later, walking past the same people -- and we all look just a little bit older. It can kinda make you crazy sometimes."
They're always breaking their own rules
How do you keep from going crazy? By avoiding stagnation. One thing Stanton enjoys about working at the company now is that there's always new blood arriving at the office, including young employees who bring new ideas to the table. "That's what makes it fresh," he says. "The only downside is now we're getting people who, the first movie they ever saw was Toy Story -- and it makes me feel fucking old."
It creates a tricky dilemma: How does a studio that rebelled against the conventions of old-school Disney animation in the '90s make sure it doesn't become the "new" old guard? Though Stanton is quick to brush off criticism that the company has become too reliant on sequels -- "We've never made a sequel that we didn't like enough to consider it an original while we're working on it," he says -- he does wonder how the studio will continue to evolve and innovate as it becomes a revered, beloved, and traditional institution.
"I don't like the idea of calcifying," he says. "I think that's how Disney became corporate at some point. I would like for how Pixar figures out what it wants to make, how it makes things, and what kind of stories it wants to tell to always be up for grabs. And be tested. And that envelope is being pushed. Because that's what got us here."
Sign up here for our daily Thrillist email, and get your fix of the best in food/drink/fun.