The Most Disappointing Movies of 2017
We loved counting down the best movies of 2017. We loved naming the most underrated movies that deserve a closer look from busy audiences. We loved naming the screen performances that wowed us over the last 365 days. This is all to say... we love movies. But sometimes, the movies don't love us back.
For all the great films that come out each year, another batch lands with a thud, ready for discovery by masochistic viewers with access to the bottomless pit of streaming services and digital rentals. It's hard to call any product of hard, creative work "the worst," but there were certainly disappointments; whether "show business" interfered with the making great popcorn entertainment, the vision was off center, or the nugget of an idea never made sense in the first place, the swings-and-misses of 2017 demand to be considered. These are the movies that didn't live up to their potential.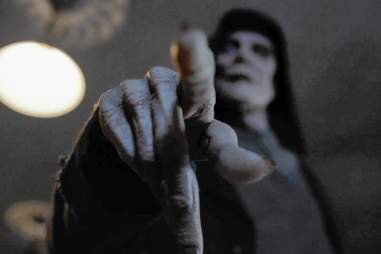 STX Films
The Bye Bye Man
A title as ridiculous as The Bye Bye Man deserves a movie that's totally unhinged. That's the biggest problem that faced this lackluster horror film: The villain can't compete with his hilarious name. Instead of spouting catchphrases, the bad guy spends most of the movie's mercifully short runtime lurking in the background, scratching things, and inspiring hallucinations about worms. Sorry, worms aren't that scary, dude. Even bizarre appearances from Carrie-Anne Moss(!) and Faye Dunaway(!!) fail to make this worthy of even a late night cable watch. If you see this movie on TV, say bye bye as soon as possible. -- Dan Jackson
Warner Bros. Pictures
CHiPs
The thought of a new CHiPs movie had us curious: Would Dax Shepard be able to rejuvenate a long-dead franchise? Was there a secretly great reason to make this movie? Sadly, no. CHiPs is a bait and switch not so much a cheeky remake as an excuse for Shepard to just do... whatever he wanted, taking a left turn on fans of the original series and ultimately doing the equivalent of Baywatch (we'll get there) on motorbikes. Shepard managed to deliver setpieces that were, at times, exciting to watch -- the chases are undeniably fun -- and Michael Peña and the writer-director-star, as Ponch and Jon, respectively, showed great chemistry; the pair just needed material that wasn't always punctuated by forced cuss words, hackneyed jokes, gay panic, and dated pop culture ephemera. -- Sean Fitz-Gerald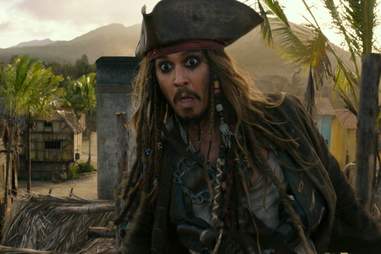 Walt Disney Pictures
Pirates of the Caribbean: Dead Men Tell No Tales
That the fifth installment basically wipes 2011's On Stranger Tides from the Pirates of the Caribbean canon should be telling enough as to how well the Pirates franchise is doing. While there was some hope that Dead Men Tell No Tales would restore the franchise to its Curse of the Black Pearl glory, no such luck. The movie's "ghost sharks" illustrates just how little steam the movie is running on: they looked great in the half-second they were in the trailers, but as it turns out, that half-second is their entire part in the film. If anything, the fifth Pirates proves that Geoffrey Rush, as pirate Hector Barbossa, has been carrying this franchise on his back for the past 14 years. -- Karen Han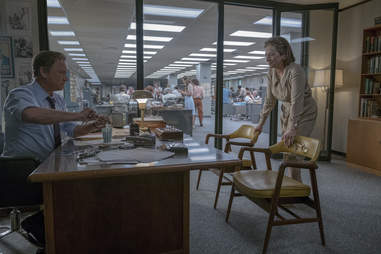 20th Century Fox
The Post
Reacting to the Trump administration's war on journalism, Steven Spielberg pumped out this reenactment about Washington Post executive editor Ben Bradlee's 1971 hunt for the Pentagon Papers, and publisher Kay Graham's unsung decision to take on President Nixon by approving the publication of the classified documents. On history-books paper, the act was an astounding achievement, one with clear relevance to today's media-vs-government tussles. In Spielberg's racing-to-the-finish-lines hands, it's a glossy, didactic, and dramatically mismanaged attempt to get the audience cheering for print journalism in 2017. Noble, but The Post rarely shows its work, scratching the surface of the Washington Post reporters' experiences and whirling the camera around like the newsroom is Barnum & Bailey's circus. While Meryl Streep as Graham can turn any will she/won't she phone call into a nailbiter, Hanks sketches Bradlee as a Bostonian version of Brad Pitt's Inglourious Basterds character, and the rest of the cast remains all but anonymous. The movie's message is loud and clear and comforting: fact-focused brains will always triumph over oppressive, political brawn. So determined to make 2017 connections, The Post is liberal catnip, catapulted into a ready audience at a time that demands nuance and calculus. Graham and Bradlee's decisions weren't superheroics, but the acts of strong-willed Americans. -- Matt Patches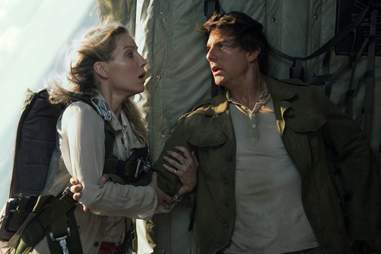 Universal Pictures
The Mummy
Shed a tear for the Dark Universe. When Universal announced plans to produce a number of interconnected films based on classic monsters like The Wolfman, Frankenstein, and the Creature from the Black Lagoon, it looked like a case of Avengers-like brand-building gone mad. We hadn't even seen Tom Cruise's The Mummy yet, but we were supposed to get excited about Johnny Depp playing the Invisible Man? With the right start… maybe it could work? Unsurprisingly, The Mummy was uninspired, an awkward meshing of tired adventure tropes and late-period Cruise meta-commentary. Given the sorry state of studio-funded blockbuster-dom, the Dark Universe might still rise from the dead. But, for now, let's hope it stays buried. -- DJ
Amazon Studios
Last Flag Flying
We need to talk about Bryan Cranston. Specifically: On what planet can he pull off the classic "grizzled old Vietnam vet who's now a fast-talking, hard-boozing, leather-wearing bar owner with a bit of casual racism and misogyny coursing through his veins" character? Not this one. The bizarre cast of this sequel to The Last Detail, which also includes Steve Carrell in his sad-stoic mode, and Laurence Fishburne as Laurence Fishburne with a limp, is only part of the problem. Director Richard Linklater typically plumbs more nuanced depths when he takes on stories of male bonding, ritual, duty, and familial love. Instead, Last Flag Flying tells the story of Steve Carrell's struggle to cope with the recent death of his Marine son as part pensive road trip, part commercial for the United States Marine Corps, rarely developing the conflict between patriotism and personal loss. The propagandist aspect of the movie is driven home by the wildly sentimental conclusion, which features a letter that sounds like it was written into the script by one of the Joint Chiefs of Staff. -- AS
Focus Features
The Book of Henry
Terrible movies can be joyous occasions, if they're batshit crazy enough, and the director has the go-ahead to make every incorrect decision imaginable. The critically maligned Book of Henry, from Jurassic World world director Colin Trevorrow, never passes the threshold, too polished, too stacked with quality actors, and too confident that its jaw-dropping strangeness is the foundation for serious drama that speaks to the human experience. It's a bad good movie. 11-year-old Henry is the Young Sheldon version of Rain Man, an introspective genius who runs his single mom's finances and exceeds her in moral understanding. When he dies of a brain tumor, his Da Vinci-esque notebook and a series of real-world Rube Goldbergs instruct his wayward mother on how to assassinate their abusive neighbor with a sniper rifle. See the potential? Instead of leaning into bizarre exploitation, The Book of Henry sinks deeper and deeper into an ooey, gooey inspirational tarpit. Between clue-filled ballet choreography and Sarah Silverman hitting on Henry, this is still a huge disappointment. -- MP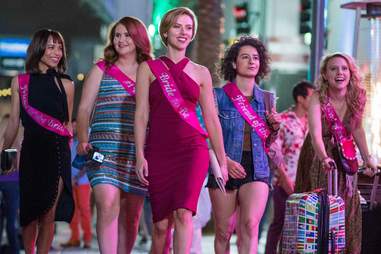 Columbia Pictures
Rough Night
As a movie about how friendships change over time, Rough Night isn't bad. As a movie about how girls can get just as rowdy as boys, as the marketing pushed, it doesn't measure up to this year's other female-led comedy, Girls Trip. After accidentally killing a stripper during a bachelorette party, a group of friends (led by Scarlett Johansson) scramble to cover it up. The premise alone sets the film up for the very tonal dissonances that end up hobbling it, as horror is played against slapstick humor in a genre mishmash that doesn't quite gel. When the most memorable part of a movie about a girls' weekend is the panic of the groom-to-be (Paul W. Downs), you know there's a problem. -- KH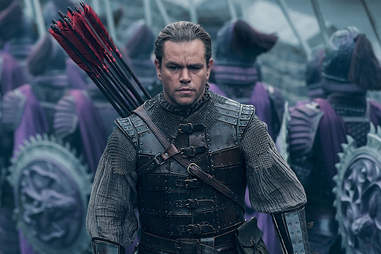 Universal Pictures
The Great Wall
If someone told you that Zhang Yimou -- the Chinese director of epics like Hero, The House of Flying Daggers, and Raise the Red Lantern -- had made a historical-fantasy adventure about armies fighting off enormous dragon-like monsters at the Great Wall of China, it'd be reasonable to get excited. Then you find out Matt Damon is the star and he's wearing a man-bun. You're right to be wary of the man-bun. There are flashes of Zhang's visual brilliance in the finished product, like an action scene where the heroes use whistling arrows to track their attackers, but this tedious co-production between Hollywood and China never truly takes flight. Like Damon's man-bun, it's mostly inexplicable. -- DJ
STX Films
The Circle
For a generation obsessed with social media and convenience, Dave Eggers' novel, The Circle, is required reading. Chronicling the rise of Mae Holland, a start-up cog who climbs the corporate ladder to icon status, the story's a fantastic mix of satire and warning. A movie version, adapted by The Spectacular Now director James Ponsoldt, felt like it could take Mae's tumble into techno-paranoia into even more relevant and urgent territory. Maybe it could even pick up a few awards with heavyweight talents like Tom Hanks and Emma Watson. Black Mirror: The Movie! Unfortunately, the book didn't translate well to the screen. Though it was an ambitious project with good intentions -- the strong performances and the solid messaging are there! -- the screen story stripped down the bite of the book, coming off like alarmist silliness. The Circle is a little more like Black Mirror: The Parody. -- SFG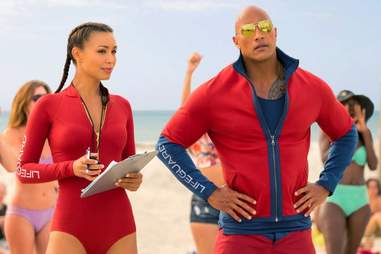 Paramount Pictures
Baywatch
No one expected Baywatch to be a critical juggernaut, but Paramount Pictures, in tapping Hollywood's highest paid actor (The Rock) and its most sculpted former Disney star (Zac Efron), certainly expected one thing: laughs. Lots and lots of them. And on that front, Baywatch, led by a genuinely repulsive and completely humorless dead-guy-dick scene, drowned. While the movie was profitable thanks to overseas box office earnings, it fell flat in America, coming up $11 million short of its $69 million production budget. The Rock wasn't the star we thought he was, nor was his choice of material impeccable. If you're going to make a cynical nostalgia play based on blatant objectification and lowbrow humor, you probably want your leading man to rise above it all. -- AS  
Universal Pictures
The Fate of the Furious
The Fast series hit a new high with James Wan's 2015 sequel, Furious 7 (literally, if you count airdropping cars out of a jumbo jet and jumping skyscrapers in Abu Dhabi), and like the swing of a sports-car-crushing wrecking ball, achieved its nadir with this year's follow-up, the first to deal with life after star Paul Walker. Turning Vin Diesel's Dom into the blockbuster's villain, on a leash tugged by actual-badass Charlize Theron's vanilla hacker villain, was a colossal miscalculation, neutering The Family dynamic and turning the elastic fantasy of automotive stunt work into a cartoonish farce. Reality is the franchise's worst enemy, and Dom's ex showing up with the kid he never knew he had outfits this action vehicle with four flat tires. When The Rock can't show up to hammer down a single, perfect one-liner, you know you're in trouble. -- MP
Sony Pictures
The Emoji Movie
Given the commercial and critical success of The LEGO Movie, it's not totally unreasonable to think that The Emoji Movie might take a set of vibrant mobile phone iconography and turn out halfway decent. Unfortunately, the story of Gene, a "meh" emoji voiced by comedian T.J. Miller, feels ripped from the Pixar playbook, with many scenes playing like a dumber, more cynical version of Inside Out. If you squint really hard, you can see remnants of clever ideas in the way the movie attempts to dramatize the various apps that exist in a phone. But why bother squinting hard at The Emoji Movie? Just don't even watch it. It's the rare film that's more brain-numbing than staring at your phone for two hours. -- DJ
Warner Bros. Pictures
Justice League
Fans of Batman, Wonder Woman, Superman, and the rest of the DC Comics universe needed this movie to be their Avengers. What they received was a corporate obligation. There is a wealth of reporting on how Justice League lost its spine, but you don't need to be an orthopedic surgeon to see why it's limp. Riding little momentum from 2016's Batman v Superman: Dawn of Justice (it's unclear just how long after Superman's death this movie takes place) Justice League executes the motions required to bring Bats, Diana, The Flash, Cyborg, and Aquaman together. After the dramatic equivalent of reading Marvel post-credit scene Wiki entries, the team comes together to battle a stiff, CG warrior named Steppenwolf, who screams "MOTHER BOX" enough times to erode our need for MacGuffin logic. There are spurts of energetic action beats in the movie (the first time the League fights together in a secret, underwater military base is Zack Snyder and/or reshoot commander Joss Whedon at his/their finest), but without stakes or heart or anything but a sequel agenda, serious fans could only root for Steppenwolf to slay the heroes and prompt an immediate reboot. -- MP
Sign up here for our daily Thrillist email and subscribe here for our YouTube channel to get your fix of the best in food/drink/fun.