Kate Berlant and John Early Are Inspired by Awkward Reunions and 'Architectural Digest'
The comedians talk about what's behind their new Peacock special 'Would it Kill You to Laugh?'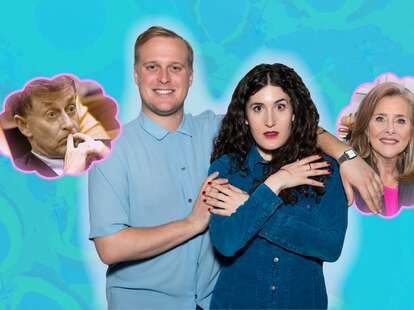 Design by Mallory Rosten for Thrillist
How to describe Kate Berlant and John Early's Peacock special Would it Kill You to Laugh? In it, longtime comedic duo Berlant and Early play Kate and John, the former stars of the invented sitcom He's Gay, She's Half Jewish—think Will & Grace but with more pooping—reuniting for the first time in years on a talk show hosted by Meredith Vieira. The fictional Kate and John are deeply bitter and constantly trying to one-up each other as they relive their supposed glory days. Would it Kill You to Laugh? occasionally breaks from this spin on nostalgia to feature Berlant and Early playing other characters—bro-y diners at a restaurant who pay via "hot caramel"; a family of beavers going on vacation. It's surreal and uncomfortable and very funny. To commemorate the special's release, Thrillist spoke with Early and Berlant about where their wonderfully bizarre ideas come from.
The opposite of TikTok
Early and Berlant relish in awkward silences and drawn-out tension, and they wanted the special to include sketches that took their time, an antidote to the the lightning-fast humor of TikTok.
John Early: When we got this opportunity, we just were like, "OK, let's make a big old batch of sketches that are just John and Kate essentials."
Kate Berlant: Essential energies and also something a little more ambitious, a little more long form. Even though we have that through line, that anchor of the reunion and everything in between is frenetic and we're just trying to do these characters. But I think trying to sustain people's attention and sustain laughter over the course of an hour is something that, you know...
Early: We're really interested in the context of TikTok and Instagram.
Berlant: I always feel elderly when I talk about this but, it's hard to make people laugh for an hour!
Early: It is!
Berlant: It is a weird moment right now. The predominant language is short-term videos.
Early: Yes, the special's an hour, technically 52 minutes, but the sketches themselves take their time. They're emotional, there's silence, they're conversational, there's something I think very soothing about a lot of the sketches. They can get very quiet and I would say some of them are very tender. I think there's an assumption on the part of these tech companies that when people are moving away from a video after three seconds, it's because they don't like the video. I don't know if that's the case. I think people might be just deeply bored and depressed by the state of culture. No one's taking care of anyone. I think it's really foolish to assume that human beings prefer their comedy and content in these tiny little bites.
Berlant: It's just like we all have brain poisoning.
Early: We're really trying to be a little more seductive and bring people in a more dreamy, slow, and patient way.
French and Saunders and the British version of The Office
When Early met Berlant, he found a comedic soulmate, the Dawn French to his Jennifer Saunders. The totemic British comedians, known for Absolutely Fabulous and their sketch show French and Saunders, are icons to them, along with the original BBC version of The Office.
Early: I've always loved Dawn French and Jennifer Saunders. They were always heroes of mine. And part of why meeting Kate was so shocking was, when we were put together, we had a kind of French and Saunders sensibility, which is extremely conversational. They would always have in their show one sketch where Jennifer's sitting in a chair and Dawn French would just walk in with something unusual, like a big hat, and then they would just discuss the hat. That always felt very us to me. They also would do these short films, these six-, seven-minute shorts that they would go out in the world and wouldn't be in front of a studio audience. And there's obviously a huge precedent for that in other places, but that's who I was particularly drawn to. It gave them this opportunity to do something a little more sensitive and you got to see them act.
Berlant: And the emotional density matched with this kind of absurdity. One of the things that is biblical for me, I know for John as well, is the British Office, for example, which has these hyper-absurd, ridiculous things that happen, but it's so emotional and you see it all playing on their faces. It's sad in moments and so raw in this way, but also so believable and so close to home, I think, for everyone.
The Staircase
Berlant and Early are early fans of the docuseries The Staircase, which tracks the case against Michael Peterson, accused of killing his wife. And, yes, they mean the original not the HBO series based on the documentary starring Colin Firth.
Berlant: The Staircase documentary can be seen as a comedy, obviously. We both feel ownership over it. Now everyone's like, "The Staircase!" but we are obsessed with the documentary and have been for years. It's an epic, really. You see these kinds of moments of someone eating takeout. And their life is on the line, but it's all so mundane.
Early: It's all so mundane and it's so quiet, and so you feel like a voyeur. The assumption today with true-crime content is like the first two minutes are a trailer for the whole movie. And then you go in, there's a drone shot of the town. The Staircase people are riveted by The Staircase because it's quiet and slow and we all would love to know what it's like behind closed doors. We'd all love to see when these people are on trial for murder. What it's like when they're eating. They go home, they're with their brother, and their brother's wondering if they did it.
Berlant: And they're making jokes about the case.
Three's Company stars Suzanne Somers and Joyce DeWitt reuniting
Last year's Friends reunion would be an obvious touchstone, but Berlant and Early were writing before that aired. The mutual obsession that birthed Would It Kill You to Laugh? is a video of Three's Company stars Joyce DeWittand Suzanne Somers talking on Somers' CafeMom Studios talk show.
Berlant: Very early in our friendship, John showed me a video of Suzanne Somers and Joyce DeWitt reuniting. I think they hadn't seen each other for like a million years. That's a real foundational text for us and it's one of the funniest, most bizarre things.
Early: They didn't see each other for 30 years because there was a public falling out.
Berlant: I'm very moved. Sorry. I'm just thinking about it. It's this competition over who's the most touched, who's the most OK now, who's the most gracious, the most empathetic.
Early: Its water under the bridge and with the clarity of hindsight, they can just see it now as foolish. But there's so much going on underneath.
Berlant: We wrote Would It Kill You to Laugh? before the Friends reunion.
Early: We were going to do a sketch comedy pilot. And then because of COVID, it fell apart and that was ready to go. And then we were watching the Friends reunion, we were like, "Everyone's going to think we're just parodying this."
Meredith Vieira
By a stroke of luck, they got former Today host Meredith Vieira to anchor their fake reunion, inviting a practiced veteran into their weirdo world inspired by the actual interviews that people like Vieira conduct.
Berlant: She elevates the whole thing. She was an absolute delight and also just so funny and really understood the joke and was so sincere in it. Obviously, that's a world that she's occupied for so long, and so she's perfected that language. To have that kind of perfection in this was a thrill.
Early: We were just truly expecting like, "OK, we're going to be able to have this person for 30 minutes. We're going to sit them down in a chair, shoot all of their lines, they'll leave, and then Kate and I just improvise." She was actually completely available. Did the full scene with us, like a million times. I mean, she had no choice in the matter, but she could have walked out. We just improvised and we were going to really crazy places, and she played along so gracefully. We didn't have to explain the vibe to her at all. We looked at Barbara Walters [talking to] Monica Lewinsky. That's just one I particularly love. We looked at it for a reference visually and structurally.
Berlant: We never talked about this, but I always think about Katie Couric interviewing Sarah Palin. It's the craziest shit you've ever heard in your life. Those kinds of interviews where it's all about getting to the truth, getting to the raw nerve, to the bone, and of course, hyper-choreographed. It's been discussed at length and they have talking points.
Early: But they never can fully control it, no one can. I think this is a balance that we both love striking or trying to strike, which is an incredibly premeditated artificial layer, and then all this other stuff popping up underneath. So even though we're talking about our husbands, we clearly sent in the pictures of our husbands to the producers. Even though that's part of the PR package, there's so much hostility.
Architectural Digest videos
One way Berlant and Early get inspired? Architectural Digest celebrity house tours.
Berlant: So much of what we end up watching is Architectural Digest videos.
Early: I would say most of them we watch like, "Oh God, this is hideous." But then we watched the one with Dominic West and his wife, or ex-wife now I think.
Berlant: Do you remember what I said? Completely genuine.
Early: You're like, "I'm going to write them a letter."
Berlant: I was like, "I'm writing a letter," and I became convinced that if I wrote a letter, they would invite us to go stay with them. Like, genuinely convinced. Because I was so moved by her, by the landscape architecture, by the wildness. John and I are always seduced by people who live in that rustic life effortlessly, like an un-manicured grace.