Hulu's 'Wu-Tang: An American Saga' Hits Its Stride in Season 2
Finally, we get to see the backstory of how some of the iconic rap group's most famous tracks got made.
Hulu's Wu-Tang: An American Saga has returned for its second season, and even with a significant recasting in the role of Inspectah Deck (originally played by rapper/actor Joey Bada$$ and now by Uyoata Udi), the RZA and Alex Tse-created series picks back up without missing a beat.
Rather than transporting viewers back to the streets of Staten Island, however, Wu-Tang: An American Saga begins with some fresh scenery in the small, troublesome town of Steubenville, Ohio. Viewers are reintroduced to Bobby (Ashton Sanders) and Dennis (Siddiq Saunderson) several months after they—along with Bobby's sister, Shurrie (Zolee Griggs)—ditched New York in the Season 1 finale. In the time since being dropped from Tommy Boy Records and shooting down a neighborhood menace who was attempting to extort him, Bobby is hardened and, unfortunately, back in the streets with Dennis.
They both end up paying the price for their dangerous lifestyle—Bobby with an attempted murder charge and Dennis with a life-threatening injury—but their downward spirals quickly level out as they head back to New York to finally put everything they've got into pursuing careers in music. Eventually, the once-scattered gang reunites, and along with the help of some unlikely allies, the Wu-Tang Clan is born at last. Characters like Dennis, Sha (Shameik Moore), and Shotgun (Dave East) who went by aliases unfamiliar to the average Wu-Tang fan are now going by their official stage names, and it's satisfying to finally see other Wu-Tang Clan members Inspectah Deck and U-God (Damani Sease) in action as well.
Season 2 of Wu-Tang: An American Saga is like watching The Avengers after bingeing Iron Man, The Incredible Hulk, Iron Man 2, Thor, and Captain America: The First Avenger. The first season of Wu-Tang: An American Saga was a fun, albeit mixed bag, but its thorough character development and expert world-building are what made Wu-Tang's enthralling origin story feel so rewarding in Season 2.
Viewers still have to wade through a handful of episodes before the legendary hip-hop crew becomes fully realized, but in contrast to its first season, Wu-Tang: An American Saga is far more focused on documenting the gang's collective musical journey than the trappings of poverty, drugs, and violence in Staten Island's warring neighborhoods. That grimy, street influence is still present in Season 2, but the Park Hill and Stapleton drama serves as a narrative backdrop instead of the focus of an entire story arc.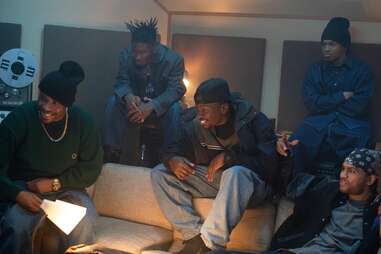 That balance is best exemplified in Episode 4, "Pioneer The Frontier," a highlight from the new season that doesn't even feature any rapping. The tense episode takes place entirely on a boat and leans heavily into the absurd, and several key characters are forced to find a way to move forward from the deadly beef that dominated the first season. The result is an artful and meaningful episode that proves that Wu-Tang: An American Saga doesn't have to depend on nostalgic performances of classic Wu-Tang songs to be entertaining.
Yet, there is no denying how awe-inspiring it is to see the backstory of Wu-Tang Clan's most iconic tracks, and for that reason, "Protect Ya Neck" is another standout entry into Season 2. The creative approach to the sixth episode completely reinvents the traditional music-making montages that riddle popular biopics. Every hit song isn't recorded in some fast-paced daze, and "Protect Ya Neck" slows down to show how tedious making music can be. Wu-Tang: An American Saga's decision to visually portray RZA's sampling process is both insightful and comical, and the studio session scene similarly explores new territory with its depictions of the artists laying down their verses.
Beyond the riskier stretches of storytelling and the clever visual effects, Wu-Tang: An American Saga most importantly presents a sound narrative. Even though the guys catch a lot of breaks throughout Season 2, none of their breakthroughs happen by chance. Each step forward is preceded by major obstacles or setbacks that inspired the Wu members to approach their dilemmas with more intentionality, from GZA's arduous attempt at setting up a landline phone connection to Power's heroics as Wu-Tang Clan's executive producer. That's why the highs of Season 2 feel so great. Narrative seeds planted in episodes advance the story's progression without coming off as rushed or forced, and they also allow the crew's smallest and biggest victories to hold real weight.
After an admirable, yet admittedly shaky first season that focused more on the future Wu-Tang members' backstories, the second season takes advantage of the labored character work from its past installment and offers a much more compelling, innovative, and evenly paced arc. It's finally safe to say that Wu-Tang: An American Saga ain't nothing ta fuck wit.
Joshua Robinson is an Atlanta-based contributor for Thrillist. Follow him on Instagram at @roshjobin.