Hulu's 'Wu-Tang: An American Saga' Tells the Gritty Backstory of the Hip-Hop Legends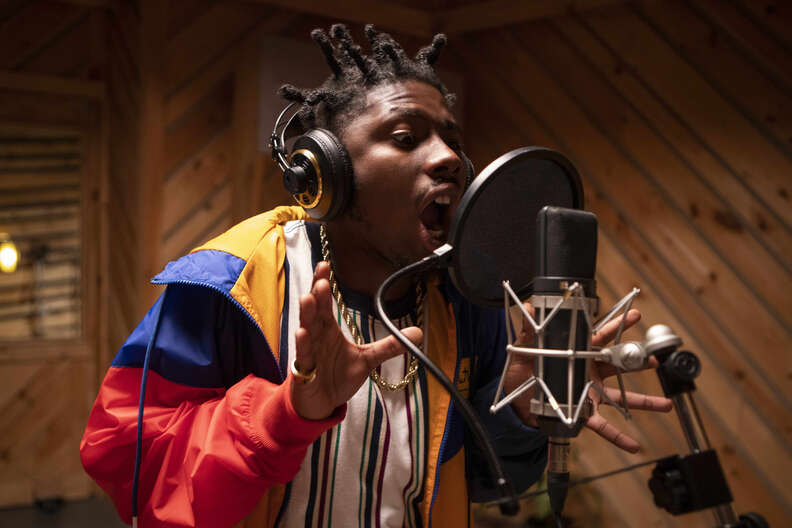 Hulu's Wu-Tang: An American Saga catapults viewers into a head-spinning world of drugs, neighborhood wars, and hip-hop without any explanations or introductions. This then gives way to a cinematic opening sequence that dramatically distinguishes it from its talking head documentary companion piece, Showtime's four-part series Of Mics and Men, that premiered in tandem with the 25th anniversary of Wu-Tang's seminal record 36 Chambers earlier this year. Set between Staten Island's warring neighborhoods Park Hill (aka Killer Hill) and Stapleton, the gritty new series, which recently debuted its first three episodes on the streaming service, follows a ragtag group of New York artists who eventually form one of the most influential music groups of all time: Wu-Tang Clan.
The group is often heralded as rap's superheroes and have even been compared to the Avengers, so An American Saga is a befitting high drama Wu-Tang origin story, written and executive produced by group figurehead RZA alongside Alex Tse (SuperFly, Watchmen). Viewers looking for readymade stars such as RZA or Ghostface Killah will be greeted by Bobby Diggs (Ashton Sanders) or Dennis Coles (Siddiq Saunderson) instead. Just how Marvel's Amazing Fantasy #15 introduces readers to Peter Parker before they ever see Spider-Man in action, An American Saga positions Wu-Tang members in their 20s, before they took the rap game by storm: as drug dealers, hopeless dreamers, and young men trying to protect and provide for their families.
For the majority of the characters, rap is an afterthought. The words "Wu-Tang Clan" aren't even muttered by anyone until the latter half of the 10-episode season, but there are breadcrumbs throughout. While significant, they're blink-and-you-miss-it moments, such as Ol' Dirty Bastard stumbling across his would-be stage name while thumbing through clearance films at a record store. The group's development is shown as an organic and drawn-out process. They didn't plan to come up with a funny name or have a common favorite color in yellow (though they did). They bonded over old kung-fu flicks in Bobby's basement and used the local record store's yellow blanks to differentiate their tapes just like drug dealers did with crack tops, and An American Saga uses these details as deeper characterization rather than plot points. Their struggle to find a way past the pitfalls of streetlife and become something more is the prominent story.
Even if you didn't grow up listening to 36 Chambers or Wu-Tang Forever, watching the series without extensive knowledge is still plenty of fun. Although the group doesn't come together fully realized for a majority of the season, there's a lot of rapping from the jump, and it can take an episode or two to get used to. Of course the main characters perform covers of trademark Wu-Tang cuts, but everyone from prison inmates to unnamed characters in street cyphers gets a chance to let a couple of bars loose. Rap's heavy presence in An American Saga is a warranted nuance that shows how intertwined freestyling was with street culture at the turn of the '90s and the height of the crack epidemic in New York City. This isn't a musical with breaks for dance numbers; these guys were really rapping, regardless if they were trying to get a record deal. A period piece to its core, the lingo and wardrobe is vibrant, and there are many motifs sprinkled throughout that are still relevant today, such as shady label deals and police brutality. Tommy Boy Entertainment's handling of RZA as a young Prince Rakeem is reminiscent of De La Soul's streaming dispute with the label earlier this year, and the chokehold a police officer uses to kill a character midway through the season is an unmistakable nod to Eric Garner's murder in 2014.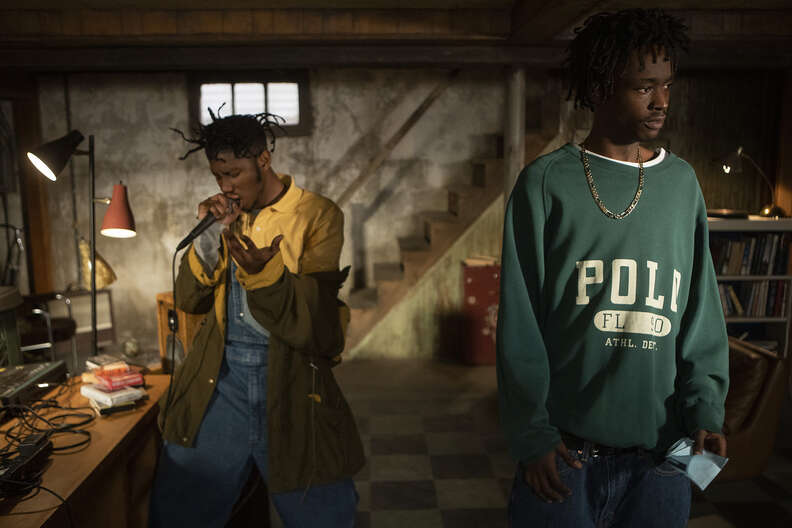 The line between true events and fictional embellishment is faint here, but it is clear that An American Saga is informed by the real lives of the Wu-Tang members. It has been documented that Raekwon and Ghostface Killah came from opposing factions on Staten Island, but this series situates them as two young men who are actively trying to kill each other. Knowing that they ultimately join forces for the classic Only Built 4 Cuban Linx… doesn't detract from their intense conflict, but the mutual bloodthirst the characters have for each other feels exaggerated. Murderous discord is a towering obstacle to overcome for two characters who go on to achieve an otherworldly synergy on wax. It's improbable in reality, but entertaining nevertheless.
The performances by TJ Atoms as an enthralling Ol' Dirty Bastard and Dave East as a cool but menacing Method Man are standouts for An American Saga, and Shameik Moore's work as Shallah Raewon the Chef is phenomenal. If he hasn't yet been knighted as Hollywood's Hip-Hop representative, someone needs to make that happen ASAP. His on-screen performance of "Wu-Tang: 7th Chamber" is an impressively close recreation of Raekwon's verse, and the fact that his namesake is mentioned on the song's original recording makes the scene even cooler.
Just as Beyonce was able to channel Etta James in Cadillac Records, the cast truly embodies their Wu-Tang counterparts. Joey Badass as Inspectah Deck and many other familiar faces, from Power's Marcus Callender to If Beale Street Could Talk's Ebony Obsidian, fill out the remainder of the ensemble. When any of them are on screen, the actors' own celebrity and personality never overshadow their characters, whether they are performing rap standards or delivering convincing back-and-forths with other characters. Atoms nails the signature spitty lisp from constantly rocking golds and hilariously roasts RZA after a particularly cringey a capella rendition of "See the Joy" (which, on its surface, is a song about sperm), making for a performance that feels so ODB. Each member of Wu-Tang was a distinct individual with their own goals, motives and style, and An American Saga successfully paints them as such, reinforcing how impressive of a feat it was for those nine young men to unify and make history.