'X' Is a Thrilling Horror Romp About a Deadly Porn Shoot
Ti West's new movie starring Mia Goth turns slasher tropes and '70s aesthetics into something fresh.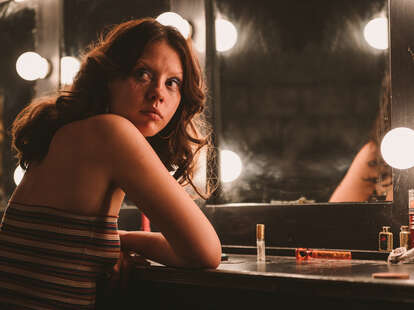 Mia Goth in 'X,' opening in theaters March 18

| A24
Mia Goth in 'X,' opening in theaters March 18

| A24
X begins with a gore-spattered yard and a twangy televangelist shouting about the sweet blood of Jesus. What happened in the 24 hours preceding this curious tableau is best described as Boogie Nights meets The Texas Chain Saw Massacre. If that isn't among the most thrilling movie descriptions you've heard, seek salvation.
The new film from indie horror maestro Ti West, who probed satanic panic in The House of the Devil and religious extremism in The Sacrament, sits at a precise moment in American culture. The year is 1979. Porn has gone mainstream thanks to Penthouse, Andy Warhol's Blue Movie, Deep Throat, and Debbie Does Dallas, which explains why a band of confident young upstarts rent a boardinghouse on a remote ranch outside Houston to shoot an adult film called The Farmer's Daughter. Some of them hope it will veer toward the avant-garde, and all of them hope it will make them wealthy. But looming on the periphery of their enterprise is a country anxious to rebuke the era's supposedly loose morals, a population on the cusp of electing Ronald Reagan and prioritizing Christian fundamentalism. The preacher we hear squawking on that TV in the first scene is more than mere background noise.
Unfortunately for these hopefuls, their temporary landlords are a pair of elderly, reclusive weirdos. That's where the Massacre of it all comes in. The group's bullish producer (Martin Henderson) wants to help make his stripper girlfriend Maxine (Mia Goth) famous with the help of an eager French New Wave-infatuated director (Owen Campbell), that director's sheepish sweetheart (Jenna Ortega), and two sexy porn veterans (Scott "Kid Cudi" Mescudi and an uproarious Brittany Snow) who are more than happy to invite a camera into the bedroom. When the property owners grow suspicious about what these freewheelers are up to, a grisly showdown begins. There's a lake nearby, and this wouldn't be the first time they've dumped bodies in it.
The resulting interplay—at once thrilling, bizarre, and gloriously silly—is a struggle between aging and youthfulness, constraint and liberation. One half of the old couple has grown impotent, and the other is what we might call violently horny. The woman, a former dancer named Pearl—try to figure out for yourself who's playing her; it's a wink best left unspoiled—sees her younger self in Maxine, who still has time to fulfill the dreams that she could not. But if Pearl and her husband can't have sex, why should anyone else get to? Failing to honor one's desires, X argues, can turn deadly. They've replaced intercourse with murder, and in a sense, it's not all that different: You get up close and personal with someone's insides, receiving fleeting satisfaction as a result of corporeal intensity.
West packs X with a mountain of ideas: Is porn exploitation or empowerment? Is a provincial existence doomed to end in disappointment? But despite being an A24 title, this is not the slow-burning art horror that The Witch, Hereditary, It Comes at Night, and Lamb were. The grainy '70s-style film stock recalls that decade's lo-fi crowd-pleasers, and the gory suspense aligns more with a classic studio release than something worthy of the now-parodied "elevated" label. West, who has yet to make a movie with an immediate commercial footprint, has not achieved such a fine balance of traditional titillation and indie idiosyncrasies in quite a while; his unsettling camera tilts and shifting aspect ratio heighten the movie's zigzagging aims. At times, X plays like a gonzo slasher flick, especially during a tense third-act sequence in which a character tries to escape a locked basement as the killers stalk the grounds hunting for prey.
At the risk of assigning the film too much importance, X reads as a last gasp of sexual emancipation before the '80s reverted America to its puritanical parentage. In the years that follow the film's events, everyone seemed to splinter into two camps: the old guard trying to button things up (especially sex) and the vocal minority fighting against such encroachments. West's film isn't overtly political, but that through line hits the sweet spot that all great horror does. X is scary, fun, bitter, and just as ridiculous as the real world.
X opens in theaters March 18.
Matthew Jacobs is an entertainment editor at Thrillist. Follow him on Twitter @tarantallegra.