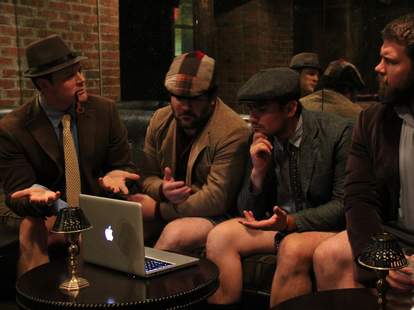 In this month's Mailsack, we answer your questions about the greatest products Thrillist has ever featured, horse-sized ducks, and the untold history of the Great Wall of China.
What is your favourite product you have featured on Thrillist? - JamieThe SenSlip, because it's "an artificial retractable foreskin", and a natural retractable foreskin would just be terrifying
Ask the guy in the Chicago office when am I going to get my maple bacon long johns he owes me. - SeanWell that's more like a question couched in a demand, but assuming you're talking about the donut at Glazed and Infused, our local ed will meet you at 7am on Thursday morning. If you're talking about warming Winter undergarments, then you're going to want a restraining order, because our local ed loves maple and bacon, and he owns a SenSlip
What would you rather fight; a horse-sized duck or 100 duck-sized horses? - RickBy "fight", do you mean shoot
Who was the night foreman during construction of the Great Wall of China? - ChuckProbably Chuck Foreman of the Minnesota Vikings, because a) his versatility both running the ball and catching it out of the backfield suggest he could also handle the job of saying "Hey, make that higher, there are Mongol hordes about", and b) Vikings were the first people to go everywhere, so he was probably just waiting at the job site when the Chinese showed up
Okay... please explain "Interception"... again... - SharonWhen did we explain it for you the first time
I'd like to know where I could get $1 oysters in SF and the peninsula - Bob Shucks Bob, we wish we could tell you, but we're incredibly shellfish! Also, Hog and Rocks has $1 oyster specials from 5-6p on weekdays
Hey @Thrillist is it true you found employee #1, @daveblend as he rooted through a sack of day-old croissants? - AdamThat allegation is degrading, ignorant, and altogether misinformed. They were raspberry financiers
Where did you guys take that awesome photo with no pants on? - The Vault at Pfaff'sStop self-promoting, The Vault at Pfaff's.