Fire Up These Yule Log Videos This Christmas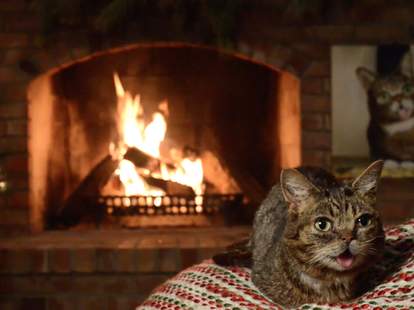 Fifty years ago, a weird tradition was born: Christmas revelers turned on their TVs to watch a heap of logs burn in someone else's home. The Yule Log, a three-hour WPIX original that featured Gracie Mansion's hearth, was meant to serve as a Christmas card for New Yorkers who didn't have fireplaces.
Fortunately, it's evolved over the years into an even weirder tradition, with brands and celebrities putting their own spins on the holiday folk custom-turned-viral marketing opportunity. See below for some of our favorites, which you can stream for your next get-together or just have nightmares about.
The classic log
"Please refrain from trying to insert a log into your computer screen." You've been warned.
Length: 59:55
Best part: Looks warm 
Worst part: Isn't warm
The Deadpool log
This superpoo should make at least one person laugh and say, "Oh, I get it!" at your next gathering. (If they don't, please put "new friends" on your Christmas wish list.)
Length: 1:09:04
Best part: The calming music
Worst part: The fact that nobody's home to discover the log
Lil Bub's log
Tough to tell if you're listening to crackling flames or purring Bub, but this is a mostly magical experience.
Length: 1:07:00
Best part: The Bub-sized couch
Worst part: The anxiety that comes every time Bub disappears
The cat-dog log
Unfortunately, not that CatDog.
Length: 3:00:00
Best part: How annoyed this cat is
Worst part: How annoyed this cat is
The Budweiser log
For if you like Clydesdales better than cats.
Length: 57:27
Best part: How confused these two animals must have been
Worst part: How confused these two animals must have been
The Vader log
Last year, Anakin Skywalker's funeral pyre from Return of the Jedi gave that super-niche market of Star Wars-yule log fans a new hope. (Sorry.)
Length: 5:00:27
Best part: The nostalgia
Worst part: The pops will scare the hell out of you if the volume's too high
The Murloc log
Blizzard Entertainment doesn't want you to forget about Hearthstone or Warcraft this holiday season.
Length: 53:05
Best part: All the details added over the course of the hour
Worst part: It doesn't come with closed captions for sing-alongs
The Dead Rising log
To warm the hearts and limbs of zombie lovers everywhere.
Length: 21:17
Best part: The Christmasy spin on Negan's baseball bat
Worst part: The creepy background noises
This Nick Offerman log
Jesus even said this one was classy.
Length: 10:00:36
Best part: The tender blinks
Worst part: The jarring transition at 44:19
This Property Brothers log
You might feel like you need an adult after you watch eight minutes of this, but it's still entertaining.
Length: 1:09:24
Best part: The thumb war
Worst part: Everything they do to that poor elf
The Hobbiton log
One fire to snooze them all.
Length: 4:00:00
Best part: Pickles the cat
Worst part: Your new narcolepsy problem
The Minecraft log
Simply beautiful.
Length: 2:00:00
Best part: The sunset and the snow outside
Worst part: The concerning thought that the fire looks like it's burning something that might not be wood
Marvel's many other superhero logs
Pretend you have a super-unrealistic Brooklyn pad with Captain America's hearth (above), or check out Ms. Marvel's, Iron Man's, Thor's, or the Guardians of the Galaxy's (Baby Groot included).
Lengths: 1:00:06
Best part: Baby Groot is in one
Worst part: Baby Groot isn't in all of them 
This wearable one from Burger King
Why watch a fire when you can be one, you know?
Length: Forever
Best part: Looks comfy
Worst part: Doesn't charge your phone
This dumpster fire
A fitting way to close 2016 and start the new year.
Length: 12:53
Best part: I mean...
Worst part:RIP, "dumpster fire"
Sign up here for our daily Thrillist email, and get your fix of the best in food/drink/fun.