Zawe Ashton Is Manifesting Her Future
Thrillist has coffee with the 'Mr. Malcolm's List' actress as she heads into Marvel stardom.
Photo by Cole Saladino for Thrillist
When Zawe Ashton walks into La Bergamote, a small French café in Chelsea with fruit pastries gleaming in a glass case, she's bubbly and enthusiastic. "I was here in 2019," she calls to the proprietor. The British actor and writer is feeling a bit overwhelmed by nostalgia. She lived up the street when she was starring in the acclaimed revival of Harold Pinter's Betrayal opposite her now-fiancé, Tom Hiddleston, and Charlie Cox which closed in December 2019, shortly before Broadway shut down due to COVID-19.
"I came here every single day, and this became part of my ritual of doing the show. The chocolate mice they do, I welled up just then when I saw them again because they felt like such an iconic part of my experience here," she says, referencing a truffle-and-cookie delicacy. "And of course, what makes it all the more emotional is the fact that this is also the Before Times for me."
Three years and a pandemic later, Ashton is back in New York, this time promoting Mr. Malcolm's List, a Regency romance where she plays the scheming Julia Thistlewaite, a daft but conniving woman who plots to take down the titular Mr. Malcolm (Ṣọpẹ́ Dìrísù), an eligible bachelor, with help from her goodhearted friend (Freida Pinto). She is delicious in the film, a delightful bit of Regency escapism directed by Emma Holly Jones. Ashton is open about the fact that she was third in line to play Julia: Gemma Chan starred in the short, a test run for the feature which got the go-ahead after the success of another diversely cast Austenian spin, Bridgerton. Constance Wu was initially slated for the role before Ashton was called to step in at the last minute on the suggestion of Pinto. "We'd worked together a couple of years ago, and so she was like, 'Can we finally just try Zawe?'" she says. "The script came across my desk and I had about 24 hours to say yes or no."
Ashton has been acting since she was a child and has fallen in and out of love with it, but she's on the precipice of even greater fame. Next year she'll appear in the Captain Marvel follow up The Marvel. She can't say who she's playing, but it's been reported she's a villain. For now, she's a different sort of baddie in the charming romantic comedy, out in theaters now. "What is right on brand for me, which I keep realizing, is she is very much the antihero of the piece," she says, digging into a shiny strawberry tart. "People are loving to hate Julia, which makes me feel really happy."
Ashton has thought critically about her work as an actor, even writing a semi-autobiographical novel called Character Breakdown, so she has been long conscious of the tradition of overbearing whiteness in British period adaptations. Even though she could read the novels and see herself as an Emma, for example—"Lizzy Bennet is not me," she says—she was never cast in the endless parade of BBC adaptations.
"There's been a lot of unpacking, having now sat down at the table," she says. I ask her to elaborate: "Well, my first costume fitting, for example. I put on a corset and a bonnet and these little silky slippers, and I felt so soft and tender and aspirational and was transported to this world that peers of mine had been transported to millions of times. And I found myself thinking, 'Why would anyone not think I was capable of this softness and sweetness?' Because this is an aspirational genre. We weren't there. We're making it up."
Coincidentally, Ashton had been seeking a break in reality. "Just before Malcolm's List came in, I'd said to my manager, 'Get me in a corset,' after seeing Bridgerton," she says. "It was a throwaway comment. And just before that, I'd had a frustrated rant about the industry and its expectations, and I was like, 'I just feel like I should only play characters that are seriously fictional. I shouldn't play real people, I think I should find a niche where I play people not from this realm.'" Then The Marvels came along.
After Betrayal, Ashton had her agent set up meetings with underrepresented directors. She was more interested in finding people to work with than projects to work on. One of those filmmakers was Nia DaCosta, whose indie Little Woods had yielded a gig directing the new Candyman. They bonded over their love of Austen's Persuasion. And then DaCosta was tapped to direct the Captain Marvel sequel and called up Ashton.
Ashton, of course, had been adjacent to the MCU in Betrayal, given that Hiddleston is best known as Loki and Cox was Netflix's Daredevil, but she wasn't really versed in the material. "It sounds so disrespectful because you should always watch your costars' work when you go to work with them," she says, but she was a fan of their theatrical performances and Hiddleston's work in The Souvenir auteur Joanna Hogg's early films. For Halloween, Cox and Hiddleston decided to swap roles and dress as their respective characters. Ashton donned a blonde wig and went as Captain Marvel, but she had never seen the movie—or any of the movies outside of Black Panther.
"We all just sat down as a cast and looked at the costumes that were going to be available in time for Halloween," she says. "I was like, 'This outfit is cool, I'm definitely going to wear this.' And obviously was a huge Brie Larson fan in her other work, but that was a random manifestation." When her part in The Marvels was announced, the Halloween photo spread across the internet. She's since gotten caught up with the MCU, but still wasn't fully aware of what she had gotten herself into. "I didn't think it through," she says. "I just knew that I wanted to serve Nia."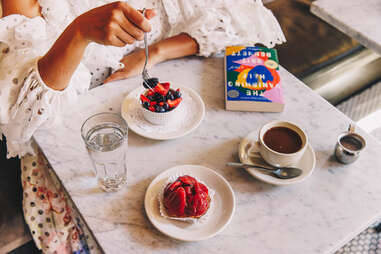 The clash of fantasy and reality is a theme in Ashton's life right now. The night before we speak, she attended a special screening of Malcolm's List wearing a stunning jeweled Sabina Bilenko Couture gown that gave her the aura of a goddess. Her getting ready process was featured in a Vogue story that doubled as a pregnancy announcement. Some time into our conversation, I ask her about feeling as if she had to reveal her pregnancy with the media attention around her relationship.
"Maybe me a few years ago would have said something different, but I don't feel like I have to do anything," she tells me. "And we're having really important conversations that will help us out of very, very disturbing times about women and their own power and autonomy over their own bodies. That can also be a mindset. So I feel very autonomous in myself at this point in my life." If she can make some kind of statement by appearing pregnant on a red carpet, she will.
As we wrap up, she gets a container for her fresh berries to-go and sweeps out into the Chelsea streets in the billowing dress with flowers growing out of its seam. It's something out a fairytale, just like Mr. Malcolm's List.
"We've had such a difficult, bleak couple of years, and there is just something extremely pure about [the Regency] era and peoples' intentions, and also the tropes that run through these pieces," she says. "There will be enemies becoming lovers. There will be romance, there will be someone who's desperately trying to marry for love rather than position. It's a bit like going to your favorite café every day rather than switching it up." Perhaps even a place like La Bergamote.
Editorial
Editors: Kerensa Cadenas and Leanne Butkovic
Creative
Photography Director: Drew Swantak
Photographer: Cole Saladino
Stylist: Holly White
Hair and Makeup: Soo Park
Fashion Credits: Dress by Zimmermann