People Are Losing It Over This Nonsensical, Catchy Song About Zendaya's New Yeti Movie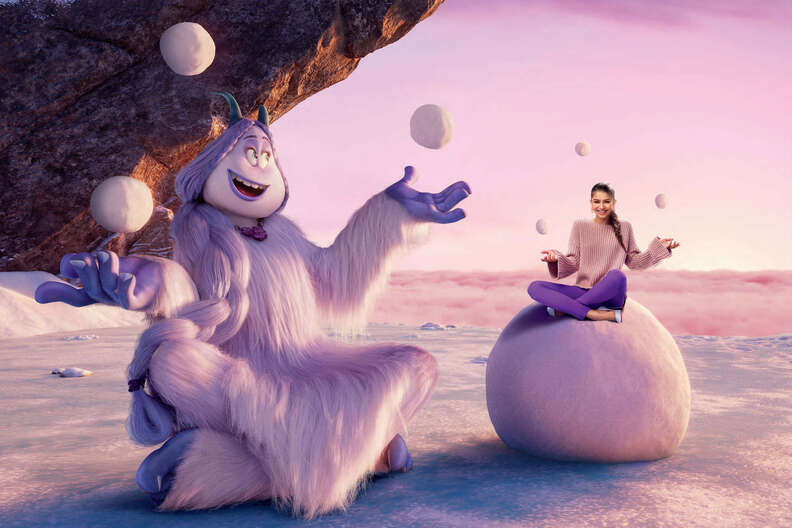 Once in a while, a power ballad comes along that captures the soul of the nation. In 1997, it was Celine Dion's "My Heart Will Go On." In 2011, it was Adele's "Someone Like You." In 2018, it's "Zendaya Is Meechee." The beautiful and incredibly catchy tune comes from the mind of comedian Gabriel Gundacker, who saw the poetry in a series of posters for the upcoming animated film Smallfoot, in which, yes, The Greatest Showman star Zendaya plays a character named Meechee. (We have confirmed, via a Thrillist Entertainment staffer who saw the film over the weekend, that this is not a mistake: Zendaya is in fact Meechee.) The brilliance of Gundacker's short song is how he finds the melody in not just "Zendaya is Mechee" but also "LeBron James is Gwangi" and "Danny DeVito is Dorgle." That last one has an especially lovely cadence to it. There's only so much we can explain here, so just watch the video:
So now you've seen the inspiring video for "Zendaya is Meechee." Wow. I'm sure your life has been changed forever. But wait! Gundacker also posted an extended version on Soundcloud, with a life-affirming pre-chorus verse.
Gundacker has a deep appreciation for sonic sensations from his days on the dearly departed platform looping video platform Vine. There, beyond his main account, he was known as the "Guy who loves music" -- a man with an advanced ear, who really hears songs in a way most of us do not. Gundacker is also apparently roommates with comedian Demi Adejuyigbe, creator of the best Star Wars rap parody and countless other internet treasures, including a yearly ode to September 21 courtesy of Earth, Wind & Fire's "September."
Since Gundacker posted the video to Twitter on Sunday, "Zendaya Is Meechee" is well on its way to becoming a hit. It has earned the approval of celebrities like Seth Rogen and even Zendaya herself, who noted that Gundacker pronounced her name correctly.
Now, you may be asking: But what is the significance of "Zendaya is Meechee?" Well, if we're being technical, Meechee is a Yeti, and in the film, a group of Yetis encounter a human who they call "Smallfoot" because, you see, that's the opposite of "Bigfoot." So in a way, "Zendaya is Meechee" is a song about connection. If the overwhelming online reaction is any indication (the original tweet is fast approaching 100K favorites, and has more than 4 million video views), it may be the only thing that can keep us going in troubled times.
Sign up here for our daily Thrillist email and subscribe here for our YouTube channel to get your fix of the best in food/drink/fun.