'Zola' Is the Best Movie Ever Based on a Crazy Twitter Thread About Strippers
You might remember the viral 100+ tweet thread from 2015, and now you can watch it play out on the big screen.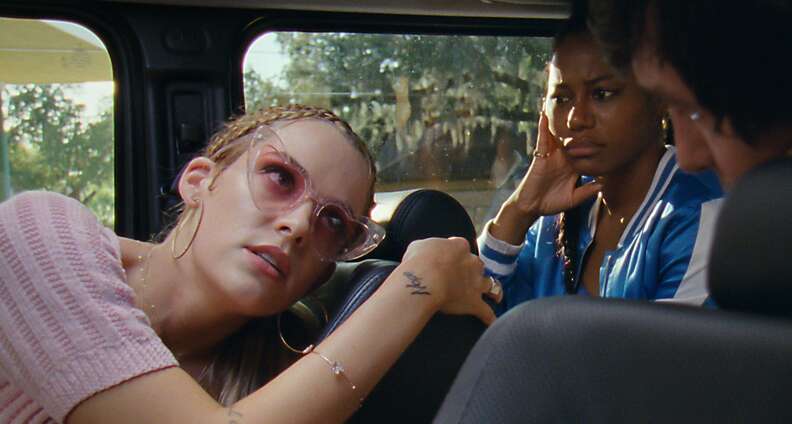 How to depict the look and feel of the internet on movie screens has become an increasingly interesting challenge for modern filmmakers. Recent thrillers Unfriended and Searching largely told their twisted stories as if they were playing out in real time on a computer screen. But Zola, A24's newly released movie based on a 2015 Twitter thread that won over audiences at the 2020 Sundance Film Festival, succeeds in doing something more impressive: translating the feeling of reading something exhilarating online without the visual elements associated with the internet.
Chalk that feat up to director Janicza Bravo, who co-wrote the movie with acclaimed playwright Jeremy O. Harris, although, in fairness, the source material is wild. A'Ziah King, using the handle @_zolarmoon, lured many into a Twitter thread k-hole with the opening words "Y'all wanna hear a story about why me and this bitch here fell out" and then laid out, over more than 100 tweets, an epic, largely true tale about two women who bond at a Detroit Hooters over stripping and set off on a road trip to Florida that quickly turns into a nightmare.
Bravo and Harris follow the original story pretty faithfully, even having Taylour Paige, playing Zola, deliver that indelible opening line directly to camera, but not until Bravo establishes a motif of a hallucinatory hall of mirrors, where Zola and "this bitch here," now named Stefani and portrayed by Riley Keough, primp and do their makeup as Mica Levi's eerie orchestral score plays in the background.
It took me a second to get on Zola's wavelength. The initial scenes, where Zola and Stefani meet at Hooters, play out almost hyper-actively, their friendship and the action moving as fast as a scrolling feed. When Stefani invites Zola to go dance in Florida, Bravo shoots them as if from the perspective of their cell phones where they're acting out the texts they're sending. Every so often, a little Twitter chirp punctuates the action. At first this style is unnerving, but eventually it becomes a part of the sonic palette that Bravo and Levi have created.
Paige is the grounding force in the movie. Zola's direct address never veers into full narration, but every so often she breaks the fourth wall to tell the audience to look out for Stefani's deception or offer some commentary. Paige wears all of her character's skepticism on her face, her initial captivation with Stefani growing quickly into disgust and exhaustion. Zola is often reactive, but Bravo and Paige never sideline her. She is the movie's core.
But, of course, she's surrounded by all sorts of insane characters. Stefani is close to a perfect role for Keough, an actress who is often underserved, but has cornered the market on entrancing lowlifes with a hint of sociopath to them. As Stefani, Keough manages to walk the tricky line of playing someone whose entire existence is appropriation without veering into caricature. Colman Domingo turns terrifying at the drop of a hat as the pimp who comes along for the ride. His ability to swing in and out of accents destabilizes the viewer as much as it does the protagonist. Meanwhile, it's Nicholas Braun, our beloved Cousin Greg from Succession, who wins the most laughs as Stefani's clueless boyfriend Derek. It's a variation on the sweet bumbling fool mode we've seen from Braun before, but it's nonetheless great.
It's so easy to imagine a version of Zola that isn't as sympathetic or creatively ambitious as the one we got. (For a time, James Franco was set to direct the project.) The film is undeniably fun to watch, but by the time you've reached the meditative final shot, you realize that your body had been clenched and your brain had been reeling for the entire runtime. It's a movie birthed by the internet that feels like the internet in all its voyeurism and distressing intimacy.