37 Things That New Orleanians Love
New Orleans has a lot of love to give, and not just in the form of Voodoo massages. Sure, there are many things about the Big Easy that can frustrate and enrage both natives and transplants, but overall, the city tends to be something of a happiness parade. And what's that love all about? We're glad you asked...
Cooking
In some cities, thousands of people use their ovens as a convenient place to store old magazines and newspapers. Not in NOLA -- that oven (and stove, and grill, and smoker...) is going to be used, and it's going to be used well. Usually with recipes and techniques passed down for generations.
 
Talking about food
It's not enough that we love to eat (both in and out), you'll typically find New Orleanians talking about their next meal while their still eating the one previous. It is a constant and beloved topic of conversation.
 
Playing dress up
Oh my, do New Orleanians like to costume. There are probably more costume shops in the 504 per capita than anywhere else in the nation. Sequins, hats, dresses for both men and women, wigs (so many wigs)... all of these things are precious to a NOLA local.
MARDI GRAS!
This should go without saying, but Carnival season is a time for the whole family to experience the very best free party in the world, not to mention collect some cool throws, see some iconic and impressive float artwork and architecture, and just have a blast.
 
Live, local music
The local music listings here are scoured over like the Rosetta Stone each week, mostly for which homegrown acts are ripping it up on which nights. Sure we like national artists rolling through, too, but we truly adore the talent we grew and continue to grow here.
 
Getting elbow deep in crawfish
And this is meant literally. One does not eat mudbugs daintily, or with any hesitation. They are to be consumed fast and dirty. If you don't have spicy craw-juice up your arms, on your face, and splattered on your clothing at a backyard boil, you're doing it wrong.
 
Putting seafood on top of other seafood
There's a silent dictate in New Orleans that, in a restaurant, you can't just order a simple plate of fish. Nope, that fish has to be drowning in butter and topped with crawfish etouffee, jumbo lump crabmeat, or similar fare.
The Saints
WHO DAT!!! It doesn't matter how they're looking, how they're playing, or whether or not the commissioner has suspended our coach for a year (dick). Whatever happens, this city bleeds black and gold through thick and thin. Speaking of which...
 
Drew Brees
Despite his sub-par choices in fast-food franchises (Jimmy John's and Walk-On's, Drew? Really?), "Breesus" is worshipped in New Orleans in a way that should make your clergy member uncomfortable.
 
A proper cocktail
Any bartender worth his jigger in NOLA will know how to make you a proper Old Fashioned, Sazerac, Ramos Fizz, Bloody Mary, Corpse Reviver, or any other traditional tipple. There's no place in the Big Easy for crappy cocktails.
 
Mispronouncing things
Yeah, pretty much nothing in this town has anything to do with phonetics. If you're confused on how to pronounce a foodstuff or street name, ask a native. Because it's "KAL-ee-ope," not "Caliope," and "Bur-GUN-dy," not "Burgundy." As for Tchoupitoulas, well... that might take you a little practice.
Sno-Balls and frozen daiquiris
The best way to cool down in NOLA is from the inside out, and these do precisely that.
 
Having visitors
New Orleanians are insanely proud of our city, and we adore showing it off to our out-of-town friends in a way that is basically evangelical.
 
Tourists
They are the lifeblood of the New Orleans economy, so locals will literally go out of their way to accommodate them and assure they have a great time.
Deep fat-fried everything
The "fry-o-lated arts," as Tony Bourdain calls it, are a specialty in the Big Easy. The test of any local cook is to see how perfectly he can fry an oyster. If it's under or overcooked, or too greasy or salty, that cook won't be long for this town professionally. New Orleanians know excellent fried food from its flaccid, soggy counterparts.
 
When the weather is just perfect
There are about two weeks a year, one in spring and another in late fall, when the temperature is perfect, there's zero precipitation, and the humidity is below 10%. Those weeks are absolutely delicious, and devoured by locals like an exotic animal bordering on extinction.
 
Local produce!
I mean, come on... have you tried the Silver Queen corn here? Or the mirlitons? The giant purple or orange cauliflowers? Creole tomatoes? Both home cooks and restaurant chefs couldn't be more over the moon when it comes to ingredients from our local farms.
 
Butter and "mynez"
That's "mayonnaise" to you. If a cut of steak or fish isn't covered in creamy butter, or if a po-boy is skimping on the mayo, that's the kind of thing that will get even a mild-mannered New Orleanian into a serious twist.
Festing
There is a festival in and around New Orleans just about every weekend (and some multiples in there, too), and we wouldn't have it any other way. Whether it's jazz or gumbo or oysters or Creole tomatoes or burlesque, we'll be there.
 
Second Lines
They are the very finest roving parties/parades in the world, because anyone can just join in and roll with the fun. Plus, there's always great music, not to mention plentiful enterprising locals selling water, beer, booze, Jell-O shots, and other fine things.
 
The NOFD
Oh yeah, do we love our firemen in this town! Maybe they do everywhere, but we especially appreciate our brave firefighters in NOLA.
 
The city is wonderful, but every now and again it's great to get away for a couple of days to go fish, hunt, enjoy a festival out in Cajun country, or relax at the beach.
Hot sauce
Whether you prefer Crystal, Tabasco, or Louisiana Hot Sauce, one or all of them is going to be on the table at pretty much every restaurant in town, and a staple of every New Orleans kitchen. Not having hot sauce is like not having salt -- it's a basic necessity of life.
 
Fine dining
The country may have taken fancy restaurant food and placed it in more proletarian surroundings (no reservations or white tablecloths, no servers in tuxes), but in NOLA we still love our old-fashioned fine dining, for the most part. And sometimes that means -- oh horror of horrors -- wearing a jacket to dinner.
 
Ripping on the crumbling infrastructure, corrupt politicians, and other city woes
Yes, we know that our beloved city is far from perfect, but we're not taking the bad without having something very loud to say about it. Maybe, one day, our collective voices will do something about the potholes, or the schools, or our governor being a giant douche.
 
Saying hello
"How you dern!" "Sup, podnah!" "Aw'right, cap'n!" Whether or not we know you, you're gonna get some eye contact and a friendly greeting in this city. It's just the way we do.
The arts
From fancy galleries on Royal St to the Louisiana Philharmonic Orchestra, museums like NOMA, the Ogden, and the Historic New Orleans Collection, to local opera companies and locally fashioned furniture and jewelry, there is a collective appreciation for all things artistic that pervades the Crescent City.
 
Dancing
Everyone dances here, from the young to the old, rich or poor, and every race, color, and creed. All of them. Even the local police dance, and that's saying something!
 
Day drinking
Beers or cocktails with lunch? Why not? And why not just keep that rolling right into happy hour, and after that...
 
Night drinking!
Late nights are the best nights in New Orleans, and boy, do we know it.
Charging $3 or $4 per bivalve might be common practice in other towns, but it is absolutely unacceptable here. We love our oysters local, fresh, cold, huge, and -- most importantly -- wallet-friendly.
 
Birthdays
When it's your b-day in NOLA, you pin a dollar to your shirt. Anyone who wants to wish you well will add their own dollar, until, at the end of the night, you have enough to buy yourself a present. Not kidding, that's an actual New Orleans tradition. And we love it.
 
Wearing T-shirts that are about how awesome New Orleans is
Sure, there's a stigma about wearing the band's T-shirt to their own show, but that doesn't apply when it comes to local pride. Companies like Dirty Coast and Fleurty Girl make sure that locals are fully stocked when it comes to tees celebrating everything from crawfish to Drew Brees (see above) and everything in between.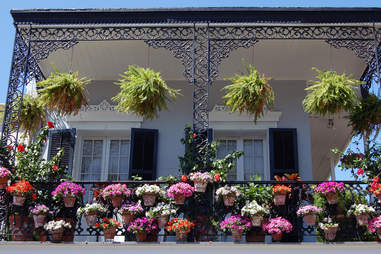 Horticulture
You don't have to be an actual gardener, professional, or otherwise, to appreciate the abundant beauty of the local flora, from our magnificent live oaks and palm trees all the way down to the monkey grass. It's a verdant city, and we love it that way.
 
Iced coffee
New Orleans has 300 years of coffee history attached to it (eat it, Seattle), so of course it's an important part of life down here. But since it's so damned hot down in this town most of the year, iced coffee is often the preferred way to get your fix while simultaneously keeping you away from spontaneous human combustion.
 
Go-cups
Taking your drink with you to go from one bar or restaurant to the next, or just to enjoy outside as you stroll through the streets or laze on a picnic blanket, is simply one of the best things about this city. Well, after the music, the food, and the architecture, and the friendly locals. In fact, do you know what people in this town truly love more than anything?
 
New Orleans
Yeah, it's a tautology, but one we're sticking by: New Orleanians love New Orleans. QED and yeah, you rite!
Sign up here for our daily New Orleans email and be the first to get all the food/drink/fun in the Big Easy.