The definitive guide to the krewes of Mardi Gras
Everyone who knows even a shred of anything about Carnival in New Orleans will be familiar with the idea of the elaborate parades that take place in the weeks leading up to Mardi Gras day. But who, you may wonder, is literally behind the mask? Who are the folks responsible for the elaborate costumes, floats, and throws? These groups are known as Mardi Gras "krewes", and becoming one of them is a long-hallowed process that ranges from either plunking down a few dollars to enter your costumed pet, to a full-on initiation review by a bunch of intimidating elders. There are literally dozens of parades, but here's a quick and dirty guide to some of the more notable krewes, be they dogs, sci-fi fanatics, or the King of Mardi Gras himself.
Krewe de Vieux
The most irreverent of all Mardi Gras parades, Krewe de Vieux's "adults only" night of debauchery kicks off parade season, and features all manner of thoroughly inappropriate floats and costumes, often with irreverent political and sexual themes (often both together, just like the '90s). If you're not easily offended, it's a riotous good time.
Krewe of Bacchus
Many of the more famous and historical krewes, as you'll see, are named after Greek or Roman mythological figures. It stands to reason that you kind of HAVE to name one after the Roman god of drunkenness, right? Be on the lookout for their signature floats, the Bacchagator, the Bacchasaurus, and the Bacchawhoppa whale.
Krewe of Orpheus
This one's known as a "super-krewe", meaning that it has a whopping thirty-two floats, including the Trojan Horse, the Dolly Trolley, and the Leviathan. And guess who's leading this year's Orpheus parade? None other than Quentin "the bead-slinger" Tarantino.
Krewe of Endymion
One of the biggest and most anticipated parades, Endymion doesn't mess around -- they actually had the largest Mardi Gras float EVER last year (365ft long, 250 riders, and 190-ton capacity).
Also? Kevin freaking Costner was on a float handing out beads a couple of years ago. In the past, they've had Dan Aykroyd, Chuck Norris, John Goodman, and The Beach Boys as their Grand Marshals.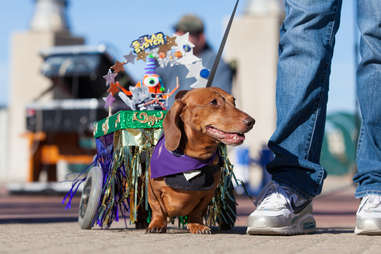 The Mystic Krewe of Barkus and Krewe de Paws
Yes, there are even Mardi Gras parades by and for your four-legged friends. If you've ever wanted to dress up ol' Snoopy as a burlesque dancer or Roy Rogers, but didn't want to get looked at like an insane person, both of these parades give you a chance to costume your pet with impunity. Make sure to bring bags to pick up things other than beads.
Krewe of 'tit Rex
This parade is likely the one time you'll see or hear the word "tit" during Mardi Gras when it has nothing to do with mammaries. Rather "tit'" is short for "petite", as this relatively new krewe focuses on painstakingly decorated miniature parade floats. It's pretty hilarious.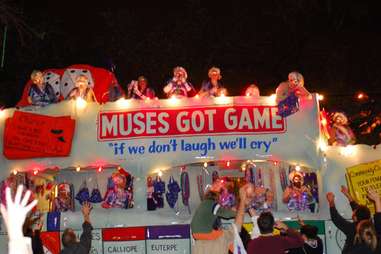 Krewe of Muses
This krewe is all about the ladies. Literally... Muses is made up exclusively of women. You'll know this immediately, since their parade is obsessed with shoes, with shoe-shaped floats, throws, and, if you're exceptionally lucky, hand-decorated commemorative shoes handed out by the lovely, masked riders. Getting ahold of an official Muses shoe is about as close to winning Mardi Gras as a parade-goer can get.
Krewe of Hermes
The cool thing about Hermes, other than the fact that this year marks its 75th anniversary, is that it's lit by "flambeaux". Forget safe, modern lighting: flambeaux are large, heavy poles that are literally on fire, carried by very brave, sweaty men to light the parade, as it was done in the old days. Very badass.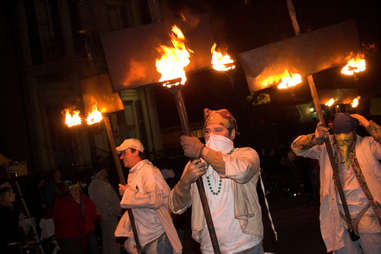 These are those flambeaux, wielded by reassuringly masked men.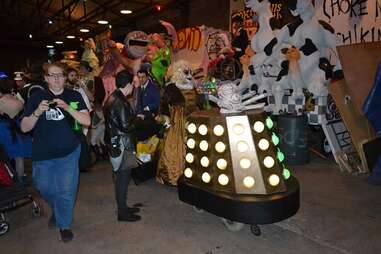 The Intergalactic Krewe of Chewbacchus
Wait, didn't you mean "Bacchus"? Nope. Chewbacchus, obviously, celebrates the sci-fi, fantasy, and horror lovers out there (self-described as "a mobile, drunken version of Comic Con"), with floats and walking krewes dedicated to representing every galactic geeky thing in the universe, from the obligatory Star Wars and Star Trek to Dr. Who, The Avengers, Lord of the Rings, Hellraiser, and so many more.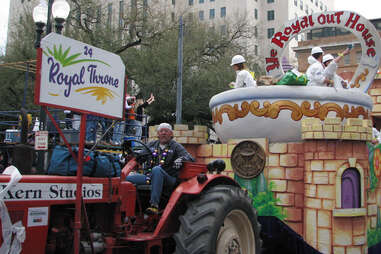 Krewe of Tucks
Tucks is just a regular kind of krewe... if by "regular", you mean that the head of the parade hosts from a toilet bowl, and the throws include toilet paper and decorated toilet brushes. Then yes, this is a "regular" krewe.
Zulu Social Aid and Pleasure Club
So, you're telling me there's a krewe that rides wearing grass skirts and blackface? In the 21st century? Well, yes, but it's all cool, seeing as Zulu is an African-American krewe that celebrates their culture and history (this year's theme is an ode to the late Nelson Mandela). Be on the lookout for their famous floats, the "Big Shot" and the "Witch Doctor".
Also, they hand out amazingly decorated coconuts, which, along with a Muses shoe, will make your Mardi Gras throw collection totally complete.
Rex
The granddaddy of all Mardi Gras krewes, Rex dates all the way back to 1872. Each float presents an individual medallion necklace (definitely a step above your standard beads), and the King of the parade reigns over Carnival itself. Rex even gave Mardi Gras its official colors -- purple, green, and gold -- which you will be seeing a LOT of during Carnival.