New Orleans' Voodoo Music + Arts Experience (Oct 28th-30th) has quickly become a veritable institution alongside such longstanding events as Jazz Fest and French Quarter Fest. Coming up on its 16th year, Voodoo consistently offers an incredibly diverse lineup of heavy-hitting musical acts from around the world. The big names can often outshine many up-and-comers, and international performers sometimes make it easy to forget that locals share the very same stage each October. These must-see acts from the Crescent City and its surrounding locales will remind you that New Orleans isn't just a place musicians visit -- it's a place many of them call home.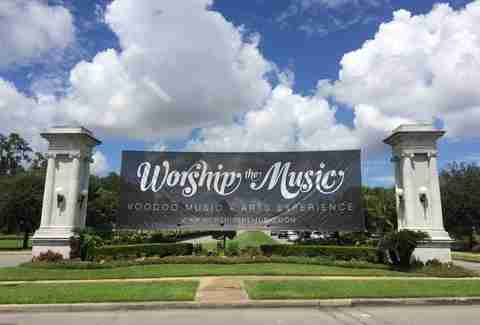 Saturday, 12pm
Originally hailing from Miami, Florida, Carmine P. Filthy now lives right here in New Orleans. When he isn't playing sets across the nation or creating tasty cocktails at a number of local watering holes, the accomplished DJ spins an eclectic mix of Italo disco, post-punk, and house music across the city at spots like The Howlin' Wolf, House of Blues, and Dragon's Den. Mr. Filthy will certainly get audiences in the mood for serious dancing in between some of the larger acts taking the stage at Voodoo.
Saturday, 12 pm
This New Orleans native started DJing back when he was just 12 years old, and has since gone on to become one of the most respected turntablists out there. Consistently placing in competitions like DMC and Red Bull Thre3style, Kidd Love also sports residencies at nightclubs throughout town. If you haven't already caught him spinning at places like Dragon's Den or Bourbon Heat, be sure to check him out during the Voodoo madness. It's not often that audiences can see old-school DJing these days, anyway.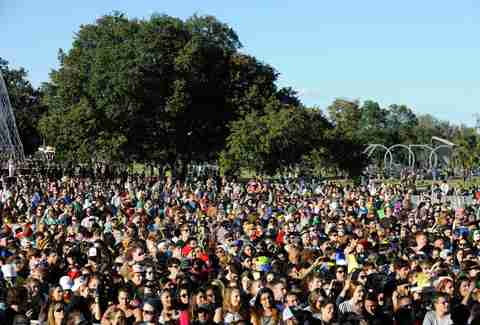 Friday, 8:45pm
Kevin Gates might be the biggest act from Louisiana on this year's festival roster, and by most accounts, he's certainly earned it over the past nine years. The Baton Rouge native is one of the best rappers out there right now with smart, funny, and unapologetically emotional lyrics set against hook-driven instrumentals that will get stuck in your head long after the show is over. Gates has stayed true to his local roots, and is certain to bring his well-documented energy and passion to the Voodoo stage.
Friday, 12pm
The DJ duo known as Babygirl consists of Bouffant Bouffant and Johnny V. Drawing, two Louisiana locals with a penchant for classic house and trance beats originating from the New York City and Chicago scenes. It's worth noting that their official Voodoo Fest bio recounts how the pair "cut their teeth in local sex clubs and illegal warehouse raves," so it's probably advisable to lower your inhibitions before attending their performance. Babygirl's music isn't offered all that often at events like Voodoo, so mark them down as a "must-see."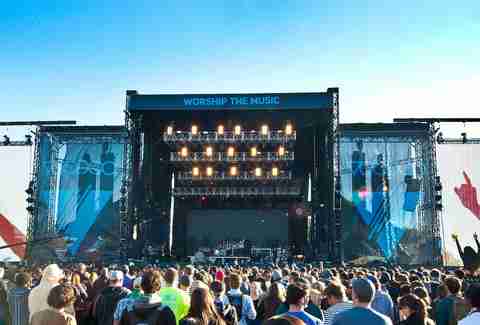 Sunday, 12pm
As his name might imply, Unicorn Fukr markets his shows as a delightfully obscene survey of current and past electronic music landscapes that "prances gracefully across the spectrum of sound." In addition to being one of the first North American DJs to feature original dubstep on the radio, Unicorn Fukr is also known for his ridiculous marathon sets, often lasting between four and eight hours. Newcomers to the dance scene won't need to start building up their physical endurance for his Voodoo set, since it will probably clock in quite a bit shorter than that. Probably.
Sunday, 12pm
Raised in New Orleans and now residing in Baton Rouge, Herb Christopher has been a staple within the Louisiana EDM community for going on 15 years. While he's made a name for himself by helping orchestrate some of the state's largest dance-music events -- just look into his legendary pool parties -- he's equally regarded for his skills on stage. Christopher's heady approach to DJing, dubbed "deep tech soul funk," has won over legions of listeners, and he'll likely add quite a few more names to that fanbase during his set this year.
Friday, 12:45pm
Fans of fellow festival headliners Cage the Elephant and Band of Horses should add these locals down on their calendars. Formed back in 2010 from members of Cowboy Mouth, Fatter Than Albert, and MyNameIsJohnMichael, The Breton Sound resembles some of the best and most timeless rock bands while still remaining rooted in New Orleans. Their classic sound is a relative rarity this days, but seeing them live will instantly make you wonder why that's the case. The group's powerhouse performances are rapidly gaining a reputation throughout the region, especially after the release of their first of two complementary EPs, Don't Be Afraid of Rock N Roll Vol. 1.
Saturday, 12:45pm
One of Voodoo's newer groups, SexualThunder! has been, well, thundering sexily across stages since 2012. The "high-energy psychedelic funk band" hails from New Orleans and has quickly garnered a reputation for its insanely entertaining live shows and versatile musical talent, which features electronic and live percussion, complex synth lines, and six-part harmonies. Just earlier this year, the group also received its first nomination for the "Best Emerging Artist" Big Easy Award, so be sure to take a look at one of the city's most promising up-and-comers.
Friday, 7:30pm
OK, so technically G-Eazy isn't a native of Louisiana, per se, but he did first start making waves in the rap world while attending Loyola in New Orleans. And since he seems poised to take over the music world, that's good enough for us. Blending smooth hooks with even smoother lyrical flows, the rapper/producer has caught the attention of megastars like Lil Wayne after a series of successful independent mixtapes including the instant hit, "Endless Summer." G-Eazy's occupying one of the main time slots on Voodoo's Friday night, so you might wanna camp out a bit early to see the rising young star, assuming fellow festival attendees don't beat you to it.
Sunday, 5:30pm
There's a reason these legends round out the list -- for over 50 years, the rotating members of the Preservation Hall Jazz Band have provided the quintessential soundtrack to New Orleans life and culture. Beginning back in 1963, PHJB has performed over the years with such legends as Louis Armstrong, Jelly Roll Morton, and Bunk Johnson. The group is now an institution not just locally, but within the international jazz community, and is worth seeing any chance you get. Their talent is unparalleled, their mark on the genre is inarguable, and they provide the sounds of living history for the Crescent City.
Sign up here for our daily New Orleans email and be the first to get all the food/drink/fun in the Big Easy.