Summertime in New Orleans can be amazing, which is why so many people want to come here, which is why summertime in New Orleans can be not-so amazing. Luckily, the city is also right next to sandy beaches, national parks, and even a space center -- and all within a couple-hour drive. If you're not intending to spend the night (if you ARE head here), here are the best day trips from the city...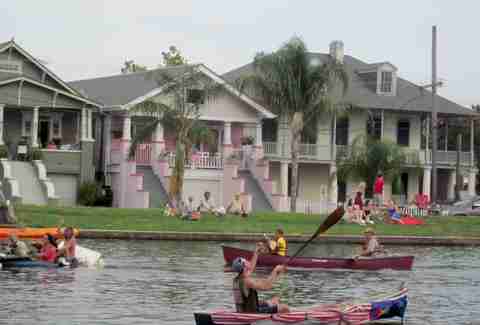 Bayou St. John
Distance from New Orleans: In New Orleans; take the Canal St streetcar, boat, or drive there
Why it made the list: Relax like a pro without even leaving the city. Along with the nearby City Park, Bayou St. John provides much-needed and enjoyed public green space. And on Bayou St. John, you can enjoy the tranquil waterway by kayak or standup paddleboard.
Pro tip: The bank of the urban bayou is a great place to enjoy holidays like Earth Day and the Fourth of July, as well as annual music festivals like the Bayou Boogaloo. Rent a boat in order to enjoy the fun without fighting the crowds.
Shell Beach, LA
Distance from New Orleans: 30 miles Southeast; One-hour drive
Why it made the list: There aren't any hotels out here, which makes it a perfect day trip getaway. It's at the feathery boot toe of Southeast Louisiana and is set up for just relaxing, chilling, and if you're so inclined, fishing. Shell Beach sits on the Gulf Outlet Canal near Lake Borgne, just down the road from New Orleans in St. Bernard Parish. Peace and quiet and water views in every direction -- this is the perfect opportunity to shake the city off without significant investments in either time or money.
Pro tip: Check out nearby Bayou Segnette State Park for boating, swimming, and canoeing, with playgrounds for kids, picnic facilities for outdoor dining, and a wave pool.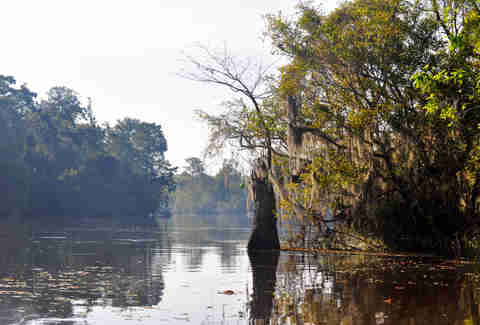 Honey Island Swamp, LA
Distance from New Orleans: 35 miles Northeast; 45-minute drive
Why it made the list: Bayous. In actuality, just as there are many more neighborhoods in New Orleans besides the French Quarter, there are bayous all over the state with unique indigenous plant and marine life ripe for exploration. Also, alligators.
Pro tip: If interested in checking out gators in their natural habitat, may we recommend utilizing a professional to assist you, as that will greatly reduce the chance of maiming, dismemberment, and death. Fortunately, the area boasts plenty of businesses that would love to guide you through the wonders of the swampy bayous of Honey Island Swamp or the nearby Pearl River in a flat-bottom boat (those bayous are pretty shallow, dontcha know) or airboat.
John C. Stennis Space Center, MS
Distance from New Orleans: 50 miles East; One-hour drive
Why it made the list: This Mississippi NASA site is just over the border from Louisiana, and geeky types need summer getaways too. If the beach isn't your thing, or you are in awe of the heavens above us, this is a cool, educational, and definitely different day-trip excursion.
Pro tip: The Stennis Center is restricted access, but the neighboring INFINITY Science Visitors Center offers tons of different exhibits as well as the opportunity to actually go check out the top-secret NASA facility next door (while on a guided tour, but still).
Gulf Shores, AL
Distance from New Orleans: 200 miles East; Three-hour drive
Why it made the list: Although there are many beaches closer to New Orleans than Alabama's Gulf Shores, none are as picture-perfect with white sand and crystal-blue ocean water. Get your bathing suit, sunscreen, towel, and umbrella packed up for a gorgeous day at the beach.
Pro tip: If you like your beach days to be more active and less passive, the area has bike trails, canoe rentals, and a new scuba destination, the reef where The Lulu, a sunken freighter ship, sits.
Whitney Plantation
Distance from New Orleans: 45 miles West; One-hour drive
Why it made the list: Plantation touring can be a sensitive subject, given the South's unseemly past use of people as property. The Whitney Plantation is specifically geared to educate the public about the lives of slaves and the institution of slavery. It's not a super-happy funtime, but it is thought provoking and enlightening, and well worth the time.
Pro tip: While the visitor center exhibits can be wandered on your own, it's necessary to purchase tickets for a guided tour to see the plantation grounds in full.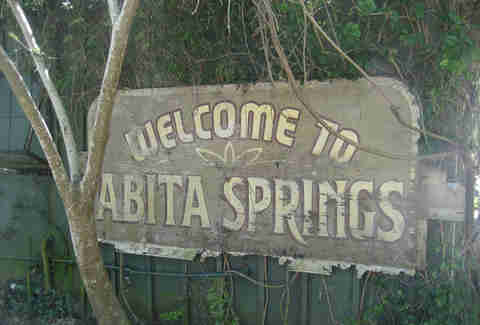 Abita Springs, LA
Distance from New Orleans: 45 miles North; One-hour drive
Why it made the list: Abita Springs is more than the headquarters of Louisiana's oldest and largest brewery -- although, with Abita Brewing's brand-new visitor's center and self-guided tour option, you definitely want to get to that. The small, sleepy town's park and trailhead with a historic pavilion, museum, and picnic tables is good for wandering, picnicking, and perhaps finding a place to nap with a beer. The eponymous springs no longer flow freely above ground, alas, but that water is used to make the beer which makes this town famous.
Pro tip: Do not miss the Abita Mystery House. It's a converted gas station which houses... a lot of random and weird stuff. It's like walking into a hoarder's apartment, only all the stuff is really cool to look at and no one is weighed down with a fallen pile of newspapers.
Gulfport/Biloxi/Ocean Springs, MS
Distance from New Orleans: Between 80-90 miles; approximately 1.5-hour drive
Why it made the list: A day trip to Mississippi's coastal towns is a low-key, relaxed getaway that can be tailored to any mood or fancy. Want to gamble? Check out one of the area's many oceanside casinos, including the luxe Beau Rivage in Biloxi. Want to try some local beer? Hit Crooked Letter in Ocean City or Mississippi Brewing Company in Gulfport. Want to sit on the sand and put your toes in the Gulf? Go... anywhere on that stretch and you're all set.
Pro tip: Combine 19th-century Southern modernist pottery art with contemporary architecture and go check out the Ohr-O'Keefe Museum of Art in Biloxi which features the work of "The Mad Potter of Biloxi," George Ohr, housed in a Frank Gehry-designed building.
Grand Isle, LA
Why it made the list: Louisiana's only inhabited barrier island, Grand Isle supplies New Orleans with seafood, especially shrimp and oysters. It's also home to state parks, public beaches, a wildlife refuge, and lots of birds and butterflies. It's been a vacation spot for Louisianians for generations. Only about 1,500 people live there permanently, and officials estimate 12,000 tourists come through every year.
Pro tip: Make like a native and spend a lazy day fishing. If you have a boat, bring it. If you don't, hire one of the dozens of charter fishing companies on the island, or check out the public fishing pier at Grand Isle State Park. If you're not the fishing type, no worries, there are plenty of places to indulge in the freshest seafood in the state, either already cooked and ready to eat, or sold by the pound to take home.
Jean Lafitte National Historical Park and Preserve, LA
Distance from New Orleans: 16 miles Southwest; 30-minute drive
Why it made the list: Because of course Louisiana dedicates a series of parks to a bloodthirsty pirate. Technically there are six different sites run by the Jean Lafitte National Historical Park and Preserve, but we're talking about the one in Marerro, in the Barataria Basin preserve. Lots of indigenous wetland wildlife to see, including alligators, nutrias, and more than 200 species of birds, including the snowy egret, the bald eagle, and of course, the pelican.
Pro tip: Take a self-guided or cell phone tour and explore the many boardwalks that lead in and out of the bayous and forests. Bring mosquito repellant, and stay alert for snakes and alligators sunning themselves in plain view.
Sign up here for our daily New Orleans email and be the first to get all the food/drink/fun in the Big Easy.