10 Spring Day Trips From New Orleans
From wildlife refuges to charming downtown streets, these are the best day trips from New Orleans to escape the city.
With so many things to do in New Orleans, it's hard to ever leave. Between all the live music, top-notch food, and annual festivals, there's plenty going on to distract you from the rest of the world. But still, we all need a little break sometimes, and luckily the city is an easy drive away from sandy beaches, national parks, and even a space center—all within just a few hours. So no matter what your perfect weekend getaway looks like, we've got you covered with 10 day trips from New Orleans this spring.
Of course Louisiana dedicated a series of parks to a bloodthirsty pirate. Technically there are six different sites run by the Jean Lafitte National Historical Park and Preserve, but the first one you should visit is in Marrero's Barataria Basin preserve. The natural paradise is made up of lots of indigenous wetlands with wildlife like alligators, nutrias, and more than 200 species of birds, including the snowy egret, the bald eagle, and of course, the pelican. Take a self-guided or cell phone tour and explore the many boardwalks that lead in and out of the bayous and forests.
Distance from New Orleans: 30 minutes
Honey Island Swamp, Louisiana
Louisiana's bayous extend all over the state with unique indigenous plant and marine life ripe for exploration. Also, alligators. If you're interested in checking out gators in their natural habitat, we recommend hiring a professional to assist you, as that will greatly reduce the chance of maiming, dismemberment, and an overall bad trip. Fortunately, the area boasts plenty of businesses like Dr. Wagner's and Cajun Encounters that would love to guide you through the wonders of the swampy bayous of Honey Island Swamp or the nearby Pearl River in a flat-bottom boat or airboat.
Distance from New Orleans: 45 minutes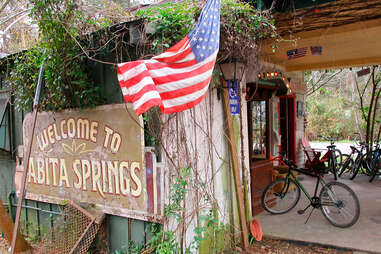 Abita Springs is more than just the headquarters of Louisiana's oldest and largest brewery—although, with Abita Brewing's self-guided tour option, you definitely want to get to that. The small, sleepy town's park and trailhead offer a historic pavilion, museum, and picnic tables good for wandering, picnicking, and perhaps finding a place to nap with a beer. The eponymous springs no longer flow freely above ground, alas, but that water is used to make the beer that makes this town famous. Do not miss the Abita Mystery House. It's a converted gas station which houses, well, a lot of random and weird stuff worth checking out.
Distance from New Orleans: One hour
While there are still many plantations in the South that offer property tours, it's rare to find one openly and honestly portraying what life on these estates was really like for the people who were enslaved and forced to work the land. At the Whitney Plantation, you'll learn the truth about what that experience was like, thanks to both interpretive art pieces and archival stories told using information from the enslaved people themselves. The visitor center exhibits can be wandered on your own, but you need to purchase tickets for a guided tour to see the plantation grounds in full.
Distance from New Orleans: One hour
If you'd like a simple day out at the beach and you don't want to have to drive more than an hour, Bay St. Louis is your best bet. Beautiful and uncrowded, this tiny town in Mississippi offers calm public beaches where you can read and relax. There are a handful of restaurants, art galleries, and a fantastic local book store, making this the perfect place for quiet meals and sunset strolls. Oh, and there's an annual summer Pirate Festival you really should align your visit with.
Distance from New Orleans: One hour
This Mississippi NASA site is just over the border from Louisiana, and geeky types need weekend getaways, too. Whether the beach just isn't your thing or you're in awe of the heavens above, the Stennis Space Center is a cool, educational, and definitely different day-trip excursion. While the Stennis Center is restricted to employee access only, the neighboring INFINITY Science Visitors Center offers tons of different exhibits as well as the opportunity to actually go check out the top-secret NASA facility next door (while on a guided tour, but still).
Distance from New Orleans: One hour
The Gulf Island National Seashore includes a lengthy stretch of the Gulf Coast and several barrier islands, but you can only visit one of these islands without access to your own boat—and that's Ship Island. Because the island is 11 miles off Mississippi's coast, you'll need to hop on a ferry to get there, but the landing just requires an easy drive to Gulfport. Once there, you can check out the beach or explore Fort Massachusetts, which was used by the British in the War of 1812.
Distance from New Orleans: One hour and 15 minutes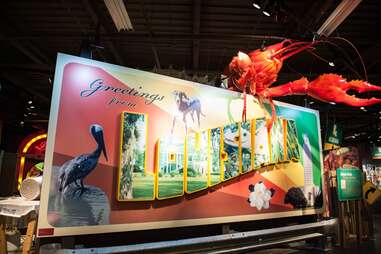 Fun fact: New Orleans was the state's capital until 1845, when state legislators decided they needed to convene somewhere a little more convenient. These days, Louisiana's capital city is just over an hour away from New Orleans, and it's here where you'll find Louisiana State University. The college is home to the Tigers, a powerhouse in the SEC whether you're interested in football, basketball, track and field, soccer, or gymnastics. Plus, the university itself is home to an actual live tiger (that's Mike; be sure to say "hi!") and a ton of cultural stops. Into theater? Check out Manship Theater. More into museums? Try the Museum of Natural Science.
Distance from New Orleans: One hour and 30 minutes
Louisiana's only inhabited barrier island, Grand Isle supplies New Orleans with seafood, especially shrimp and oysters. It's also home to state parks, public beaches, a wildlife refuge, and a copious amount of birds and butterflies (perfect for birdwatchers, either hardcore or casual). It's been a vacation spot for Louisianians for generations—including Kate Chopin, whose classic feminist novel The Awakening is set there. Only about 1,500 people live there permanently, but officials estimate a whopping 12,000 tourists come through every year. Make like a native and spend a lazy day fishing—hire one of the dozens of charter fishing companies on the island or check out the public fishing pier at Grand Isle State Park. If you're not the fishing type, no worries, because there are plenty of places to indulge in the freshest seafood in the state.
Distance from New Orleans: Two hours
Venture to the heart of Cajun country with a trip to Lafayette. Cajuns are French-descended people who left the maritime provinces of Canada after the French and Indian War (the word Cajun comes from the word Acadian). Lafayette—also home to the University of Louisiana—is the largest city in the area and the culture is evident on just about every street corner. You'll find not one but two historical villages (Vermilionville and Acadian Village), plus a host of incredible spots to eat, drink, and make merry on the charming main street. Breaux Bridge, a small town a bit east of Lafayette (known as the "Crawfish Capital of the World") is also worth a visit. Stroll downtown, pop into antique shops, and check out the Atchafalaya National Wildlife Refuge.
Distance from New Orleans: Two hours and 30 minutes
Sign up here for our daily New Orleans email and be the first to get all the food/drink/fun in the Big Easy.
Chelsea Brasted is a freelance writer in her hometown of New Orleans, who formerly worked for
The Times-Picayune
as an arts and entertainment reporter and city columnist. Follow her on Twitter @cabrasted to find out how actually cool she is.