Every Single Free Museum in New Orleans
As an old and historic American city, New Orleans has a lot of culture, and a lot of museums to show it all off in. But all that intellectual nourishment comes at a price, for upkeep of the exhibits, and so that the staff can continue to eat people food... but there are still a number of them that you can visit free of charge (if only on the right day). If you're looking for an excellent cultural experience in the Big Easy for exactly zero dollars, here's where you should be headed.
French Quarter
For history buffs, this historic mint now houses an amazing collection of archives, and is home to the Louisiana Historical Center. The mint no longer makes money these days, but it sure makes music. Aside from performances of live jazz, you'll find legendary and historic instruments belonging to artists like Louis Armstrong, Fats Domino, and Sidney Bechet, among other artifacts celebrating America's original art form.
Woldenberg Art Center, Tulane University
A trip uptown -- easily accessible by streetcar -- will find you on the campus of Tulane University, which is beautiful in its own right. But it also houses a small but wonderful collection of art, from pottery to industrial art, Tiffany windows, and exhibitions ranging from Edgar Degas to Nick Cave. A stroll through is free, but be aware that it's closed in the summer. But you really didn't want to be in NOLA during the summer anyway, didja?
Arts District/American Sector
It might cost you a few duckets to take a few classes to learn how to blow your own glass artifacts (that of course would never resemble something through which one could smoke something), but watching the master glassmakers at GlassWorks is free of charge daily, and one hell of a show.
French Quarter
Architecture enthusiasts will quickly and easily fall in love with New Orleans, and for good reason; the city is prized for its distinctive architectural style. And nowhere will you find a better example of this than at Madame John's Legacy, a primo example of Louisiana's 18th-century architectural design, and an official National Historic Landmark.

Uptown/University
Right next door to Tulane, across from Audubon Park, is Loyola University, which many don't know also houses a fantastic art gallery that's free to visit, should you be up that way (and especially if it's warm and you're looking for a cool gratis getaway). Interesting fact: this was the first local university gallery to reopen following the devastation of Hurricane Katrina, which provided an important outlet to many local artists at the time, as it continues to do now.
Lower Ninth Ward
A little-known local museum, the appropriately titled House of Dance and Feathers celebrates the artwork, history, and culture of the New Orleans Mardi Gras Indians (whom you might have a passing familiarity with if you've watched the HBO series Treme), as well as local Social Aid and Pleasure Clubs (these are the ones that put on Sunday second line parades throughout the year), Skull & Bones Gangs, and Baby Dolls. It's amazingly fascinating, and definitely worth a trip to the Lower Ninth.
Lower Ninth Ward, naturally
This neighborhood of New Orleans, East and across the Industrial Canal from the hipster-inflected Bywater, is most notable in the media for two things. Firstly, it was one of the hardest hit by Katrina flooding, and is still one of the last to fully recover. Second: Brad Pitt. Granted, Pitt's Make It Right Foundation has done some swell things for the community, including sponsoring the Lower Ninth Ward Living Museum, which seeks to preserve the legacy and history of the area. You probably won't see Brad or Angelina there, but hey, who knows!
Mid-City
The art museum that bears the name of the city is a grand one indeed (dating back to 1911), and its permanent collection of over 40,000 objects is definitely worth your time and money. Exhibitions range from classical to contemporary art, from traditional to avant garde, with of course an emphasis on local artists. If you're a starving artist (and one who happens to be a Louisiana resident), you'll be happy to know that you can visit NOMA for free every Wednesday. All the more reason to move to New Orleans, right?

Warehouse District
Founded in 1976 with a mission focused on the cutting edge of art and performance, operated by artists and performers, the CAC has become an important institution in the New Orleans art world, with a focus not just on visual and performing arts, but also on arts education as well. Basically, it's pretty great. And, if you happen to have a Louisiana state ID, you can check it all out on Sundays for no charge.
Warehouse District
From Mississippi folk artists to NOLA modernists, if it's Southern and it's good art, you'll likely find it at the Ogden. Like the CAC and NOMA, though, you'll generally have to pay admission to view its treasures. That is unless you're a Louisiana resident, in which case the museum is free on Thursdays, or if you're a student, faculty, or staff member of the University of New Orleans (free!), or an employee of another art institution (free with ID!).
Warehouse District
Suffice it to say, if you served in the United States Military during WWII, you're granted free admission to the National WWII Museum, which is a really amazing place worth paying to visit, anyhow. But if you're not a member of "The Greatest Generation," but still a US veteran, you can still visit the museum for free on certain national holidays (check the website for details). Again, though, you should pay to check this place out: it has boats, and tanks, and airplanes, and a 4D cinematic experience narrated by Tom Hanks. Very, very cool.

French Quarter
Founded in 1966, THNOC is a museum, and also a research center that aims to preserve and celebrate the artistic and cultural history of NOLA and the Gulf South. It occupies several beautiful and historic buildings in the French Quarter, making it easy to tour if you're visiting NOLA, staying downtown, and hoping to stay classy between Hurricanes. Best of all, it's totally free to one and all (though you might be sucked into purchasing something cool at their gift shop).

Galleries on Royal St and the Julia St Arts District
French Quarter and Warehouse District, respectively
Okay, while the dozens of art galleries lining Royal St in the French Quarter and on Julia St in the Arts District aren't, technically speaking, museums, they host a veritable smorgasbord of diverse art, antiques, and artifacts much like a bona fide museum... only you can buy the art, if you have the money bags. So long as you're not falling-down intoxicated or otherwise obnoxious, most galleries are happy to have you stop in for a look at their wares.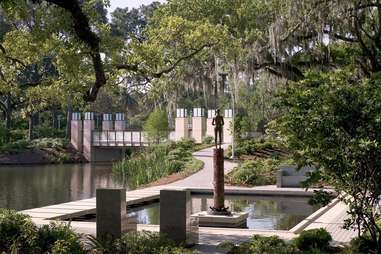 Mid-City
While the adjacent New Orleans Museum of Art charges an entrance fee on most days (see below), the glorious sculpture garden on its grounds is open seven days a week and totally gratis to all comers. Meander the footpaths and marvel at over 60 impressive -- and sometimes disturbing -- works of sculpture by a bevy of international artists. When you get tired, you can always avail yourself of mini-golf, beignets at Morning Call, or any other variety of fun activities to be had in City Park.
Marrero/French Quarter
Named after famed privateer Jean Lafitte (whose pirate treasure is still totally up for grabs, by the way), Lafitte National Park displays the beauty and complexity of the local ecosystem at its best. And by "ecosystem," we of course mean "swamp." As part of the National Park Service, it is free to the public. And though it may be only a 30- to 45-minute drive from the city to the park's Barataria Preserve site -- spanning 23,000 acres -- entering the preserve is like being thrown into Jurassic Park. Don't worry, there are no pterodactyls. Plenty of alligators, nutria, and other critters, though, so mind your step, cowboy. Also note that the park's visitor center, located in the French Quarter, is also free and worth a visit.

French Quarter
Also part of the National Park Service is this museum and park, celebrating one of the greatest contributions the city of New Orleans has made unto the world. No, it's not the Shark Attack cocktail or "Huge Ass Beers"... we're talking about jazz. You'll find plenty of live educational jazz performances free to the public, courtesy of this museum at either the Old U.S. Mint (see above), or at its French Market venue (916 N Peters Street).
Sign up here for our daily New Orleans email and be the first to get all the food/drink/fun in the Big Easy.