The Crescent City is a magical, mystical place with some of the best food in the world, splendiferous natural beauty, iconic architecture, and history up the wazoo. Those are facts. But no matter how magical it is, it still can't shake certain misconceptions about the city and its people. Here's what people sometimes think about the Big Easy, and why you shouldn't believe a word of it...
1. Mardi Gras is just for tourists
Nobody loves Carnival more than the people who call this city home, especially because we get to enjoy it for weeks instead of one blackout-filled weekend in the French Quarter. 
 
2. You don't need a car here!
Unless you live, work, and play all in the same neighborhood -- or if you just really enjoy dealing with the less-than-terrific public transportation system -- having an automobile in NOLA is exceptionally helpful.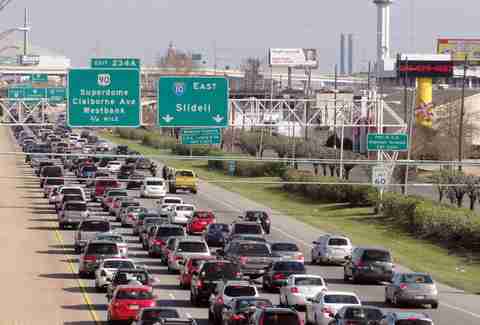 3. ... and if you do have a car, traffic/parking can't be that bad
Yes, it can be. You've never known traffic hell until you've gotten stuck in place for four hours because of a parade. 
 
4. Everybody is drunk, all the time
Nope. New Orleanians love a good cocktail and a nice cold brew (or several), but they also know how to pace themselves. Hell, NOLA didn't even crack the top 10 list of drunkest cities in America. Well done there, Fargo.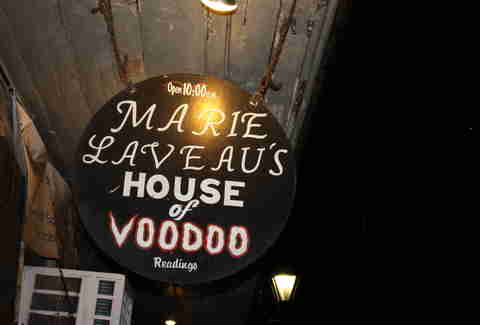 5. Those French Quarter voodoo tours are the real deal
If you believe that, I have a bridge to sell you. 
 
6. That "N'awlins" accent! It's so distinctive, the way all of you talk.
Believe it or not, many locals do not sound like Dennis Quaid from The Big Easy or Scott Bakula from the laughably inauthentic NCIS: New Orleans.
7. Alligators. They're everywhere.
I know all the chintzy souvenir stores sell gator skulls, but what do you think this is, Florida? Please. 
 
8. So, there's not any scary wildlife then? Good.
Sorry to inform you, but we have flying cockroaches called palmetto bugs that are the size of small Volkswagens, and nutria, which are giant, orange-toothed amphibious rodents. Just make sure you don't fall into a canal.
9. Beads are given out only if you bare your bosom
You just catch them if you want them, and only during Mardi Gras. They're literally given out for free, to anyone.
10. The French Quarter is a "Jurassic Park for Creole cuisine"
Sorry, Pete Wells of The New York Times, you're flat-out wrong on this score. Even ancient Grande Dame restaurants here have a few modern tricks up their sleeves, but that doesn't mean that the classics aren't classics for a reason. You might look down your Yankee nose at oysters Rockefeller, shrimp remoulade, or turtle soup, but they're our beloved birthright, and they're not going anywhere. 
 
11. I can't wait to practice my French in the French Quarter!
New Orleans isn't Quebec, dammit. We speak 'Murican here. That said, it doesn't sound much like the 'Murican you might be accustomed to. Y'eard me, bruh?
12. My hometown gets really hot in summer. New Orleans can't be that much worse.
Yeah it is, and it might end you if you don't have a proper hydration regimen (and that, naturally, means cocktails inside, in the conditioned air). 
 
13. Metairie is terrible. Who would ever want to go there?
You, if you want to find some great restaurants that don't have an equal in Orleans Parish (the original Drago's location, R & O, Parran's Po-Boys, etc.). That also applies to the West Bank, too.
14. The local music just sounds like one really long Zatarain's commercial
Sure, there're tons of killer brass bands here (duh), but there're also plenty of funk, metal, jazz (both modern and traditional), country, folk, and other fantastic home-grown bands and acts. Live, local music is a way of life in this town. 
 
15. Drinking in public is legal, so that leniency probably extends to other intoxicants...
Keep the 420 in private for now, buddy.
16. Popeyes ain't that great
YOU SHUT YOUR MOUTH. It may be a lackluster chicken chain in other, lesser states, but it was born here, and it's genuinely better here than anywhere else. Especially those biscuits. And the red beans.
17. Po' boys are just hoagies
Oh god, seriously? If you've never experienced the sheer, unabashed joy of wrapping your mouth around a hot, fried oyster or shrimp po' boy on air-light, flaky French bread, you have not lived. A po' boy is similarly not a sub, a grinder, a hero, or a similar (thoroughly less enjoyable) sandwich.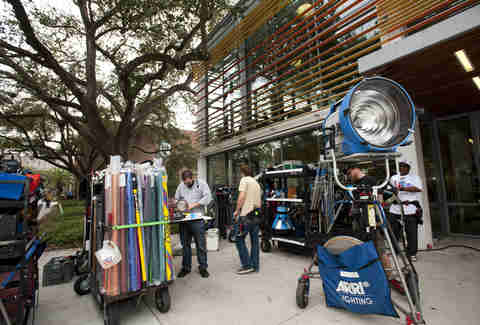 18. You can't move here and expect to find a job/career...
Wrong again.  New Orleans is one of the fastest-growing cities in the nation, and if you happen to work in (or want to work in) the movie business, it's got a fantastic reputation as "Hollywood South," due to the busting local production trade. 
 
19. It's just going to flood again. Why bother?
"And other ways to compel a New Orleanian to smack you in the kisser." This city is important. This city is essential. This city will never drown.
Sign up here for our daily New Orleans email and be the first to get all the food/drink/fun in the Big Easy.