You don't have to ask twice if the Big Easy is a romantic town. The city's pull for lovers of all things (especially other people) is what brings folks down here. If you can't figure out how to have a spectacularly romantic evening in New Orleans -- beyond just being here -- here are a few great ideas to get you started...
Dinner, drinks, and entertainment in the courtyard at Bacchanal
This low-key Bywater wine bar might serve its food on paper plates, but that food is spectacular, as is the wine selection, the music, and the outdoor ambiance.

Take a bike ride through City Park
It's the largest public park in the city (50% bigger than Central Park!), and the ancient live oaks draped in Spanish moss are impossible to beat for scenery. A lovely ride through is a great way to spend an afternoon, especially if followed by...

A game of mini golf at City Putt
The newest addition to the park is a lovely miniature golf course that will bring back all those awkward high school date memories, but in the most endearing way. And, of course, you can follow that with...

Café au lait and beignets at Morning Call
Leave Cafe du Monde for 4am drinking nights and tourists -- the noise and crowd there will make a date less than comfortable. Instead, hit the new Morning Call for your fried dough and coffee needs.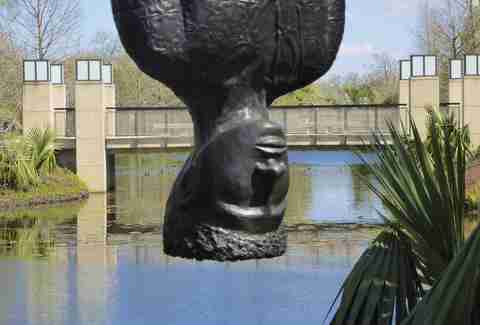 Located on five acres adjacent to the New Orleans Museum of Art is one of the best outdoor displays of fine sculpture the city (and the region, and the country, and the world) has to offer, perfect for leisurely, romantic meandering.

Speaking of NOMA, the museum is FREE on Wednesdays...
So if you want to be all classy and save your ducats for Mid-City drinks afterwards, this is a great bet. (Just be aware, it's only free to LA residents).

For all the artsy-fartsiness your sweetheart might desire, there are movie screenings and live music right there on the beautiful museum grounds.

Get Blizzed at Hansen's
Hansen's Sno-Bliz is the oldest continually operating sno-ball stand in the Crescent City, and many agree that it's also the best. When the warm months come, taking a date to wait in line for a Honey Lavender, Ginger-Cayenne, or Satsuma Sno-Bliz is the perfect antidote to the heat.

Legendary "entertainer" Chris Owens has interesting things going on at her Downtown venue, not the least of which is the always-fun live Latin band.
Check out the Rebirth Brass Band at the Maple Leaf Bar on Tuesday nights
They're always there, and they always bring the house down. And the show always starts on the later side, so that gives you ample time to "warm up" with a few drinks at the bar.

Local comedy!
If you don't possess the skills to make your date howl with laughter, our home-grown comedy talent will. Great shows can be found nearly every night of the week, including Comedy Catastrophe, Comedy Beast, Think You're Funny?, Joke's On Me, Comedy Boom, and Comedy F*ck Yeah, among others.

Catch an indie flick
For fans of independent cinema, NOLA's now got Indiewood to get right at your movie geek jones.

Indulge your sweet tooth
If you're looking for sweet treats, a couple of scoops of classy gelato at Sucré or a lemon ice (or cannoli) at Angelo Brocato's are never a bad bet.

But if you're in more of a savory mood, grab a burger at Port of Call
There are lots of outstanding burgers in the Crescent City (looking your way, Company Burger), but to truly test your date's carnivorous habits, a giant Port of Call burger dripping with cheddar and sautéed mushrooms is a must.

Karaoke night!
Whether you're the adventurous type who will brave the stage on a first date, or you need a little warming up before you can display the pipes for your sweetie, the mics at Kajuns Pub or Little Tokyo will be ready and waiting for you.
Go visit the animals at the Audubon Zoo
Cause "dey all axed fo' you." For real, though, it's a magical place.

Take a cooking class
We love to eat in NOLA, but we also really love to cook. Explore your passion for great food and improve your skills in the process at Langlois Culinary Crossroads, which hosts all kinds of neat kitchen experiences.

Enjoy a Pimm's Cup in the courtyard at the Napoleon House
It's one of the quintessential New Orleans places, and a romantic-y one at that. With its crumbling walls, ancient servers, and classical music wafting through the structure (which was actually built for Napoleon Bonaparte while he was in exile), it's a wonderful spot for a first date. Or a third. Or a 347th. It's old, but it never gets old.

Boogie and bowl
It's always a good time at Mid-City's Rock 'n' Bowl, which, as you might guess, hosts live music (particularly zydeco, swing, country, and brass) and bowling. It's a delightful combination, even if you're not a pro at dancing and/or picking up that 7-10 split.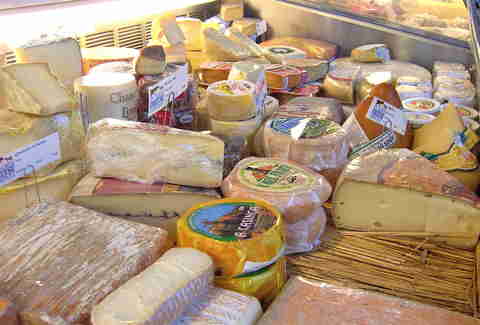 Learn how to cut the cheese
The St. James Cheese Co., aside from offering a spectacular array of fromage and killer sandwiches, offers classes devoted to furthering your cheese education, which can be a load of fun, assuming your date isn't lactose intolerant. Also, special "date night" deals offer pairings of cheese with chocolate and other comestibles.

Take a ride on the streetcar
Sure, it's public transit, but the famed green or red NOLA streetcars are a long way removed from smelly buses and subway cars. The view along St. Charles Ave is particularly romantic, and the cars make a pleasant "wooka-wooka-wooka" sound as you chug along.

Tiki time!
What's not fun about tropical cocktails and snacks? Enjoy Rum Runners, Mai Tais, and more at Tiki Tolteca and the newly opened Latitude 29, both of which offer excellent drink options for the Tiki-inclined.

Tour the classic cocktails and cocktail haunts of New Orleans
How about a Sazerac at the Sazerac Bar? Or a French 75 at Arnaud's French 75? Or a Grasshopper at Tujague's, or a Vieux Carre at the Carousel Bar... there's so much classic cocktail history in this town, an exploration is always in order.

Coffee!
And we're not talking about Starbucks. Coffee has always been an important part of New Orleans culture, and the city has been known for its joe well before the days of pumpkin spice lattes. 200 years, actually. That tradition continues with outstanding indie coffeehouses like HiVolt, Arrow Cafe, Spitfire Coffee, and others.
Cruise the Mississippi
A ride on the Algiers Ferry between Canal St Downtown and Algiers Point on the West Bank offers amazing views of the city, particularly around sunset, and for all of $2. So grab yourselves a beverage in a go-cup and spend a little time getting to know each other on the Big Muddy.

See into the future
Skip the fortune tellers in Jackson Square and instead opt to have your palms and/or tea leaves read at the Bottom of the Cup Tea Room Downtown. Just don't be surprised when they tell you that your missing bike is actually in the basement of the Alamo.

Commune with the dead
Or just see where the dear departed of New Orleans are laid to rest. It may seem macabre, but the cemeteries of NOLA are historic and beautiful places, filled with darkly gorgeous mausoleums and statuary. St. Louis Cemetery No.1 is a classic -- it's where they filmed the infamous Mardi Gras acid trip scene in Easy Rider -- but there are plenty more as well.
Sign up here for our daily New Orleans email and be the first to get all the food/drink/fun in the Big Easy.