The Best New Orleans Date Ideas That Aren't Just Getting Drinks
In a city where the booze flows round the clock and 10 million hedonistic tourists visit each year, dating options can seem almost unlimited. But once you've both swiped or starred or messaged or whatever your app of choice entails, it's time for the actual compatibility test: an IRL date. Fortunately, we've already done the legwork to make sure your tête-à-tête is a memorable one. So quit with the endless messaging (or tell your spouse it's time to reconnect) and pick one of these ideas for a date night in New Orleans.
Marigny
It's almost always standing room only at this midnight burlesque show, and the crowd is generally as cute, queer, and sparkly as the performers. Acts are bawdier than what you'd see at a classic burlesque show (expect more fetish gear, naked cake smashing, and crotch grinding; less lackadaisical glove removing) -- which means sparks will quite literally fly, even if your date is a dud. Grab a bite at Kebab, Arabella, or Nola Mia and get there early -- seats go fast.
Marigny
Housed in a meticulously renovated, circa-1860 church, Hotel Peter & Paul is a gorgeous destination for a budding (or time-tested!) courtship. Grab craft cocktails in the intimate, atmospheric Elysian Bar, which sits in the former rectory, for a first date or spring for a luxurious staycation in a guest room and find out why Hotel Peter & Paul has been named among the "best new hotels in the world."
Mid-City
Since 2003, City Park's sculpture garden has boasted a beautiful collection of art set against a Spanish moss-hung backdrop of live oaks and lagoons. Now it's artsier and lagoonier than ever, thanks to a new six-acre expansion. Admission is always free, which means you can afford to spring for a meal at nearby Acorn, a new Dickie Brennan restaurant in the Louisiana Children's Museum at City Park.
Mid-City
Mid-City's least flood-resistant movie theater (seriously, the place gets water every time it rains) is also its best spot for indie and mainstream flicks. Plus, the reasonably priced concessions ($8 Pimm's cups, $7 popcorn) are skewed toward cinephiles who like a buzz with their B-roll, which seems very appropriate for a NOLA theater. Burn off the calories by biking or strolling down the Lafitte Greenway afterward... it's less than a block from the theater.
Barataria Preserve
It's just a half-hour outside of New Orleans, but thanks to 23,000 acres of wetlands, this national park feels Deliverance-level secluded. Fortunately, a boardwalk path makes the swamps easy to navigate. In addition to native flora, egrets and nutria, you might see a massive alligator -- but mortal peril is sexy! Right?
Bywater
Get out of the real life sauna that is New Orleans and visit this luxurious Bywater destination. The Country Club is a bar, restaurant, and tropical paradise all rolled into one. They even offer a Saturday Drag Brunch at no additional cost beyond your meal, if you're feeling adventurous. Plus, the sauna affords you the ability to check out your date in their bathing suit.
Northshore
Everything looks just a little bit brighter through beer goggles, so throw a couple bikes in your hatchback and cruise up the Tammany Trace, a former rail corridor turned hiking/biking path, until you hit the Abita Brewery. The best part about the brewery tour? It's a thinly veiled excuse to drink as much free beer as you possibly can. (Just be sure to sober up before you cruise back down the Trace.)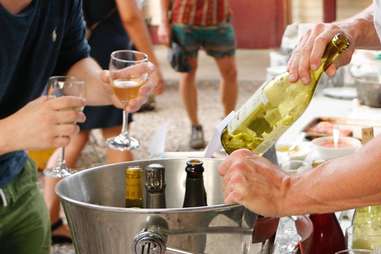 Share a bottle of red at the ultra-hip Bacchanal
Bywater
It's not exactly a low-key neighborhood hangout anymore (everyone from bachelorettes to Quentin Tarantino drinks here), but Bacchanal still has the best music, food, wine, and ambiance you'll find in Bywater... or anywhere else. By night, it's one of the best bars in New Orleans for its live music and well-priced wine selection.
Get your slurp on
Citywide
Gulf oysters are bigger, meatier, cheaper, and -- let's face it -- sexier than any other bivalve on the planet. Plus, you can't swing a strand of Mardi Gras beads without hitting one of the city's many excellent oyster happy hours.
Bar-hop on Frenchmen Street
Marigny Triangle
Not sure where to meet? Head to Frenchmen and venue-hop until you find a place where the vibe, music, and drinks strike your fancy. That might be an intimate jazz club, or it might be a street corner with a brass band and a tamale stand. If all else fails, browse the open-air art market -- as good a place as any to get your date a locally made memento.
Central City
For all you budget romantics out there, this date idea offers a way to look extremely classy (it's a museum!) while being extremely cheap (there's free food!). Just sit up front and learn from New Orleans' top chefs before enjoying incredibly generous samples of their wares. Tickets cost less than the price of a movie.
Garden District
Perched at the top of a 1920s-era hotel, this sleek bar offers strong drinks and a 270-degree view of Downtown. The sparkling view of the skyline, luxurious indoor seating and outdoor patio, and rotating cocktail menu are enough to make any night memorable. The space is apparently "modeled after a 1940s artist's loft," and weird paintings, books, and sculpted busts line the windowsills and furniture -- not bad as far as conversation starters go.
Uptown
It's not just a zoo with the requisite lions, tigers, and elephants (plus two white alligators). It's also a 58-acre garden. In other words, you can find out if your date was telling the truth about liking long walks and conversation. There are a few different ticket options, but admission to the zoo is just over $20 per person.
Be ferried across the Mississippi in style
French Quarter and Algiers Point
The Algiers ferry fare may be the most romantic $2 you'll ever spend in this town. Jackson Square never looks more picturesque than when viewed the Mississippi River. Plus, between the river breeze and prow perch, you could have your very own Titanic moment. (The part when Rose says she's flying. Not the part when the ship sinks, and her date falls to the depths of the ocean.)
Get loose at a jazz brunch
Citywide
Morning and daytime dates -- especially when they're first dates -- can sometimes be tricky. You stress out about the so-called "friend zone" or just managing to roll out of bed on time. Fortunately a terrific jazz brunch, with cold Bloody Marys, can go a long way toward alleviating your concerns. And New Orleans is lousy with them, of course, so get thee and your date to one, stat.
Marigny
If you can't make your date laugh, pay someone else to do it. You'll find improv, stand-up, and sketch comedy at The New Movement. Or (for the brave among us) you can both take a class there and develop your own senses of humor. Select classes are free, and several shows cost less than $10 if you buy online.
Zen out and eat seafood on Lake Pontchartrain
Lakeside
Who says New Orleans doesn't have any good nature stuff? Populated by dolphins, sharks, eagles, manatees, and other creatures, Lake Pontchartrain is a 40-mile-wide oasis of serenity. We'd recommend a lazy stroll or bike ride along its perimeter, followed swiftly by trying the seafood at a convenient establishment like the Blue Crab or the legendary Deanie's of Bucktown.
Canoe in Bayou St. John
Bayou St. John
Still waters, oak trees, French colonial houses -- it doesn't get much prettier than Bayou St. John. You can rent a canoe, kayak, or paddleboard for about what you'd spend on a fancy dinner, with the added bonus of mutual physical exertion and the joys of nature surrounding you. Once you're out there just make like Prince Eric and Ariel, but with more kissing.
French Quarter
Some things never get old, including coffee, hot fried dough buried in sugar, and that busker who wears an umbrella hat. Especially when he's playing the sax solo from "Careless Whispers." The beignet is one of the most classically "New Orleans" foods you can share with another person in town -- whether you're here for a weekend getaway or have lived here for 40 years. There's nothing like keeping it simple.
Canoe in Bayou St. John
Bayou St. John
Still waters, oak trees, French colonial houses -- it doesn't get much prettier than Bayou St. John. You can rent a canoe, kayak, or paddleboard for about what you'd spend on a fancy dinner, with the added bonus of mutual physical exertion and the joys of nature surrounding you. Once you're out there just make like Prince Eric and Ariel, but with more kissing.
Bywater, Marigny, French Quarter
In addition to sweeping downtown views, gardens, and 1.4 miles of jogging trails, Crescent Park has picnic tables. The seasoned pros will purchase the fixings at the new Robert Fresh Market on St. Claude Avenue and head up Elysian Fields to the park entrance. From there, it's all a matter of staking your claim to picnic real estate for a free, lovely day in the park.
Experiment with your partner at a swingers club
CBD
This might not be an activity for the first date, or, admittedly, even the first decade of most relationships. But should you and your lover ever decide to "spice things up," Colette is a swingers club that's very friendly toward newbies. If you've never set foot in a swingers club, you'll obviously probably have questions -- which is fine -- as Colette has both informative videos answering FAQs on their website, plus a full explanatory blog, Open Love 101. Just be open and honest in talking about it with your partner.
Bywater
Tucked behind railroad tracks, the large patio and backyard at this microbrewery sometimes feels like a playground for the elementary school set. It's great if you're a parent looking for a date night destination and a cold one.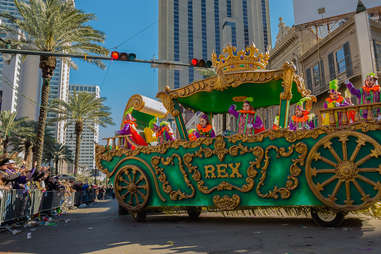 Citywide
Mardi Gras parades. Second line parades. St. Patrick's Day parades. St. Joseph's Day parades. Pride parades. More second line parades. Let's face it: You're going to be at a parade anyway. You might as well bring your crush. More people means more hands for catching beads, after all.
Make it rain on some hot man meat
French Quarter
Beefy, floor-humping, thong-rocking men are the stuff of pure entertainment. Sure, it's not exactly sexy, but it's not not sexy. Check out the shows at Bourbon Boylesque at Oz -- just don't forget to tip. The right couple will consider this an amazing way to spend a night, but it's probably not the best idea for a first date.
Sign up here for our daily New Orleans email and be the first to get all the food/drink/fun in the Big Easy.