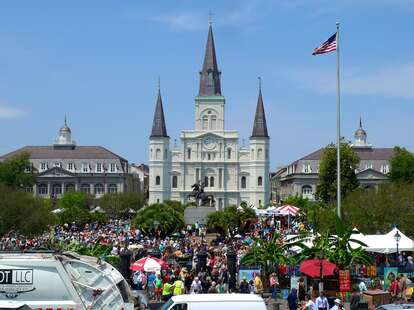 Scott Gold
Scott Gold
Also known as the "Vieux Carré", the French Quarter in New Orleans is one of the oldest and most well-known neighborhoods in America, pre-dating the actual country by almost 60yrs (1718, to be specific, courtesy of amazingly named Jean-Baptiste Le Moyne de Bienville. History!). Sadly, these days it might be more well known for its rep as a playground for besotted meatheads and a beads-for-boobs Mardi Gras economy than for its rich heritage and incredible food. But you don't have to be that guy. So if you're looking to truly get the most out of the French Quarter, here are your best bets.
Haters: Spend every waking hour in cargo shorts and mandals.
Players: Pack a good suit.
Yeah, we get it: it's hot here. You're basically in the tropics, after all -- it's only natural to want to keep from melting where you stand because of the ridiculous temperature and humidity, even in months like November. But if you don't have at least one decent suit in your suitcase, you'll miss out on some of the best damned cuisine in the world, particularly at grande dame eateries that have been open for well over a century, like Galatoire's, Arnaud's, and Antoine's, which require a little class (if only just a jacket and a respectable pair of shoes). It's also a good reason to bust out the linen or seersucker and look like a suave-ass Southern charmer. In season, of course.
Dopes: Get hooked on frozen daiquiris, syrupy drinks, and HUGE ASS BEERS.
Dudes: Explore the cocktail culture.
One look down Bourbon Street, and you'll find Hand Grenades, Hurricanes, boozy daiquiris, Shark Attacks, and god-knows-what-that-is, but it's bright blue and served in a test tube. Not to mention the availability of HUGE ASS BEERS. Maybe you want to sample one or several of these things for novelty, and that's fine. It can be fun. But do yourself a favor and explore cocktails in the city that invented the cocktail. Think about the Sazerac, the the Ramos Fizz, the French 75, and bourbon milk punch. For the real deal, here's an excellent list of the best New Orleans cocktails and where to find them.
Ravenous fools: Decide to eat just anywhere.
Hungry geniuses: Make a culinary plan/map.
The French Quarter is packed with fantastic restaurants, both high-end (see above) and casual. Odds are, you're going to eat well in this town. That said, there are also plenty of places that make the rent by swindling suckers out of their rightful NOLA food experience by serving sub-par fare. Don't expect every po-boy shop to be the bomb, just because it happens to be in the Quarter (make sure to hit Killer Poboys, Mother's or Verti Marte, by the way). If you want oysters the right way, for example, here's a great start for you.
Tools: Think that shops selling hot sauce, ball caps, and alligator skulls represent New Orleans "culture".
Cools: Spend a day touring the real historic hotspots.
New Orleans has been here, for good or ill, for almost 300yrs, which for the USA, is a pretty long time. And a lot of our historical gumbo is well represented in the French Quarter's art, architecture and museums, many of which you can check out for free. A short list of cool places worth your time would definitely include Jackson Square and the St. Louis Cathedral, the Old US Mint, the Cabildo, the Pharmacy Museum, the Old Ursuline Convent, and The New Orleans Jazz National Historical Park. And that's just for starters. You can stroll the levee and take in the majesty of the Mississippi River, or, at the very least, wander the Quarter and get an eyeful of the amazing architecture. And you can do it while legally carrying a drink around outside! Woo hoo!
Neanderthals: Wear matching themed T-shirts and store-bought beads.
Super-humans: Do anything else.
Seriously. The photo of your group wearing those "Drunk #1" through "Drunk #7" shirts and Mardi Gras beads, while holding a plastic yard of booze and laughing at your friend vomiting in the gutter will wind up on the Internet and eventually come back to haunt you. This is an immutable universal fact.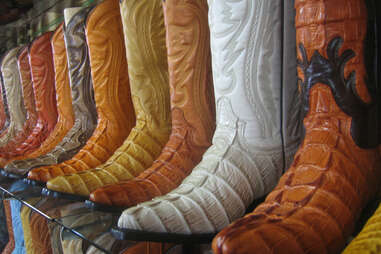 One-track minds: Get sucked into a shady strip joint by sketchy carnival barkers on Bourbon St.
Next-level thinkers: Check out some authentic burlesque.
When you're on vacation in NOLA and you've been downtown taking in their colorful libations all day, the temptation to see a little pink is perfectly understandable, and lord knows you have plenty of options. But like the food in the French Quarter, not all gentlemen's clubs serve up the good stuff. Instead of a sad, thread-worn joint that needs a scary carny to reel in rubes, do yourself a favor and head to a classier operation for some serious burlesque action. A good bet is always the FREE Burlesque Ballroom show on Friday nights at Irvin Mayfield's Jazz Playhouse.