Yes, you've heard of Mardi Gras. Fat Tuesday. The biggest free party in the world. But many folks don't realize that Carnival is actually an entire season, beginning with Twelfth Night (Epiphany), and leading up through the following weeks all the way to Mardi Gras day itself. Well, here's your one-stop-shop guide to all of it.  Just don't forget your costume, your beverage, and the secret passphrase: "throw me something, mister!"
Recommended Video
This Chinese Festival Is Like 'Frozen' Come to Life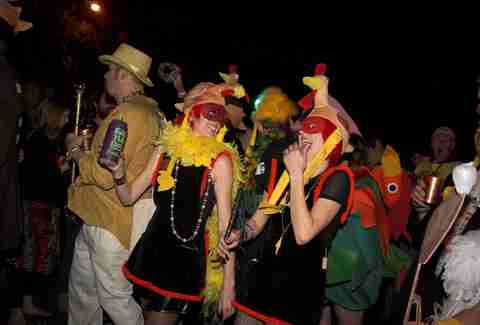 Saturday, Jan 31st
Krewe of Bilge
Slidell, Noon
You might not be surprised to learn that Bilge is the only parade in Carnival featuring boats as floats, tossing trinkets to revelers from the middle of Slidell waterways. Ahoy, mateys, this year's theme is "Fairy Tales and Myths."
Krewe of Mona Lisa & Moonpie
Slidell, 6pm
The mission of this Slidell walking parade is to "promote the arts, Old Towne Slidell, and good humor." For 2015, the krewe is celebrating the burgeoning local movie industry with the theme, "Mona Directs Hollywood South."
Krewe du Vieux
French Quarter, 6:30pm
This krewe hosts the single most irreverent, satirical, filthy, hilarious, balls-out (sometimes literally) parade in all of Carnival, and many see it as the starting point of parade season, even though, technically, Joan of Arc kicks things off on Twelfth Night. This is one for adults only, and for good reason... a couple of years back, one float depicted NFL Commissioner Roger Goodell emerging from a giant, elaborately decorated vulva. Suffice to say, it's a hell of a show.
Krewe Delusion
French Quarter, follows Krewe du Vieux
Delusion follows Krewe du Vieux in the Quarter, and is the newest satirical parade in NOLA, featuring sub-krewes like Krewe of Bananas, Krewe du Jieux, Bearded Oysters, Camel Toe Lady Steppers, The Pony Girls, 6t'9 Social Aid and Pleasure Club, and many more.
Sunday, Feb 1st
Krewe of Little Rascals
Metairie, Noon
As the name implies, this krewe is "manned" by children (275 of them, to be precise), and it's the biggest kids krewe in Carnival history. They'll be tossing you wooden nickels, which, contrary to popular opinion, you should totally take.
The Mystic Krewe of Perseus
Slidell, 1pm
"Imaginary Places" is the theme for this year's Perseus parade, should you be in Slidell. You want plastic crabs? They have them, and will be throwing them at you.
Friday, Feb 6th (First official weekend of Mardi Gras)
Krewe of Cork
French Quarter, 3pm
This is the official krewe of the wine industry, hence the name. So whip out your favorite plastic vino goblet (no glass on the streets, remember) and toast to our favorite local wine lovers.
Krewe of Oshun
Uptown, 6pm
The 18th annual Oshun parade will be returning to its Uptown route this year with "Carnival Around the World," as well as its signature peacock bracelets, which are much better than those colorful cause bracelets you're still wearing for some reason.
Krewe of Cleopatra
Uptown, 6:30pm
A spooky theme for the 43-year-old, all-ladies krewe this year, "Nightmare on the Avenue." Whether or not Freddy Krueger will be in attendance remains to be seen, but there definitely will be Cleopatra's signature acrylic glasses up for grabs, as well as the Kilts of Many Colours marching unit.
Krewe of Eve
Mandeville, 7pm
As you might guess, this is another female-led krewe on the North Shore, should you be up that way.  Apples, naturally, are the running theme here, so there will be glitter apple medallion beads, apple bags, and more. Just don't eat them.
Krewe of Excalibur
Metairie, 7pm
The Knights of the Round Table are celebrated in Metairie by this krewe, which features crazily over-the-top medieval costumes, hand-decorated shields as throws, as well as float-specific medallion beads.
Krewe of Athena
Metairie, 7:30pm
What do we know about this krewe? Very little, considering it's their first year. Rumor has it they're throwing fedora hats. You know... just like the Greek Goddess of Wisdom wore.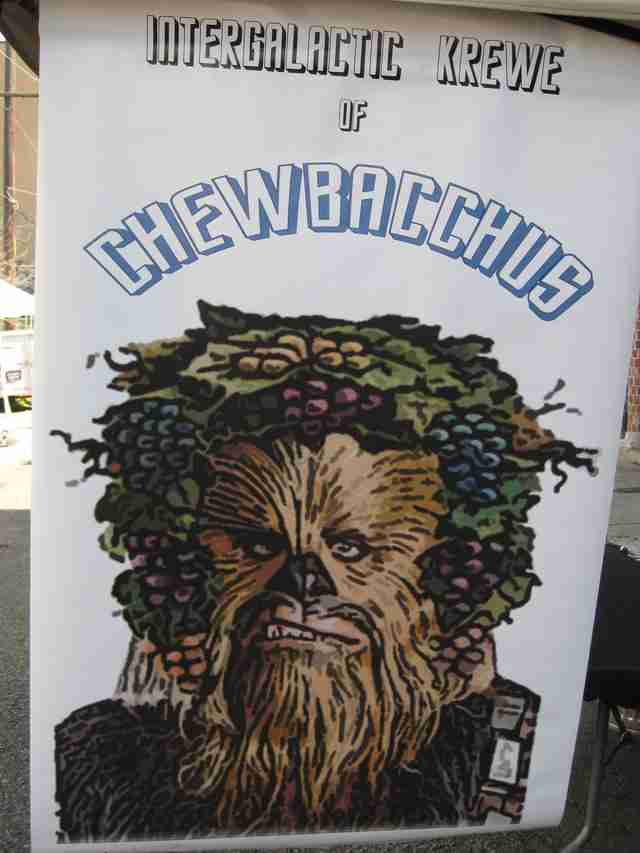 Saturday, Feb 7th
Krewe of Adonis
Westbank, 11:45am
My, aren't you handsome! "Short and Sweet" is the theme of Adonis this year, which, per usual, will be tossing commemorative cups.
Knights of Nemesis
St. Bernard, 1pm
350 men, women, and kids will be riding in Nemesis out in St. Bernard. If you want a Nemesis T-shirt, they'll be hurling them your way. Make sure not to get on their bad side.
Krewe of Pontchartrain
Uptown, 1pm
Go jump in the lake! No, really, that's the theme of Pontchartrain this Mardi Gras. This year, their 40th anniversary, they'll be throwing commemorative magnets, and the parade will feature the "Bayou Clydesdales." Take that, Budweiser!
Krewe of Choctaw
Uptown, follows Krewe of Pontchartrain
The tomahawks will again be flying through the air at the 69th rollout of Choctaw this year (hehehehe... 69), but don't worry, they're all plush and adorable. Also, more wooden nickels.
Krewe of Freret
Uptown, follows Krewe of Choctaw
Year number two for this newbie Uptown krewe will feature custom-made masks as throws (oooh, pretty), as well as the Nola Nyxettes and Darryl "Dancing Man 504" Young.
Krewe of 'tit Rex
Marigny, 5pm
The most adorable parade ever invented returns to the Marigny with all of its itty-bitty, teensy-weensy miniature floats (Note: "'tit" is short for "petite," just in case you were thinking something different). This year's theme? "Wee the People." Get it?
Intergalactic Krewe of Chewbacchus
Marigny, 6pm
Nerds unite! The 900-strong krewe of all things sci-fi and fantasy brings its geeked-out glam once more with this combustion engine-free parade, which includes everything from Star Wars to Doctor Who ("Krewe du Who"). There are only three rules here: no unicorns (unless they have rocket thrusters); no elves (unless they are cyborgs); and Whinebots will be air-locked into the nearest black hole. Yeah, it's all pretty fantastic.
Krewe Caesar
Metairie, 6pm
"Broadway on Parade" takes over Caesar this year, which should make for a fun show. If you'd ever wanted a plush battle axe -- and really, who doesn't? -- this is where you're gonna find them. Also, Iron Man and Spiderman as grand marshals!
The Mystic Krewe of Olympia
Covington, 6pm
The golden anniversary of this North Shore krewe will be in full effect, celebrating 50 years by throwing commemorative anniversary doubloons and light-up lightning bolts.
Knights of Sparta
Uptown, 6pm
Are you "In the Mood?" Well, Sparta must be, because that's their theme this year. Expect the customary mule-drawn king's float and traditional flambeaux, as well as themed clarinets as throws.  There will even be a "mystery throw"! THIS... IS... SPARTA!!!
The Mystic Krewe of Titans
Slidell, 6:30pm
At five years old, Titans is the newest Slidell parade. They'll be throwing lighted wristbands. That's about it. Well, that and a "Horror Story" theme. Spooky!
Krewe of Pygmalion
Uptown, 6:45pm
This krewe ushers in the 21st century with sweet fiber-optic lighting this year, and will be throwing their customary lighted Pygmalion figurines. The theme, by the way, is "Spectrum of Emotions." We hope there will be more laughing than crying.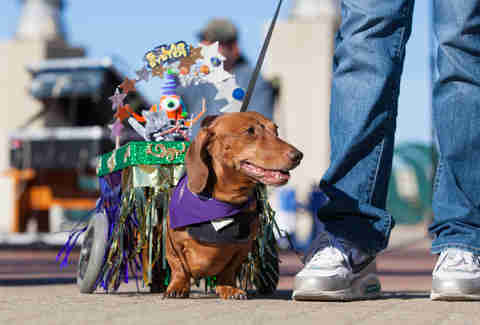 Sunday, Feb 8th
Krewe of Carrollton
Uptown, Noon
At 91 years old and boasting 25 floats and 400 members, this is the largest Carrollton parade of all time. There will be fedora hats and slap bracelets up for grabs.
Krewe of King Arthur
Uptown, follows Krewe of Carrollton
"It's in the Mail" says King Arthur, an intriguing theme for this, the largest Arthur parade ever (675 riders strong). Be on the lookout for king beads, and also "head boppers," which you totally won't assault your friends with after you've had a few beers.
Krewe of Alla
Uptown, follows Krewe of King Arthur
The 80th anniversary Alla parade will celebrate "The Land of the Free and the Home of the Brave," so expect lots of 'MURICA on display this year, as well as doubloons in three colors. Gee... I wonder what colors those might be, and whether or not they might run?
Krewe of Dionysus
Slidell, 1pm
Yes, Carnival features not one, but two krewes celebrating a mythological god of drinking and debauchery. This is the first one. They'll have special "wine barrel banks" coming your way, too, which sounds like a nifty keepsake.
Krewe of Barkus
French Quarter, 2pm
It's not Carnival without a parade specifically for and featuring our four-legged friends, and Barkus is all about 'em.  Whether you're a pet lover, pet owner, or you just like to see dogs in costume, this is the krewe for you.
The Mystic Krewe of Femme Fatale
Uptown, 3pm
The newest Uptown parade is a sexy and mysterious all-women krewe, so we don't know a whole lot about them, other than the fact that their signature throw is a "logo-mirrored lady's designer compact," just in case you needed one of those.
Wednesday, Feb 11th
Mystic Krewe of Druids
Uptown, 6:30pm
Light-up wizard hats as throws? A specialization in bawdy satire? A secret Archdruid king? What's not to love about this krewe?
Mystic Krewe of Nyx
Uptown, 7pm
It may only be four years old, but ladies-only Nyx is the fastest-growing krewe in Carnival. Their hand-decorated signature purses have quickly become a Mardi Gras must-have throw, so get close with these ladies, because you know you want one.
Thursday, Feb 12th (Mardi Gras weekend begins!)
Knights of Babylon
Uptown, 5:45pm
At three-quarters of a century old, Babylon is still going strong with its secret king and theme, mule-drawn king's float, and other old-school parade touches, except for one thing... a new throw: 3D cups! And here you were with your old, sad, two-dimensional Mardi Gras cups. Time to change that.
Krewe of Chaos
Uptown, 6:15pm
Chaos, in its 15 years, sees Babylon's secret king and secret theme and raises them one.  That's right, they have a secret throw as well! What could it be? Whatever it is, it's bound to be a chaotic night. ("Chaotic!" Get it?)
Krewe of Muses
Uptown, 6:30pm
With over a thousand riding members and one of the most popular and contested throws in all of Carnival -- painstakingly hand-decorated shoes and handbags -- the ladies of Muses know how to bring it... and how to throw it. This krewe celebrates all the heralded qualities of the nine daughters of Zeus, with "their wildness before they were tamed, their virtues after they were appointed, and their place in the mystique of New Orleans, where each virtue seems to thrive."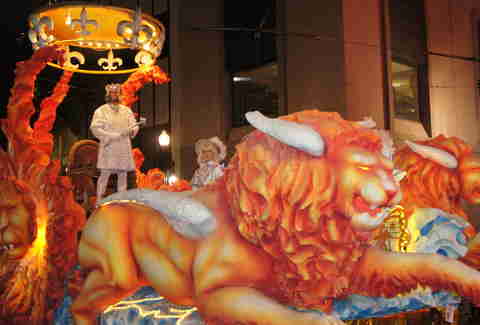 Friday, Feb 13th
Mystic Krewe of Hermes
Uptown, 6pm
Founded in 1937, the Krewe of Hermes has a number of rich traditions, many of which you can't experience unless you're one of their members. Lucky for you, though, they put on a killer parade, with 29 impressive floats, plush "H"s, and signature medallion beads as throws.
Le Krewe d'Etat
Uptown, 6:30pm
More secrets surround this krewe, including the king and theme, though it might be hard to top last year's, which was "Under the Influence." Be on the lookout for their blinking flambeaux beads and the "D'etat Gazette."
Krewe of Selene
Slidell, 6:30pm
The women of Selene take over Slidell with their 350 members and 16 floats, handing out signature purses. You can never have too many purses, am I right, guys?
Krewe of Morpheus
Uptown, 7pm
The ancient God of Sleep (not to be confused with Laurence Fishburne in The Matrix) is celebrated by the Krewe of Morpheus, but you'll want to be wide awake if you want to catch some of their "bobbin-head sheep" and black sheep throws. The krewe will be celebrating the 13th with a "Freaky Friday" theme. Heads up for body-switching shenanigans.
Krewe of Centurions
Metairie, 7pm
Lighted bracelets and doubloons in six colors will be on hand as Centurions "Explore the World of Emotions" this year. Also, don't miss the "Rhythm on the Route" battle of the bands, which should be fun.
Saturday, Feb 14th
Krewe of NOMTOC
Westbank, 10:45am
"New Orleans' Most Talked of Club" is formally known as the "Jugs Social Club," but that, we're sure, has nothing to do with the gentlemen's magazine that goes by a similar name. Per tradition, there will be lighted Jugs crest doubloon beads, and a tribute to Algiers, LA.
Krewe of Iris
Uptown, 11am
Beloved New Orleans entertainer (and "stripper of indeterminate age") Chris Owens will be riding as the grand marshall of Iris this year, which will be celebrating with an "Iris Loves to Party!" theme, and throwing you Iris pillows and plush king cake baby dolls. With 36 floats and over 1,300 women riding, it's bound to be a good time.
Krewe of Tucks
Uptown, Noon
"Tucks Saves the Day" this year for Carnival, in a way that only an irreverent, toilet-themed krewe could. Keep your eyes and hands ready to snag their signature toilet paper parachutes, and -- special this year -- 10,000 toilet brushes hand-decorated by the Magnolia school.
Krewe of Endymion
Mid-City, 4:15pm
Good luck, country music fans: Luke Bryan will be the guest marshall in this year's parade, which is a huge one at 3,000 riders. They're pulling out the stops this time, with sweet LED-lit floats and even the largest parade float in the world, which will carry a 260 (totally, absolutely, completely sober) riders. It'll be something to see, that's for sure.
Krewe of Isis
Metairie, 6:30pm
Jefferson Parish's only all-ladies krewe will be kicking it with "The Music of the Night," and a whopping 118 floats. If you ever wanted hand-decorated flip flops, they've got em. Not to be confused with the unfortunately similarly named terrorist group, or Archer's former spy organization.
Sunday, Feb 15th
Krewe of Okeanos
Uptown, 11am
Founded in 1949, Okeanos celebrates the Greek God of Oceans and Fertility by doling out 13in crawfish trays and 10-gauge high-relief doubloons on their Uptown parade route. Skinz n Bonez and Amelia Earhawts marching groups will also be bringing the music to this year's festivities.
Krewe of Mid-City
Uptown, 11:45am
Counterintuitively, the Krewe of Mid-City actually parades Uptown. But don't let that trip you up, lest you miss out on their excellent floats (they were the first to use animation in float designs) which are uniquely covered in intricately decorated tin foil. Their throws are jester hats and potato chips, which is good, because it's Mardi Gras weekend, and you'll need sustenance to soak up all the hooch you'll be swilling.
Krewe of Thoth
Uptown, Noon
1,600 men on 50 floats ride strong in Thoth, which will feature New Orleans favorites Benny Grunch & The Bunch, the legendary auteurs behind local classics such as "The 12 Yats of Christmas" and "Ain't Dere No More." More fedoras thrown here, just in case you don't have a closet full of them yet.
Krewe of Bacchus
Uptown, 5:15pm
One of the great granddaddies of Carnival, Bacchus is a big one, as well it should be, being named after the Roman God of Wine. Yes, there will be more signature floats than any other parade during Mardi Gras. Yes, there will be IndyCar drivers. Yes, there will be the infamous giant alligator float, and some of the best marching bands in town. And yes, there will be Dr. Brule himself, John C. Reilly, as Bacchus XLVII. Yes, you are going to this one.
Corps de Napoleon
Metairie, 5:30pm
Horse-drawn carriages are a traditional feature of this Metairie parade, which will be throwing you both vinyl footballs and doubloons that commemorate this, its 35th anniversary, which celebrates "History's Villains" this year.
Monday, Feb 16th (Lundi Gras)
Krewe of Proteus
Uptown, 5:15pm
The second-oldest parading krewe in Mardi Gras history -- having gotten its start all the way back in 1882 -- Proteus returns once again with "The Nature of the Beasts," as well as football and logo football throws, LED lanyards, and plush seahorses, so you can complete your full plush Mardi Gras throw set.
Krewe of Orpheus
Uptown, 6pm
Not to be outdone by earlier parades, Orpheus will feature another country music star, Dierks Bentley, as grand marshall this time around, but there's more to the parade than that and its light-up fedora throws (seriously, fedoras are everywhere these days). Also riding will be several cast members of NCIS New Orleans, and an impressive 60 flambeaux.
Tuesday, Feb 17th (MARDI GRAS DAY!!!)
It's finally here! Strap on your favorite wig, glitter makeup (and that goes for guys and gals alike), and get ready for the daddy of all Carnival days, Fat Tuesday! This is the big one, so don't forget to pace yourself, because it's going to be a long, amazing, totally insane day. And it all begins with...
Zulu Social Aid & Pleasure Club
Uptown, 8am
Nice coconuts! Perhaps one of the most coveted throws in all of Carnival is the famous, hand-painted Zulu coconut, which isn't actually thrown, but rather handed to lucky parade-goers, because really, do you know how much it hurts to be hit in the head with a coconut? This is also the only time in America in which blackface is deemed acceptable, for some reason (there's some history behind that).
The Krewe of Grela
Gretna, 10am
If you find yourself out on the West Bank, you'll be treated to Grela, the oldest parade on that side of the river, having been founded in 1948. This year, the krewe celebrates "Friday Night Frights," just in case you haven't loaded up on spooky-themed parades at this point.
Krewe of Argus
Metairie, 10am
This krewe was the first to bring Fat Tuesday to "Metry" 43 years ago and will showcase 600 men, women, and children riding on 20 floats. Want a superhero cup? Or a stack of 'em? Stock up here.
Krewe of Jefferson
Metairie, follows Krewe of Argus
Following on the heels of Argus is yet another huge truck parade, this one weighing in at 75 floats with 3,200 riders.
Elks Krewe of Jeffersonians
Metairie, follows Krewe of Jefferson
Just like the Elks in Orleans, the Metairie version of this parade is a gigantic procession of truck floats, numbering 68 with 2,700 riders.
Rex
Uptown, 10am
This is the big one, the parade to rule all parades: Rex, the King of Carnival. This year marks 134 years of Rex, and as usual, they'll be hosting amazing marching bands, amazing floats (built with traditional materials, including wooden wagons and wheels), and medallion beads tailored specifically for each of its 27 floats, as well as riding crops handed out by the krewe's riding lieutenants. Get there early, if you didn't already for Zulu.
Elks Krewe of Orleanians
Uptown, follows Krewe of Rex
Ah, the good ole "truck parade." Elks is a giant procession of decorated flatbed truck floats, numbering 120 with around 3,800 riders, the oldest parade of its kind. This is a good one for weird toys and trinkets, and it seems to just go on forever.
Crescent City
Uptown, follows Elks Krewe of Orleanians
Another truck parade, Crescent City was founded in 1947 and sports 61 truck floats with 2,500 riders. At this point, you start wondering if there's anyone in town who isn't, in fact, part of some kind of Mardi Gras krewe. 
KOE: Krewe of Elvis
French Quarter, 10:30am
All hail the King! This is a weird one (not that most Mardi Gras krewes aren't a little weird), consisting of Mardi Gras-loving Internet junkies who banded together to form their own group, the first ever "cyber-based marching krewe." But even though they're Interweb weirdos, they do, actually, have cool medallion throws. 
 
Wednesday, Feb 18th
It's Ash Wednesday. Mardi Gras is over. Sleep it off, have some cafe au lait, get yourself together and start planning for next year. And while Carnival may be over, the party doesn't stop in New Orleans... it's festival season now, son!
Sign up here for our daily New Orleans email and be the first to get all the food/drink/fun in the Big Easy.