When you travel to the Big Easy, you're almost immediately bombarded by brochures and adverts hawking everything from strip clubs to steakhouses, swamp and cemetery tours, and also generally something to do with voodoo. Don't get sucked in. There are about a thousand places in the 504 that will gladly take your hard-earned scratch and give you so little in return. On the other hand, there are a few well-known tourist destinations that, even for locals, are definitely worth checking out. Here's a good way to get started on the great touristy stuff:
Cafe Du Monde
French Quarter
It's iconic, a beloved New Orleans legend for decades. Serving hot, pillowy, beignets straight out of the fryer and covered in an avalanche of powdered sugar, as well as creamy cafe au lait -- not to mention that it's open 24/7, probably the most important point for a native; the breakfast crowds will give you a hustled experience; instead, save this one for after dinner or for a late-night pick-me-up.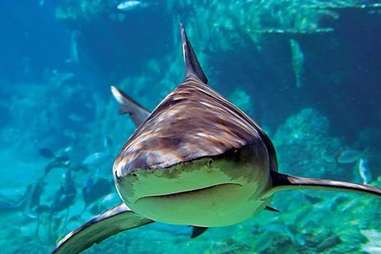 The Audubon Aquarium of the Americas
French Quarter
Nestled right at the river end of Canal St, the glass-encased exterior of the New Orleans Aquarium is hard to miss, hence it draws in scores of visitors. You should be one of them. Because there are really terrifying-looking piranhas, sharks, and, oh yeah, white freaking alligators.
Mardi Gras World
Central Business District
Sometimes the best way to experience a Mardi Gras parade is out of season. Head to Mardi Gras world to see where the magic happens -- this is the studio that, for half a century, has produced some of the most impressive floats Fat Tuesday has ever experienced.
Pat O'Brien's
French Quarter
Many know "Pat O's" as the home and originator of the Hurricane cocktail, but there's more to Pat O's than sugary rum drinks. The patio is a lovely place to hang out when the weather is nice (plus: fire fountain!), and the dueling piano bar can be a hell of a good time.
Jackson Square
French Quarter
Are there jugglers, fortune tellers, silver-painted living statues, portrait artists, street performers, brass bands, and a guy who wheels in a grand piano on his bicycle to entertain the crowds? Yup... Jackson Square is a spring-loaded, steel-toothed tourist trap. But it's free, so long as you don't get hustled, the historic architecture is incredible, there's a lovely little park, and it's probably one of the best people-watching spots in the whole city.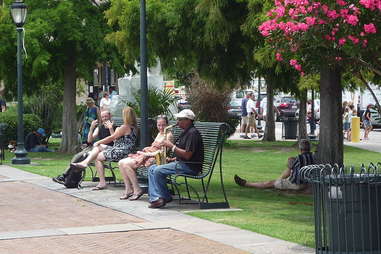 Woldenberg Park
French Quarter
Grab a po-boy or muffaletta (perhaps at the Central Grocery, which tends to be a tourist trap in its own right), a six-pack of cold beer, and head over to the river for a picnic with a grand view of the mighty Mississippi River. Soak up some sun while you eat, drink, and watch the boats -- from cruise ships to cargo vessels and everything in between -- make their way along Big Muddy. Bonus: plenty of cool art and sculptures throughout its 16 green acres.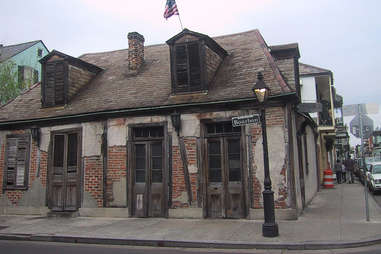 Lafitte's Blacksmith Shop
French Quarter
A stone and wood cottage on Bourbon St, Lafitte's is renowned as the oldest structure used as a bar in the United States (built around 1722 and named after the infamous privateer Jean Lafitte). They claim to stick only to candles for interior lighting, but the glow of the daiquiri blenders and video poker machines kiiind of cancel out that vibe. Go because it's a neat mix of old and new, then stay for their frozen "purple drank" and a genial piano player who happily accepts requests.
Pirate's Alley Cafe
French Quarter
Speaking of privateers, NOLA houses a historic pirate bar in a place called... you guessed it, "Pirate's Alley". It's actually a fun spot, so long as you don't mind the occasional wasted tourist falling into his best Captain Hook or Jack Sparrow imitation. Don't be that guy.