Paid Content For
Hotel Thrillist
15 New Orleans Secrets That You Probably Didn't Know
Paid Content For
Hotel Thrillist
Like a great lover, it would take a lifetime to fully "know" New Orleans, and even most lifelong natives don't have all the goods on the Crescent City and its hidden charms. Here, then, are 15 of the more intriguing (and likely little-known) facts about the Big Easy that you should be aware of...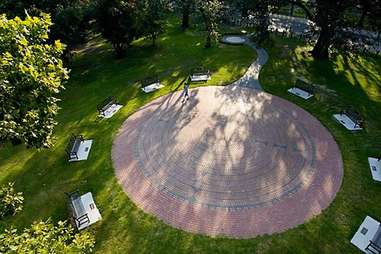 1. There's a hidden labyrinth in Audubon Park
Uptown
Most don't know that the popular Uptown park houses a beautiful, intricate walking maze free to the public, likely because it's on the opposite side of Magazine St (near the entrance at Laurel) by the stables. It is, in fact, the city's first permanent labyrinth.
2. There's a reason that the bizarre steel building on St. Charles doesn't quite fit in...
Lower Garden District
Giant, exposed steel beams kind of seem at odds with historic mansions on the Avenue, but there's some history to that structure: it used to literally be part of the Eiffel Tower in Paris. It was originally a restaurant atop the Eiffel, which was painstakingly dismantled, beam by beam, and then reconstituted in NOLA. It now houses the Eiffel Society. You can have parties there, which is pretty nifty.
3. The lighthouse on the lakefront has survived every storm since the 1850s
Lakefront
If you happen to wonder what's up with that cool old lighthouse on the Lakefront, it's called the Milneburg (or "Port Pontchartrain") Lighthouse, which was constructed in 1854, and still stands today, having once been an integral symbol of the Pontchartrain Beach amusement park. And hey, if you're into lighthouses, you can also check out the New Canal Lighthouse Museum and Education Center farther down the lake.
4. There are two houses in Holy Cross that are built like steamships
Holy Cross
A steamboat captain named Paul Doullut loved his vessels so much that he built two houses to resemble them. The top floors are the "pilot houses" that overlook the Mississippi.
6. This Fresh Market was originally a funeral home
Uptown
The Fresh Market at the corner of Louisiana and St. Charles might be a hoity-toity grocery store these days, but that very interesting-looking building used to be packed with dead bodies. Creepy, right? Hopefully, they're not haunting your kale.
7. An antique store on Royal St. has a secret room
French Quarter
If you're looking for unbelievable art in the French Quarter, stop in M.S. Rau Antiques and ask for a tour. If you politely ask to see the "secret room," they'll lead you through a disguised door in the back to a collection of some mind-blowingly beautiful and historic art and artifacts. And if you have the money bags, you can even buy some of it.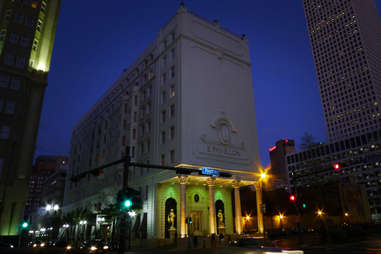 8. Le Pavillon Hotel has a prank-playing ghost
French Quarter
There are a number of well-known haunted locations in New Orleans, but one of the most popular is Le Pavillon, which is said to house four separate entities, including "a 19th century teenage girl, a young aristocratic couple from the 1920s, and a dapper gentleman from the same era who likes to play pranks on the cleaning staff." Even the bar is supposed to be haunted (at least it definitely has a few spirits).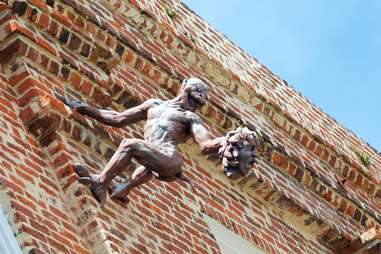 9. A few absolutely terrifying gargoyles grace certain Uptown buildings
Uptown
They are shaped like horrifying ghouls who cling to the edifices with three clawed limbs and, in the fourth, hold the severed head of Medusa. Yup... pretty much pure nightmare fuel. One of the more noticeable ones is on the side of what was once a former Jewish synagogue at 701 Jackson Ave.
10. The oldest fire hydrant in New Orleans is on Bayou St. John
City Park
It's dated 1869, and you can find it on Moss St near the Pitot House, which, while we're talking history, should be noted was constructed for James Pitot, the first mayor of the Incorporated City of New Orleans. Now you know!
11. Certain light poles Downtown are a little unsure of history
Downtown
Specifically, they express "Confederate Domination," which we all know didn't quite come to pass.
12. Some of the finest historic murals in NOLA can be found... in the bus station?
CBD
That's right: at the Greyhound Station (technically, the "New Orleans Union Passenger Terminal"), you'll find a couple of amazing murals depicting the history of Louisiana, which were painted by artist Conrad Albrizio as part of the WPA program between 1951 and 1954.
13. That giant, bizarro pyramid tomb in St. Louis Cemetery No. 1 belongs to Nicolas Cage
French Quarter
St. Louis Cemetery No. 1 famously houses the tomb of Voodoo Queen Marie Laveau, but recently our favorite (and totally sane) actor built a huge pyramid in which he plans to be interred. Various theories surround the tomb, including Cage being a member of the Illuminati and references to the film National Treasure. Either way, it's a pretty impressive eyesore.
14. Musician Gram Parsons is "buried" in Metairie
Metairie
Plenty of famous people are interred in New Orleans cemeteries, but this one bears note because 1) Gram Parsons was a talented musician who tragically died too young, and 2) while he requested to have his ashes buried at Joshua Tree, he was laid to rest in NOLA instead. So, guess what happened? His friends dug up his corpse, burned it, and brought the cremains to Joshua Tree. They were thwarted in their plans, however, and Parsons's remains (what was left of them) were eventually moved back to Metairie. Isn't that just insane?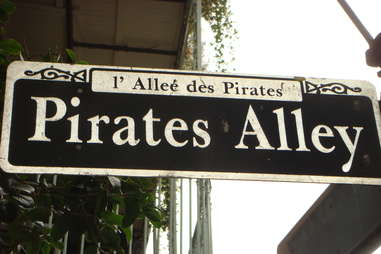 15. There's a whole lot of lost pirate booty somewhere
The legendary treasure of infamous privateer Jean Lafitte and his brother has never been discovered. It's out there, somewhere, just waiting for someone to find it. Just like in The Goonies!
Sign up here for our daily New Orleans email and be the first to get all the food/drink/fun in the Big Easy.