How to escape The Big Easy's tourist traps
Congrats, you made it to New Orleans! We couldn't be happier to have you in our beloved city (yes, even if you're from Atlanta). The Big Easy is as unique an American town as has ever existed, and it's rightfully won a reputation across the globe for its food, culture, music, and bead-driven public nudity. With all that awesomeness, however, also comes tourist traps -- here are some pro tips to make sure you get the former, rather than the latter.
You want to do this: Buy and wear plastic Mardi Gras beads.
Do this instead: Buy and wear a hat.

For some reason, visitors to New Orleans feel a soul-deep need to throw on Mardi Gras beads as soon as their plane touches down, regardless of whether or not it's Carnival season, as though it's our version of the Hawaiian lei. It's not. The only time anyone should be wearing beads is if A) it's Mardi Gras, B) you're at a parade, or C) you've caught them in the air yourself (not picked up from the ground, mind you, or paid for them in a shop like a sucker) or bartered for them "the old fashioned way". If you feel the need to buy something to wear for your stay in the Crescent City, make it a great hat. It's hot down here, so it's legitimately practical, plus we have some really fantastic artisanal haberdashers like the Goorin Brothers. Also, the ladies love a man in an excellent hat ("It makes you all look like Don Draper on vacation", says SoBou's bar chef Abigail Gullo).
Suckers: Get cafe au lait and beignets at Cafe du Monde.
Winners: Go to Morning Call.

Sure, wanting to gorge yourself on perfectly fried dough buried in a snowy mountain of powdered sugar, then chase it with creamy cafe au lait is perfectly natural, but if you want to get that same experience without the hassle of the French Quarter's Cafe du Monde, take the streetcar all the way down Canal Street to Morning Call in City Park. The doughnuts and coffee are better, City Park (filled w/ majestic live oaks dripping in Spanish moss) is stunning, and you get an awesome trolley ride. Plus, that'll get you out of downtown. Speaking of which...
Naive fools: Keep to the French Quarter -- there's so much to do!
The enlightened: Explore literally any other neighborhood.

There's way, way more to NOLA than what you'll find in the Vieux Carre (even though the French Quarter is pretty awesome, and certainly isn't just for tourists). But the city is worth some solid exploration, whether that means renting a bicycle and riding out to the lakefront, or taking the Canal St streetcar to Mid-City (where you'll find some fantastic restos, including Mandina's, a treasured classic -- the trout amandine is the size of your head), or all the way down St. Charles Avenue through Uptown and the Garden District, where there are some seriously cool historic cemeteries to wander through.
Squares: Party it up with live music on Bourbon Street.
Jives: Party it up with live music on Frenchman Street.

Wendell Pierce's Treme character is told several times that "there's a lot of pride on Bourbon Street", when he laments having to play a show there, and they're right. There is. There are also questionable strip clubs, gaudy frozen daiquiri joints, chintzy gift shops, and some heavyweight cheese-ball karaoke bars. If you want to party and hear some seriously good music, walk over to Frenchman in the Faubourg Marigny and hit almost any music venue, especially the Spotted Cat, the Blue Nile, d.b.a., Cafe Negril, and Snug Harbor.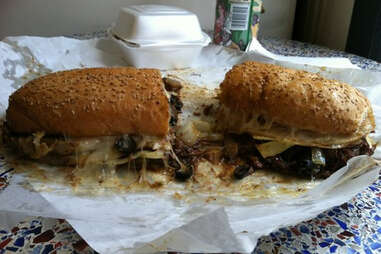 Chumps: Eat at Lucky Dog, because you've had a few cocktails, it's late at night, and you're starving.
Champions: Go to Verti Marte.

When you're three sheets to the wind and deep into the evening (or early morning), the ubiquitous and colorful street corner Lucky Dog stands may look alluring for a quick bite, but don't get sucked in -- those dirty-water dogs are possibly the most questionable street meat in New Orleans history. Instead, find your way to the back of Verti Marte, the tiny French Quarter grocery shop with a short-order counter in the back. Locals know it's always good for a late-night shrimp po-boy (one of the best), hot muffaletta, jambalaya, and all that other great NOLA drunk food we love so much.
The brain dead: Take a tour of the Mississippi River on the Creole Queen.
The brain trust: Take the free ferry to Algiers and back.

The Creole Queen is a delightful piece of local history, and riding an old-timey paddlewheeler seems like a super New Orleans-y thing to do, but if you want to save your money for food, drinks, and shiny trinkets, take the FREE ferry from the French Quarter across the Mississippi to Algiers Point. This historic neighborhood is worth exploring for a few hours (if only to have a drink and a round of pool at the Old Point Bar, which you may have seen in any number of movies shot here) before hopping the ferry back to the Quarter again. (Note: The ferry's still gratis for the time being, but they're upping it to two whole dollars soon, so get in while the getting's complimentary.)