The 25 New Orleans Commandments
And lo, Louis Armstrong came down from Monkey Hill with a pair of tablets and a Sazerac, and gave unto the Crescent City its covenant with the almighty, that denizens of the Big Easy might have happy lives and full bellies and always wonderful music. And the tablets read:
THOU SHALT...
1. Suck the heads
"Dat's where all da good yella fat is at!"
2. Have a guest room or couch ready for visitors
Because there are going to be visitors.
3. Treat all visitors and tourists graciously
Help them if they need help, offer them directions and restaurant and music recommendations, and always buy more beer than you think you'll need.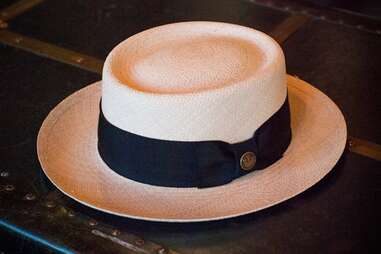 4. Own one decent hat
5. Learn the dialect(s) and colorful local idioms
"Because at some point you'll have to make groceries to bring over to ya Mom 'n' dem's shotgun down da road and pass a good time, ya heard?"
6. Know how to spell Tchoupitoulas
Or at least how to pronounce it.
7. Not complain about the heat and/or humidity
Everyone is hot -- just live with it. Either stay in the A/C or embrace the sweat.
8. Shake thine thing
Dancing is a vital part of New Orleans life. And death... we dance at funerals, too.
9. Not be a fair weather Saints fan
One is either a true WHO DAT, or one is not. Never put the bad juju on "our boys."
10. Get to church at least once a year
And by "church," we mean "The Superdome."
11. Be constantly on the lookout for hazards of the New Orleans road
Cracks, car-swallowing potholes, parade traffic, flash floods, and assholes from Texas.
12. Know thine seasons
Carnival, crawfish, sno-ball, football.
13. Eat red beans and rice on Monday
Tradition is tradition.
14. Always have a bottle of good hot sauce available
Preferably Tabasco or Crystal.
15. NEVER STOP STIRRING THE ROUX
16. Never fear to bring thine own booze
And remember the rules of the hip flask: fill, hide discretely, and always share.
17. Get to know your neighbors
There's a good chance that they're either raving lunatics or truly wonderful human beings. Or both... these things aren't necessarily mutually exclusive in New Orleans.
18. Wait in line to have lunch at Galatoire's
On a Friday, first seating.
19. Know "where you got dem shoes"
Sigh... on your feets.
20. Always listen to your Mama
And WWOZ, the best local radio station on Earth.
21. Know how to get around using NOLA directions
Uptown, Downtown, river, lake, neutral-ground-side, sidewalk-side, and understand that you need to travel East to get to the West Bank. Simple!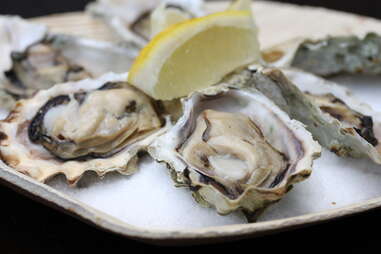 22. Know how to mix your own cocktail sauce tableside for "erstahs"
23. Never wear open-toed shoes on Bourbon St at night
24. Appreciate live, local music
Never, EVER buy or rent an apartment or house adjacent to a music club and then complain about the noise. EVER EVER EVER.
25. Have a hurricane evacuation plan and a power-outage contingency plan
Both of which involve buying plenty of "terlet" paper and booze.
Sign up here for our daily New Orleans email and be the first to get all the food/drink/fun in the Big Easy.