The 10 Best Vacation Spots Within Driving Distance of New Orleans
Galveston, Texas

| GagliardiImages/Shutterstock
Galveston, Texas

| GagliardiImages/Shutterstock
While thousands upon thousands of fellow Americans attempt to get in to New Orleans over the coming months, you will likely feel the need to need to get out, if only for a brief rejoinder on what life is like without crushing humidity. So, forget security checkpoints, forget delicious airline peanuts, and head out on a road trip to one of these fine spots, all under a six-hour drive.
Mandeville, LA
Distance from New Orleans: 35 miles North; 45-minute drive
Why it made our list: Historic Mandeville has B&Bs, cottages for rent, restaurants, bike paths, shops, and riverside parks. Bike the Covington Trailhead to explore the surrounding Northshore communities, dine at Gio's Villa Vancheri, Jubilee Restaurant and Courtyard, or Opal Basil on the Trace. This is also a great day trip option.
Pro tip: For a small waterfront town, Mandeville has it going on when it comes to craft beer. Check out the The Barley Oak overlooking the lake, the Old Rail Brewing Company brewpub for beers brewed in-house and an elevated, well-executed pub menu, and local production brewery, Chafunkta Brewing.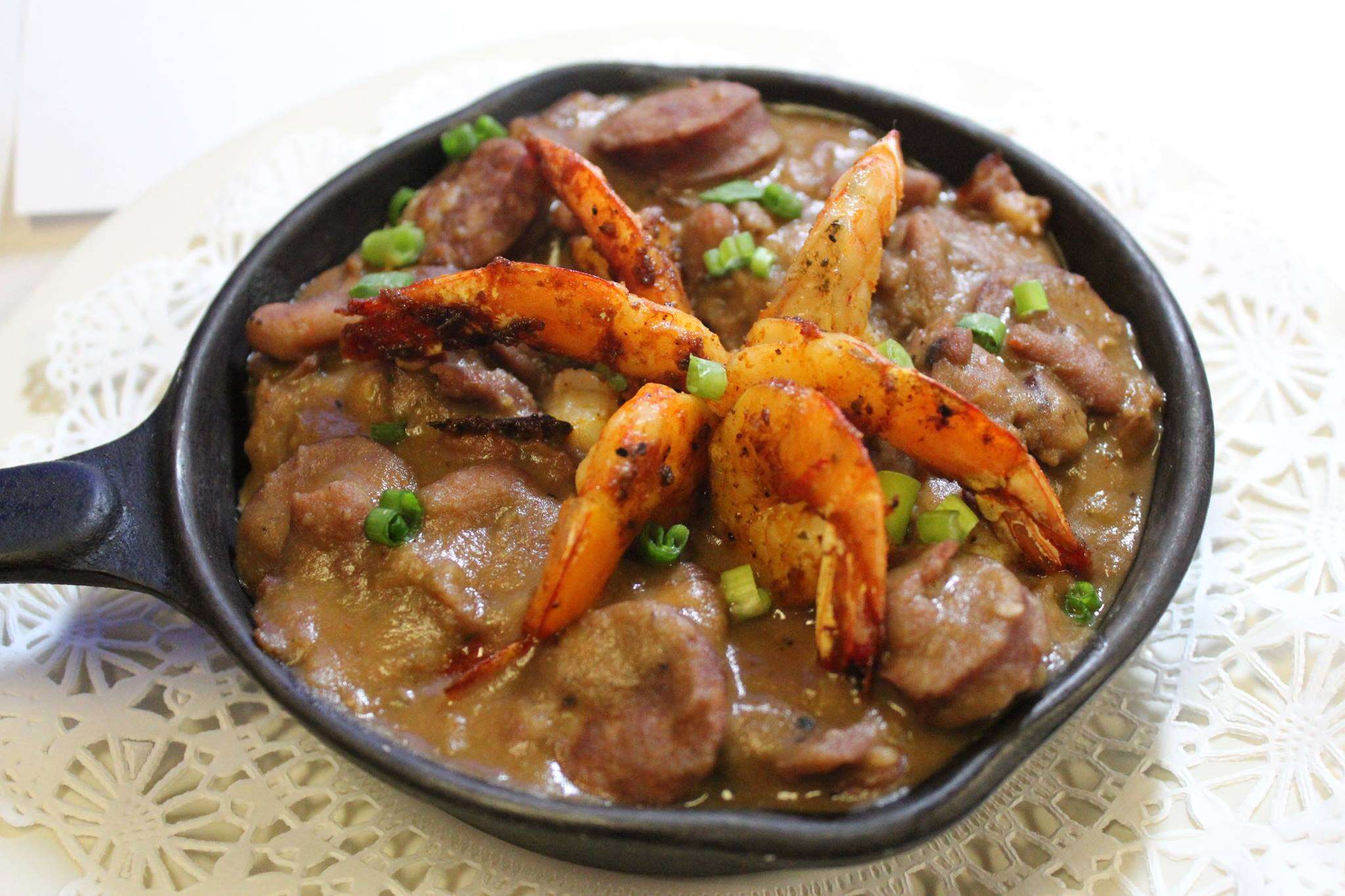 Lafayette, LA
Distance from New Orleans: 135 miles West; 2.25-hour drive
Why it made our list: Lafayette is the heart of Cajun Country, and you'll find all the traditional smoked meats, gumbos, fried cracklins, and boudin every which way you turn. For legit Cajun country cooking, hit up Johnson's Boucaniere, The French Press (breakfast and lunch only -- have the Cajun Benedict, it's life changing), or Bread & Circus Provisions, (which also has one of Thrillist's Best Burgers of Louisiana), or the famed Prejean's.
Pro tip: Try The Best Stop or Billy's Boudin & Cracklins in Scott, Saucier's Sausage Kitchen in Mamou, or the Texaco/Country Road Express in Opelousas for the best cracklin you'll ever put in your mouth.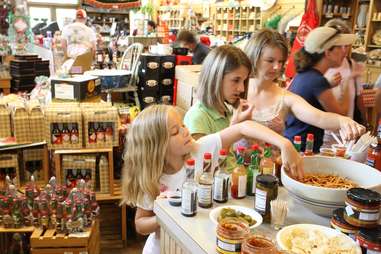 New Iberia/Avery Island, LA
Distance from New Orleans: 135 miles West; 2.25-hour drive
Why it made our list:Avery Island is where Tabasco is made, which makes for a fun day of exploration, with its Jungle Gardens, bayous, wildlife (gators! egrets!), pepper fields, and hot sauce production factory tour. There's no place to stay or eat (besides samples) on Avery Island, so that's where New Iberia comes in. Check into one of the adorable B&Bs that are either conveniently located Downtown or overlook sugar cane fields, Lake Peigneur or the Bayou Teche. Get your inner Cajun on with boudin and cracklins from Billeaud's Too or Cajun Boudin Cracklins, check out soul food at Brenda's Dine In & Take Out, and go upscale at Des Amis or Clementine (which also has live music.)
Pro tip: If you're around during the week (M-F), check out the historic Lejeune's Bakery in the nearby town of Jeanerette, which has been making exclusively French bread and ginger cakes since 1884.
Fairhope, AL
Distance from New Orleans: 161 miles East; 2.5-hour drive
Why it made our list: Close to the picture-perfect beach of Gulf Shores, Fairhope on Mobile Bay is an uber-quaint shore town with a ton of character to make for a relaxed getaway. The town is known for its art (check out the Eastern Shore Arts Center on Fridays), but since looking at art really works up an appetite, there are also places to fix that too. For dinner, Dragonfly Foodbar has tacos, noodle bowls, and great drinks; Pinzones has Italian fare; while Thyme By the Bay serves tapas with a gorgeous view.
Pro tip:Fairhope Brewing Company has the best beer for miles around, with a spacious taproom with many televisions if you need to catch the Saints game, or live music during the weekend. The staff is friendly, the vibe is relaxed, and the beer is fantastic.
Pensacola/Pensacola Island, FL
Distance from New Orleans: 201 miles East; three-hour drive
Why it made our list: Pensacola, on the Emerald Coast, is just as gorgeous as it sounds. There are stunning beaches of course, but also explore the naval history of the area with the Naval Aviation Museum, as well as the Pensacola Lighthouse and Museum to tour, and watch the Blue Angels practice. Visit the Pensacola Bay Brewery for local beer, Peg Leg Pete's for oysters and Gulf-caught grouper, or Paradise Inn Bar & Grill right on the beach for live music and amazing views.
Pro tip: Check out the Downtown area with the bars, shops, and brewery during the day in Pensacola City, but fall asleep and wake up to amazing views on Pensacola Island.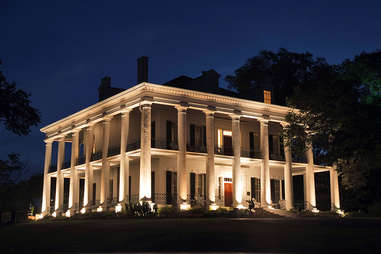 Natchez, MS
Distance from New Orleans: 176 miles North; three-hour drive
Why it made our list: If Antebellum architecture rocks your world, Natchez is the place to get your fix. Right on the banks of the Mississippi River, it was left alone during the Civil War, so there's history to explore everywhere you look with plantations, tribal grounds, the first college in Mississippi, and historic museums and cemeteries. Get your booze on at the Charboneau Distillery, the Natchez Brewing Company, and the Old South Winery. Dine on Southern specialties at places like Fat Mama's Tamales, the King's Tavern (conveniently located next to the Charboneau Distillery,) Roux 61, The Camp Restaurant gastropub, or Pig Out Inn BBQ.
Pro tip: It's the biscuit capital of the world, so get out there and do your due diligence at the Carriage House Restaurant, Biscuits & Blues, and be a guest of Twin Oaks Bed & Breakfast.
Kisatchie National Forest/Natchitoches, LA
Distance from New Orleans: 236 miles Northwest; four-hour drive
Why it made our list: For hiking enthusiasts as well as fans of outdoor vistas, adventures, and camping, this is a premier destination. Kisatchie is the only naturally occurring forest in Louisiana, and there are over 600,000 acres of it with bike trails, opportunities for hunting and fishing, and lots of space to explore. Mmmm, outdoorsy.
Pro tip: If you like the outdoors, but not enough to let your guard down and actually sleep there, stick to the Eastern side of the forest and then retire to an adorbs B&B in Natchitoches. Make sure you treat yourself to a lovely dinner at The Landing Restaurant & Bar or Lasyone's Meat Pie Restaurant.
Port St. Joe, FL
Distance from New Orleans: 364 miles East; 5.5-hour drive
Why it made our list: Port St. Joe is a peninsula wedged between St. Joseph's Bay and the Gulf of Mexico, so there's lots of coastline to enjoy, still relatively free and open and not overbuilt. It's also driving distance from Apalachicola's shops and restos, although Port St. Joe has its own, like the Sunset Coastal Grill, Joe Mama's Wood Fired Pizza, or Provisions Restaurant & Catering. But it's worthwhile to venture out to Indian Pass Raw Bar and suck back lots and lots of as-fresh-as-they-come oysters.
Pro tip: If you get a cottage or a room with a kitchen, you can dive for your own bay scallops between June-September and cook 'em up.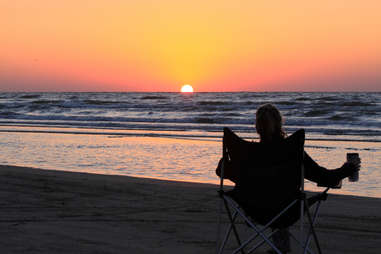 Galveston, TX
Distance from New Orleans: 368 miles West; 5.5-hour drive
Why it made our list: The more outdoorsy types might enjoy camping and some of the best birding in the region at Galveston State Park, while those seeking more comfort can find it in the many B&Bs or historic hotels like the Hotel Galvez and Spa. For food, check out the intriguingly named Cajun Greek Seafood, which tells you pretty much all you need to know about the place. Or Farley Girls for made-from-scratch pizzas and paninis, Shrimp 'N Stuff for... you know, shrimp and stuff, upscale pub fare, and quality beer from Brews Brothers, or local-ingredient-driven Sunflower Bakery & Cafe.
Pro tip: Galveston has its own festival season in the spring with Featherfest & Nature PhotoFest for birders, Galveston Island Food & Wine Festival for foodies, and the Galveston Historic Homes Tour for history and/or architecture nerds.
Distance from New Orleans: 396 miles North; 5.5-hour drive, or 8-10 hour train ride on the City of New Orleans train
Why it made our list: Not only is it less than six hours away by car, but if you want to experience the fine art of train travel, the famous City Of New Orleans train line passes through Memphis en route to Chicago. It takes longer, but you can nap, at least. Check out Memphis' blues history by going to Sun Studio for a tour, listen to the up-and-comers at places like the Hi-Tone Cafe, or get down and dirty at juke joint Wild Bill's.
Pro tip: Get some of the best BBQ on the damn planet...
Sign up here for our daily New Orleans email and be the first to get all the food/drink/fun in the Big Easy.