The Most Beautiful Places to Visit in Louisiana
Get some fresh air.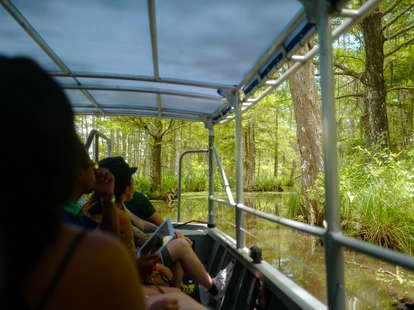 Whether you're looking for a new adventure or you just need to get the heck outdoors for some good old socially distanced fun, you really can't go wrong in heading south to Louisiana. When many people think of our state, the images they conjure tend to include French Quarter bars, gator boats, and roaring fans at football stadiums. And while all of those are beautiful in their own right, Louisiana's natural beauty extends far past them, and there's plenty to find if you're willing to go exploring. Here are some of our favorite -- and most beautiful -- options.
St. Martin Parish
Tucked into the heart of Louisiana's Cajun Country and part of The Nature Conservancy's Cypress Island Preserve, Lake Martin is part of a larger cypress-tupelo swamp. And if you're not sure you'd be able to spot an alligator in the wild, you sure will after a visit here -- the lake is home to a sizable nesting population. Just take note: The land around the lake is privately owned, so head for the Cypress Island Preserve Visitor Center on the southern side.
Baton Rouge
While most visitors to Baton Rouge know to make a swing through the LSU campus to visit Mike the Tiger or walk through the oak tree-shaded Quad, few know to head south of campus toward the Botanic Gardens. Here, you'll find a variety of flora to entertain even the least likely gardener, including plumeria, bromeliads, herbs, roses and even some of the largest collections of ginger and camellias in the world.
Shreveport
Ready to wake up and smell the roses? Just head to Caddo Parish in the northwestern corner of the state, and you'll find the American Rose Society, whose gardens span 118 acres of florid beauty. The organization moved here in 1974, planting roots to develop America's largest garden dedicated solely to roses. While the gardens are undergoing a renovation through 2022, they're still open for visitors.
Chauvin
So, this is an interesting story: A reclusive bricklayer named Kenny Hill, who, beginning in 1990, started turning his grounds out on the bayou into one of the most intriguing works of "outsider art" in the country. The centerpiece is a crazy 45-foot-tall, figurine-embellished lighthouse, which took more than 7,000 bricks to construct. The artist left behind more than 100 concrete sculptures on his property, which he never intended for public visitation. It all makes for a beautifully weird and fascinating visit.
Marrero
There are actually six sites that make up this renowned park system, but the best is easily the Barataria Preserve. It includes 23,000 acres of Louisiana wetlands that will make you fall in love with the beauty of the swamp. Here you'll find marshes, forests, and bayous filled with birds, frogs, snakes, turtles, nutria, and, of course, alligators. Just like in any park managed by the National Park Service, don't forget to ask a ranger for a Junior Ranger workbook. Complete it, and you'll get a special badge.
Jefferson Parish
Nestled along the South Louisiana coastline is the state's only inhabited barrier island, Grand Isle, and if you have any interest in birding or fishing, you'll want to pay this oasis a visit. Once a hideout for the pirate Jean Lafitte, who later became a Battle of New Orleans hero, Grand Isle offers birding trails, the Elmer's Island Wildlife Refuge, fishing spots, wide-open beaches, and a magnificent view of the Gulf of Mexico.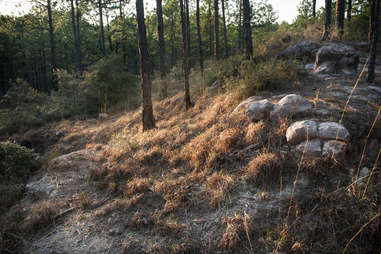 Central and Northern Louisiana
If you're looking for a National Forest in Louisiana, Kisatchie is the state's one and only. But really, we only need one because Kisatchie is just spectacular. The entire forest is too big to admire at once, but a good start is the Castor Creek scenic area. The more adventurous visitors should consider a hike along the 23+ mile Wild Azalea Trail, which you can easily turn into a two-day adventure.
Northeastern Louisiana
It might not seem like the most beguiling name, but Poverty Point is actually an incredible (and incredibly important) archeological site dating back more than 3,000 years, when Native Americans built this series of mounds and ridges thought to be the hub of a trading system that spanned thousands of miles. It's touted as an "engineering marvel," and was designated a World Heritage Site in 2014, making it both fascinating and beautiful.
Homer
With its sandy beaches, boating, and abundant fishing opportunities (there's a reason Louisiana is called "Sportsmans' Paradise," and it ain't because of the Saints), Lake Claiborne is a fantastic place to visit if you want to drink in Louisiana's natural splendor. And bring your appetite for fresh fish, because the lake is literally swimming with largemouth bass, bluegill sunfish, channel catfish, black crappie, striped bass, chain pickerel, bream, and white perch. We'll take one of each, please, preferably with a nice brown butter sauce.
St. Francisville
When you think of Louisiana, you might not think of rolling hills, bluffs, and ravines, but that's exactly what you'll find in Tunica Hills. If you're looking to hunt, go horseback riding or bike riding, head to the Tunica Hills Wildlife Management Area, which also offers a nature trail for something more introductory.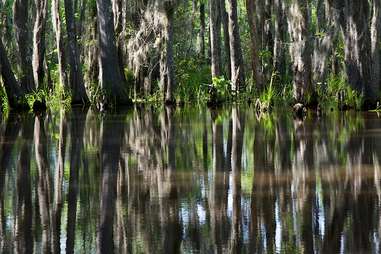 Slidell
Less than an hour from New Orleans, and you'll find the Honey Island Swamp. While many think of mysterious creatures and spooky waterways, Honey Island is a perfect example of some of the breathtaking natural scenes you'll find in Louisiana's swamplands. Here, you'll see magnificent cypress trees dripping with Spanish moss, owls and waterfowl and, yes, wild boar, snakes, and (as always), alligators. But this is their home, and we're the ones visiting here.
Sign up here for our daily New Orleans email and be the first to get all the food/drink/fun in the Big Easy.
Chelsea Brasted is a freelance writer in her hometown of New Orleans, where she formerly worked for The Times-Picayune as an arts and entertainment reporter and city columnist.

Additional reporting provided by contributing writer Scott Gold.