15 Things the World Needs to Thank New Orleans for
Everyone knows that New Orleans is a fun place, and that it has a rich and colorful history. What they might not know, however, is that this town is responsible for some pretty amazing inventions (and yes, the "Huge Ass Beer" is among the greatest, but no, it did not make the list). Here, for the record, are the best things to have been originated in the Big Easy. You're welcome, planet Earth. 
1. Jazz
It is, and will always be, the first truly American art form, and no one will deny that it was invented in the Crescent City. In fact, "The Birthplace of Jazz," is NOLA's unofficial nickname.
2. Poker (and craps)
The Mississippi River was once teeming with steamships, and with those steamships came riverboat gambling. Legend has it that sailors in the Port of New Orleans in the early part of the 19th century originated poker and craps as a way to while away the time and maybe make some money between jobs, and those games eventually found their way to "riverboats" and land-based casinos.
 
3. Binocular microscopes
Do you find that monocular microscopes are just the worst? Well, so did John Leonard Riddell, a Tulane chemistry professor who invented binocular microscopy. Try saying that 10 times really fast, we dare you.
4. Winning WWII
The LCVP or "Higgins boat" was invented by Andrew Higgins in New Orleans, and was instrumental in the Invasion of Normandy on D-Day. No less than Dwight Eisenhower noted Higgins for having helped turn the tide of the Axis. ("Andrew Higgins," said Ike, "is the man who won the war for us.") If you've ever wondered why NOLA is the site of the National World War II Museum, this is it. 
 
5. Dental floss
The world can thank a New Orleans dentist named Levi Spear Parmly for helping keep its gums nice and clean, going back to 1815. For some reason, NOLA has a significant history when it comes to dentists/inventors.
6. Cotton candy
Although he was late to the game getting a patent on what was formerly known as "fairy floss," New Orleans dentist Joseph Lascaux (yes, a dentist) is largely noted to have been one of four people who created the modern version of everyone's favorite circus treat.
 
7. Creole cuisine
There is nothing in the world quite like (or as wonderful as) Creole cooking. Award-winning local chef Tory McPhail, of the legendary Commander's Palace, even calls it "America's original fusion cuisine." And without New Orleans, it wouldn't exist. Who would want to live in that world?
Scott Gold/Thrillist
8. Po-boys
You can keep your subs, hoagies, and grinders, because NOLA's got the po-boy, the best sandwich ever invented, and probably the only sandwich invented because of a labor dispute. If you want to get as many po-boys as possible in one place, make sure to check out the Po-boy Festival on Oak St every fall. 
 
9. Venetian blinds
Do you just hate having to raise and lower your blinds all the time like a jerk? Well, of course you don't, because you can easily open the slats of your Venetian blinds, thanks to New Orleanian John Hampson, who created that nifty device that lets you quickly control the angle of your blinds.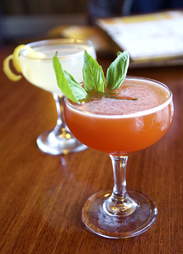 Scott Gold/Thrillist
10. Classic cocktails (and not-so-classic cocktails)
There has been some debate on whether or not the cocktail, as a concept, was actually invented in the Big Easy. What is not a matter of debate, however, is that the Sazerac, the Grasshopper, the Vieux Carre, the Brandy Milk Punch, the Ramos Fizz, the Brandy Crusta, and the original Hurricane cocktails all call New Orleans home. On the opposite end, we have the Shark Attack and the Hand Grenade, as well, just to keep things lively. 
 
11. Wrinkle-free cotton
Not only did New Orleans native Ruth R. Benerito attend college at 15 to study chemistry, and not only did she later invent technology that assisted in the feeding of injured soldiers, she also came up with the idea of pants that don't need ironing (among 54 other patents). Yeah, she was a badass, alright.
12. Sport fishing
The ever-exciting drama that is competitive fishing goes back to the Grand Isle Tarpon Rodeo in 1928. Can anything be more distinctly 'Murican? 
 
13. Pharmacies and pharmacists
Apothecaries have a rich and often dubious history ("I'll take six leeches and a blood-letting, sir..."). But the first place to validate the now-ubiquitous process of prescription was, you guessed it: New Orleans, courtesy of Louis J. Dufilho, Jr. You can find out more of the city's rich pharmaceutical history at the New Orleans Pharmacy Museum.
14. Movie theaters
"Cinema" may have been invented in Paris, but movies were a transitory thing back in those days -- you'd have to catch a flick as part of a fair or traveling sideshow, or in somebody's basement. That is, of course, until Vitascope Hall took root on Canal St. in 1896, the first permanent place to show movies, which seated 400 people. 
 
15. Sweatin' to the Oldies
Yup! Richard Simmons is a native of both New Orleans and our hearts.
Sign up here for our daily New Orleans email and be the first to get all the food/drink/fun in the Big Easy.