"We're coming into New Orleans next month," your friends announce with glee, "and we want you to show us everything!" If you've lived in New Orleans long enough, you've gotten that call, and you're probably happy to play tour guide. Everyone knows that visitors without local friends or family, or a legitimately kickass guide to the city, end up spending their whole trip on Bourbon Street, and that just won't do. While Bourbon Street has its own gems (we're looking at you, Bourbon House, and your gloriously huge selection of top-shelf and rare whiskeys), the Crescent City has so much to offer that's cheap, affordable, and popular with locals, too.
So allow us to be your guide and get you and your friends off the beaten path. Here are all the best things to do in New Orleans over a quick trip -- including the aforementioned stuff that's free, cheap, and popular with locals. We even worked in a few once-in-a-lifetime splurges you can't get anywhere else, plus enough crawfish to feed a small army. (And don't forget our seasonal events roundups, either.) Enjoy.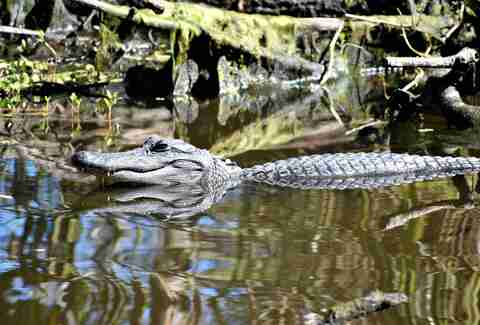 Free
Jean Lafitte National Historical Park
The Barataria Preserve, part of the Jean Lafitte National Historical Park, is probably the easiest, closest place to New Orleans where you're pretty much guaranteed to spot at least one alligator in the wild. The hiking trail is gorgeous in and of itself, and if you show up at around 10am on Wednesday through Sunday, you can get a free guided tour with a park ranger. (Helpful, especially if you're not great at telling a gator from a log.)
Free
City Park
The adjacent New Orleans Museum of Art is spectacular (and spectacularly air-conditioned), but for a couple of free hours of talking and strolling, you can't beat the weird and wonderful installations at the Sydney and Wanda Besthoff Sculpture Garden -- a gorgeous outdoor space in City Park. It's a world-class collection that's as much fun for art snobs as it is for folks looking for Instagrammable moments. For some added context for the odder installations, visitors can also join a free guided tour at noon every Friday, Saturday, and Monday.
Catch live music outside -- almost anywhere
Free-$$$
Various locations
No amount of heat or humidity ever stopped South Louisianans from getting outside to shake that thang to some live local music. And with free concert series in multiple parks and public squares around the city, plus a hot lineup of spring and summer music festivals, there's something playing nearly every night of the week, all season long. If the prospect of sweating through your clothes during the summer months isn't too appealing, New Orleans isn't want for music in the cooler seasons, either, with gatherings like VoodooFest offering reliably great lineups.
Follow a second line
Free
Various locations
It's likely that someone new to the city won't even know what a second line is, let alone how to follow one, so definitely mind the etiquette. Especially the part about bringing a backpack full of beers and hitting up every single yaka-mein or jambalaya lady you see on the route. The social aid and pleasure clubs wind down their seasons in late spring, as the weather gets too hot for long marches, but it picks back up in early fall and carries through the winter.
Free
Bywater
These free (donations gratefully accepted) outdoor movie screenings in the Bywater offer just the kind of oddball NOLA experience that lots of guests are looking for. Unless you're a serious student of avant-garde filmmaking, it's unlikely that you've seen (or heard of) much of what's on offer, but that's half the fun of it. (The other half is the cheap beer and liberal BYOB policy.)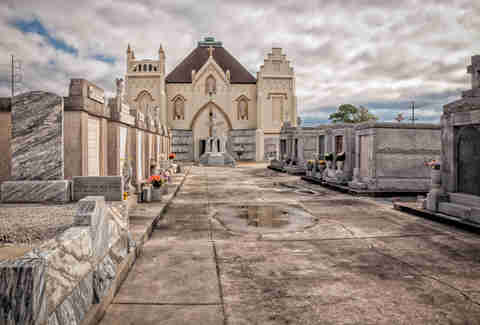 Free
St. Roch
First-time visitors, especially, will likely want to take a formal cemetery tour, but if they're up for something a bit less formal (and a bit more unsettling), take a quick spin through the St. Roch Cemetery, home to a famous shrine to the saint himself, where generations of New Orleanians have left ex-votos -- physical mementos thanking the patron saint of healing for his interventions. These include religious objects as well as medical ones, like leg and neck braces and plaster casts of various body parts. It's eerie, for sure, but it's also a glimpse into the faith of a city that's often regarded as a place of iniquity by outsiders.
Free
Tremé
If you happen to have guests in town for Satchmo SummerFest the first week in August, make sure you rouse them out of bed on Sunday morning for one of the best events of the whole year: the jazz mass at St. Augustine's Church. Yes, really! This historic African-American Catholic church has been the spiritual heart of the Tremé neighborhood since before the Civil War and served as the church home of famous parishioners including jazz legend Sidney Bechet and civil rights icon Homer Plessy. Each year, they offer a jazz mass in conjunction with Satchmo SummerFest, and it's a blast, even for non-Catholics; just remember that it's a good idea to drop some money in the collection baskets. (Also, their regular choir performs a jazzy and gospel-tinged version of the traditional Catholic mass most weeks, and guest musicians aren't uncommon, so you'll likely see a lovely service no matter when you go.)
$
French Quarter
Yes, OK, it's swarmed with tourists, but for less than $5, it's an iconic New Orleans experience, and you're probably going to love biting into a beignet no matter where you're from. Locals know to hit it up as far away from the breakfast rush as possible -- and to bring cash when they go.
$
French Quarter
Easily one of the Gulf Coast's most interestingly tiny, hyper-specific museums, the New Orleans Pharmacy Museum is home to rows upon rows of jars that once held opium, cocaine, leeches, and all manner of snake oil, plus oodles of ooky surgical implements and lots of fascinating historical info about the connection between the history of the pharmacy industry and the history of cocktails. (Yes, they're totally connected, and it all happened here in New Orleans!)
Eat a snowball at every possible opportunity
$
Various locations
After around Easter-ish, when the weather turns from warm to really warm, the city's ubiquitous snowball shops start opening up all over, and frankly, they're almost better than air conditioning for cooling off. Get yourselves to Hansen's, where ol' man Hansen invented the original ice-shaving machine (which distinguishes snowballs from their far inferior crushed-ice cousin, the snow cone), and you probably oughta make time to hit up Plum Street as well, and maybe... well, just try them all of them. You won't regret it.
Get some beers and head to The Fly
$
Audubon Park
Look, it's no big deal for us locals, but odds are that if you're not from around here, if you want to drink outside, you have to do it out of a brown paper bag or a hip flask. Our open container law is a simple New Orleans joy that feels like pure luxury to outsiders, and a boozy picnic at The Fly -- the grassy, mostly undeveloped strip on the river's edge of Audubon Park -- is the perfect way to enjoy a lazy afternoon of watching the ships roll down the Mississippi. You won't be alone. All of us locals will be doing the exact same thing you are.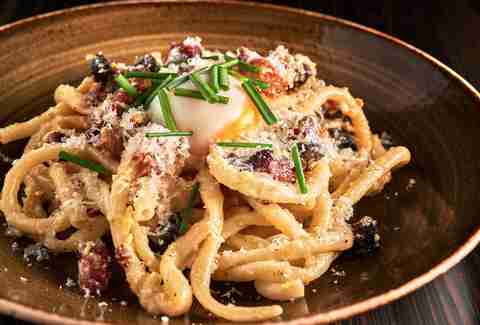 $-$$$$
Various locations
Whether you're new in town or you've lived here for 20 years, it's no mystery that New Orleans has one of the most vibrant culinary traditions in the world. That means amazing new restaurants opening every month, catering to all manner of cuisines, budgets, or proclivities. We've rounded up the best restaurants in town to help you out, including a regularly updated list of best new openings.
See creepy taxidermy at the Abita Mystery House, followed by craft beer
$
Abita Springs
This bizarre roadside museum is basically just a massive collection of vintage arcade machines, odd folk art, cryptotaxidermy, and... yeesh, just all other manner of weird junk. It costs just $3 to visit, and it's the bargain of a lifetime. While you're up there in Abita Springs, you may as well also hit up the Abita Brewery for tours -- free if you go on the self-guided ones -- and tastings. (Twist your arm, I know...)
... Or sip your craft beer right in town at Courtyard Brewery
$
Lower Garden District
Courtyard Brewery is a favorite hangout for New Orleans craft beer fans, though it's far from pretentious. And unlike Abita Brewery it doesn't take a drive out of town to get there. At Courtyard, you can down a pint or three of the city's best microbrews while noshing on something from a rotating lineup of food trucks and enjoying the buzzing, friendly scene. (And for more options for courtyards, booze, and places to have fun in town, check out our list of the best bars in NOLA.)
Catch live comedy almost any night of the week
$
Various locations
It might not be as well-known as the scenes in Chicago, LA, or New York (or, for that matter, as well-known as our music scene), but New Orleans has a huge and hilarious range of stand-up comedy on offer almost every night of the week. This includes both a solid slate of local talent and nationally famous comics who come here to test out new material. Specific listings are available online, but expect to find comedy at least once or twice a week at venues like the Hi-Ho Lounge, Twelve Mile Limit, and the Dragon's Den, among others.
Look east for Vietnamese food
$
Various locations
Most people know about New Orleans' European and African-descended communities, but it's less well-known that our city is home to a massive Vietnamese community, too: one of the largest and most active in the country. With huge pockets of immigrants and their descendants both in New Orleans East and on the West Bank (across the river), there are Vietnamese restaurants a-plenty offering pho, banh mi, and all other manner of traditional delights. For my money, I'd say jump in the car and head over to Dong Phuong for their meaty, pickly banh mi on damn-near perfect French bread. It costs less than $5 and won them a James Beard Award. Why would you not eat some at every possible opportunity?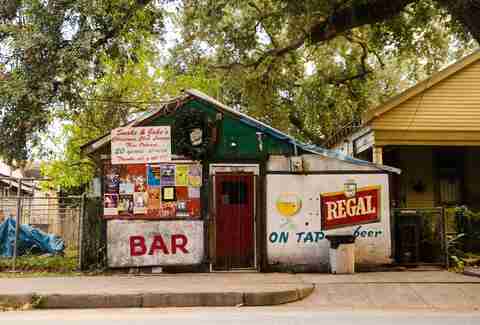 Drink at any of our magnificent dive bars
$
Various locations
The thing about dive bars elsewhere in the world? They're bad. And kind of gross. And not really fun. New Orleans dive bars, though? They're fabulous and fun and wholly unique. And yes, OK, sometimes kind of gross. But there's nothing more authentic and more New Orleans than Snake and Jake's at around 3am on a Tuesday in July -- just sayin'. (Happy hour is also a perfectly reasonable time to go.)
Eat your way through any of Louisiana's best food festivals
$
Various locations
In the smaller cities and towns spread across South Louisiana, food festivals are a favorite springtime and early-summer occurrence, and every town seems to have one. Ponchatoula's got the Strawberry Festival, Breaux Bridge has the Crawfish Festival, and Mansura's roasting up pork at the Cochon de Lait Festival. Whatever weekend your guests are coming into town, there's almost definitely a day trip-worthy food fête within easy driving distance, so be sure to look.
Enjoy art and music after hours at the Ogden Museum
$
Central Business District
On Thursday evenings from 6-8pm, the Ogden Museum of Southern Art offers free live music in their museum, which also houses one of the finest collections of Southern Art in the world. Thursday afternoon and evening tickets are free for Louisiana residents and just $13.50 for out-of-state residents, which makes it a great bet for visitors and locals alike.
Honky-tonk your way across town
$
Various locations
Nestled into the nooks and crannies of bayou country are some of the world's finest roadhouses and honky-tonks, and they pull from the finest pool of local talent in the Deep South, so grab your friends and your dancing shoes and hit one up. Don't expect to spend too much money, but do expect to have lots of fun and drinks aplenty.
Cheer for the Baby Cakes on the cheap
$
Various locations
New Orleans is well-known as a football town (WHO DAT!), and we're not too bad at basketball these days, either, but one of the most fun New Orleans sports experiences is out at the Shrine on Airline, home of our minor league baseball team, the Baby Cakes. From April through the summer, the tickets are cheap (you can get really good ones for less than $15, typically), the food is killer (king cake burger, anyone?), and the people-watching is a riot. Do note that our time with the New Orleans Baby Cakes is officially heading into its last inning, so savor it while it lasts -- Wichita recently bought the team, which is set to make its Kansas debut in the 2020 season.
Hit the (jazz, boozy, burlesque, or standard) brunch circuit
$-$$$
Various locations
Here's the thing: New Orleans has perfected the art of day drinking and therefore does brunch better than anywhere else in the world (don't @ us, New York; you're good, we're better), so help your guests sample the best of the best at one of our many spectacular brunch spots in the city. Whether you're a vegetarian on a budget (Sneaky Pickle), searching for one of our famous jazz brunches (Muriel's), or want a Creole cottage experience (Atchafalaya), the city will provide.
Try all the new discounted restaurants you can at COOLinary
$-$$$$
Various locations
Let your guests get adventurous with you and try out some new restaurants during the summertime COOLinary event. COOLinary is a month-long menu discount promotion that runs in August -- like our own Restaurant Week in September, or those that guests might be familiar with in New York, Chicago, and elsewhere. Enjoy the low prix fixe prices (around $20 for starters, $35 for entrees), chefs at their most creative, and the new favorites you might not have otherwise considered all August long.
Pay tribute to Leah Chase at the legendary Dooky Chase's
$$
Tremé
Chef Leah Chase was a New Orleans icon: civil rights legend, businesswoman extraordinaire, mentor to many, inspiration to many more, and world-class chef. For over 65 years, she cooked up classic Creole comfort food at the Tremé restaurant she operated with her husband since the 1940s. The Crescent City unfortunately lost its culinary icon this past year, but her legacy lives on at her incredible restaurant. Lunch is served buffet-style and always includes red beans and rice, sausage, and plenty of decadent Creole delicacies. Eat until you can't eat anymore while enjoying the African-American art that covers the walls and the scene, packed with locals and people from all over.
$$
French Quarter
You can never, ever go wrong with a show at the legendary Preservation Hall in the French Quarter. There's really nothing else like it in the city: a simple room filled with benches and one of the best horn ensembles in the world, enthusiastically belting out an intimate, guest-focused concert several times per night, every night of the week. Tickets are $20 and are first come, first served. A note: Because it's a music-only venue (no alcohol), it's totally kid-friendly -- a rarity for indoor live music in NOLA.
Eat crawfish! As in, literally everywhere.
$$
Various locations
Springtime means crawfish in these parts, and if you can swing an invite for yourself or your guests to a backyard crawfish boil while they're in town (or find a free one at a bar somewhere), that's the best choice of all. (The social nuances behind devouring a ton of crawfish together are as key to the experience as the food itself.) If you can't, head on over to Bevi Seafood and just do it up as a small group.
$$
St. John the Baptist Parish
Guests often want to visit a plantation while they're in the area, but the reality is that most plantation tours kind of creepily omit the brutality that made the plantation lifestyle possible for the wealthy few. The Whitney Plantation turns this on its head, and has created an entire site dedicated to the history of the transatlantic slave trade and the experiences of enslaved people on Louisiana's many plantations during the pre-Civil War era. It's a deeply sobering but beautiful testament to the resilience of a people and their culture.
Get lunch (and dirt-cheap martinis) at Commander's Palace
$$$
Garden District
The three-course prix fixe lunch at Commander's Palace, with prices starting under $20, has to be one of the best five-star gourmet meal deals on the planet. It also happens to be one of the best places to get turtle soup -- one of the NOLA's most quintessential must-try foods. Throw back a couple of their signature 25-cent martinis and you'll spend the entire lunch murmuring, "Why do I only do this when guests are in town?"
Get a (spectacular) Italian dinner at Mosca's
$$$
Avondale
Guests don't often expect to be taken out for Italian food in New Orleans, but they also don't usually know that Sicilians and Neapolitans immigrated to New Orleans in numbers only matched by New York and New Jersey around 1900, and most New Orleanians have at least some Italian heritage, if not genetically, then culinarily. Anyway, this Sicilian-American family-owned roadhouse restaurant is kind of in the middle of nowhere, over on the Westbank. Mosca's was a mafia hangout in the post-WWII era, and though the mobsters are gone (as far as most can tell), the look of the place remains blissfully old-school, as does the simple, decadent menu. It's short enough that if there are enough of you, you can order it all, but if you must choose just one thing, order their Chicken a la Grande with spaghetti -- oily, rosemary-studded, and smothered with enough garlic to keep you vampire-free for a week, it's one of the more delicious things you'll ever eat.
$-$$
Mid-City
Traditional New Orleans cuisine tends to focus on the savory, Angelo Brocato's has long been the not-so-secret answer for something sweeter. Since 1905 (1905!), this family-owned Italian bakery, gelato parlor, and coffee shop has been a Crescent City staple with unbelievably delicious traditional offerings like Napoleons, cannolis, macarons, and biscotti alongside the best cup of espresso in town. The space itself looks largely unchanged from its early days, which is to say, it's cute but often cramped with lines stretching out the door most weekend nights. But trust us -- the Baked Alaska is well worth the wait.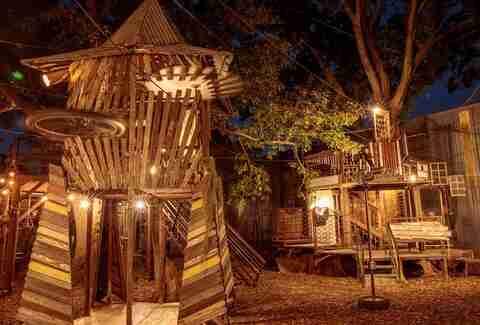 $
Bywater
Tucked away at the edge of the Bywater near the Mississippi River, Music Box Village is one of the oddest -- and most enchanting -- spots in town, but easy to miss if you're not specifically looking for it. Opened in 2016, the gorgeous, tree-shaded enclave hosts a number of incredible Rube Goldberg-esque contraption "homes," which visitors are free to experiment with to create all manner of sounds, from delicate windchimes to eerie, PVC pipe-borne howls. Equal parts park, jam space, performance venue, Music Box Village is a must-see if you're in town during the spring or fall months. Make sure to check its seasonal calendar, too, as the project has hosted an array of legendary artist and musician residencies over the past few years, ranging from Peaches to Thurston Moore.
Stay cool with a drink in hand inside Broad Theater
$-$$
Mid-City
Look, the weather isn't always ideal here. No one will blame you if you need a couple hours' reprieve in a dark, air-conditioned space. Most movie theaters around New Orleans are of the giant, corporate variety, and located in neighboring suburbs, but the recently opened Broad Theater provides the city itself with an incredible alternative. This locally owned, indie theater hosts all kinds of films, from art house releases to the latest Marvel entry, and features a great bar and in-house snack selection to elevate the whole experience. What's more, the tickets and concessions are affordably priced -- when was the last time you could say that of your mega movie chain back home? Grab a specialty cocktail, a sanely-sized box of popcorn, and enjoy a small oasis before you return to the sweltering city.
Nerd out at a local bookstore
Free-$
Various locations
Often lost in the clamor is New Orleans' rich literary history. Numerous legendary authors like Tennesee Williams, Fatima Shaik, John Kennedy O'Toole, and Anne Rice have called the town home over the years, and things never really slowed down. Local indie outlets like Garden District Books and Octavia Books regularly host hidden gem author readings and book release parties, so bibliophiles would do well to always check the stores' calendars to see who might be stopping by for a signing or Q&A. Plus, any book reading worth its weight in hardbacks will generally have a bunch of free wine and cheese for attendees.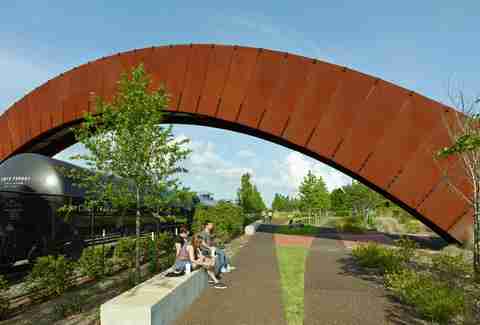 Exercise (or just drink) at Crescent Park
Free
Bywater
City Park is generally -- and rightfully -- the space most associated with outdoor activities in New Orleans, but that doesn't mean it's the only option offered in town to soak up the sun. Located at the edge of the Bywater and French Quarter, Crescent Park is a miles-long stretch of walking and bike paths providing picturesque views along the Mississippi River the entire way. The park is perfect those of you (the insane ones) looking for places to workout during your visit here, but with New Orleans' lax open container laws, it's just as easy to grab a bottle of wine or six-pack and scoff at the healthy from a bench alongside the river.
Sign up here for our daily New Orleans email and be the first to get all the food/drink/fun in the Big Easy.