Let's face it: as much as we don't want to think about it, one of these days we're all destined to shuffle off the mortal coil. But that doesn't mean that you can't suck every last ounce of life's marrow while you're here. Should you happen to be in New Orleans for a visit, there are quite a number of essential Big Easy big-ticket items you're going to want to check off before you check out... Ready: GEAUX!
1. Go to a backyard crawfish boil
Sure, there are plenty of restaurants in the city where you can buy and eat boiled crawfish, but the experience isn't complete without being in somebody's yard on a sunny day. Or if not at a friend's house, then buy your craws to-go and then enjoy them picnic-style on the fly, watching the ships roll down the Mississippi.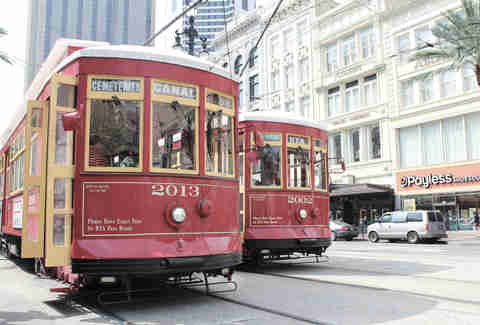 2. Take an epic streetcar ride
The streetcar is a beautiful, historic New Orleans device. Try hopping on at Canal St in Mid-City and ride all the way down to the Mississippi. Then transfer to the St. Charles line and ride all along The Avenue and down Carrollton.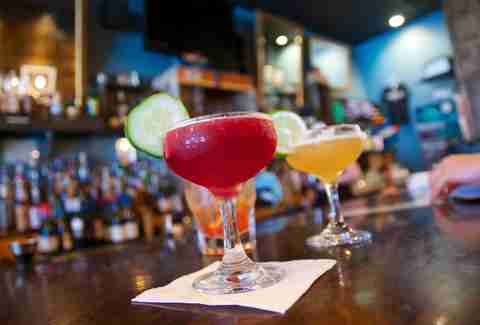 3. Go on a classic cocktail hop
Have a Sazerac at The Sazerac Bar, a Ramos Gin Fizz at the Empire Bar, a Vieux Carre at the Carousel Bar, a Brandy Crusta (or French 75) at the French 75 Bar, a Grasshopper at Tujague's, a Brandy Milk Punch at Brennan's, a Pimm's Cup at the Napoleon House, and so on... Cocktail bucket lists can (and should) be done!

4. Go on a not-so-classic cocktail hop
Have Hurricanes at Pat O'Briens, Hand Grenades and Shark Attacks at Tropical Isle, and, naturally, Purple Drank at Jean Lafitte's Blacksmith Shop.
5. Take some very important food road trips
Buy, borrow, rent, or steal (actually don't steal) an automobile and drive out to these places: Middendorf's for the best thin fried catfish in the world; Tan Dinh for Vietnamese; Mosca's for garlicky Italian everything; charbroiled oysters at the original Drago's in Metairie; and boudin and cracklins out in a Cajun country truck stop (we like the Chevron outside of Opelousas).
6. Enjoy Bayou Boogaloo from a canoe on Bayou St. John
There are, of course, many music festivals in New Orleans, but the Boogaloo is the only one you can enjoy from a canoe (preferably filled with beer). Rock out, but don't rock the boat!

7. Attend *every day* of Jazz Fest
Any "festing" poseur can hit a single day or even a weekend of the New Orleans Jazz & Heritage Festival. But it takes real strength of character (not to mention a fair bit of money and plenty of sunscreen) to do the entire Fest. It's definitely something worth doing before you kick it. And while you're there...
8. Eat at least one item from every food vendor at Jazz Fest
The food at the Fest is just as important as the music, many say. So gird your gullet and sample everything on the menu, from crawfish enchiladas to BB turkey wings, Cuban sandwiches, Tunisian tagine of lamb, crawfish beignets, soft-shell crab po-boys, crawfish sausages, and so on and so on. (You can also attempt this at Seafood Fest, French Quarter Fest, and Po-Boy Fest.)

9. Catch the Soul Rebels at Le Bon Temps Roule
One of the most righteous brass bands in NOLA. You can also catch Rebirth Brass Band on a Tuesday night at the Maple Leaf, but make sure to stay for the entire set.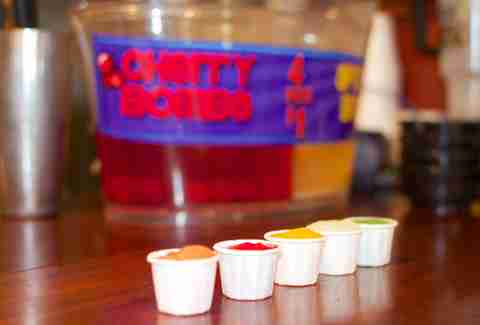 10. Taste every flavor at a frozen daiquiri joint
From Jungle Juice to Pink Panties, Wedding Cake and the infamous Motherf**ker. It has been done. For science!

11. Down some 25-cent martinis at Commander's Palace
That's right: one of the best and most famous restaurants in town offers $.25 martinis (up to four, during lunch on weekdays). Best booze deal in town.
12. Eat EVERYTHING
Tour the classics of New Orleans Creole and Cajun cuisine, including everything from oysters at Casamento's, fried chicken at Willie Mae's, the oyster/shrimp combo po-boy at R & O's, the Panéed Rabbit at Brigtsen's, BBQ shrimp at Pascal's Manale... See how many of the big ones you can hit before you hit your grave.

13. Club hop music joints and bars in the Marigny all night long
Because many of the music venues on Frenchmen don't have a cover. And when the sun rises, go have breakfast at Elizabeth's.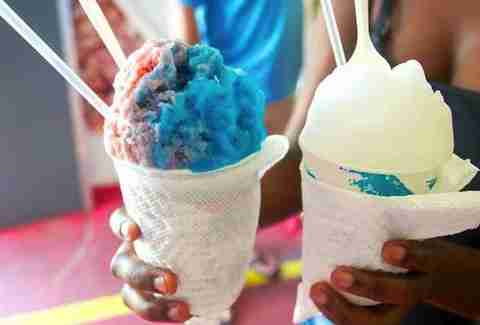 14. Wait in line for Snoballs at Hansen's
It's well worth the wait for a Honey Lavender, Satsuma, Ginger-Cayenne, Cream of Chocolate, or Spearmint at Hansen's. Load it up with condensed cream, too, because remember, you only live once!

15. Have lunch at Galatoire's on a Friday, downstairs, first serving
(Note: do this without hiring a homeless person to wait in line for you, which is totally cheating and a d-bag move.)
16. See live traditional jazz at Preservation Hall
The best place for trad-jazz, Dixieland, and ragtime in America.

17. Hear the following people sing:
Allen Toussaint, Irma Thomas, and John Boutte. Their voices will surely send you to heaven.
18. Go to every major museum
This includes NOMA, The National WWII Museum, the Pharmacy Museum, Audubon Zoo and Aquarium of the Americas, Mardi Gras World, The Historic New Orleans Collection, Le Musee de f.p.c., Louisiana's Civil War Museum, Ogden Museum of Southern Art, and many more. Full list here.

19. Eat a Lucky Dog
Okay, we'll admit it: they're kind of gross. But if they were good enough for Ignatius Reilly, they're good enough for you, at least once before you punch the big ticket.

20. Bounce that booty
Hit a bounce show with DJ Jubilee, Katey Red, and, naturally, Big Freedia and wobble till you drop.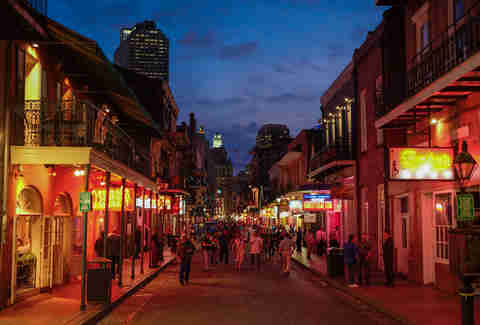 21. Go to every single bar on Bourbon St
It can be done, and it is actually a lot of fun. It's an experience, that's for sure.

22. Request a tune at the famous dueling piano bar at Pat O'Brien's
This is a show without equal, especially if you've had a couple of Hurricanes.

23. Parade in a second line
One of the best things about New Orleans is that sometimes, seemingly out of nowhere, a second line parade just starts rolling down the street. When that happens, you drop everything and roll with them.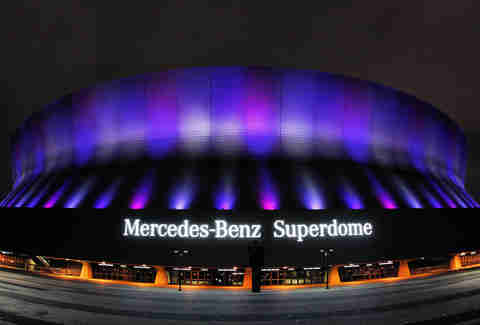 24. Geaux to a Saints game in the Superdome
Aka "church." Or, better still, geaux to a Saints PLAYOFF game in the Superdome. Also, see the Pelicans at the Smoothie King Center (even if that's still a terrible name for an arena) and a baseball game at Zephyr Field.

25. Share a beer with Rob Ryan at Ms. Mae's after a home Saints win
Our Saints defensive coordinator likes his celebratory Rolling Rock here after a victory in the Dome. If you're lucky, you can catch him *and* his magnificent hair.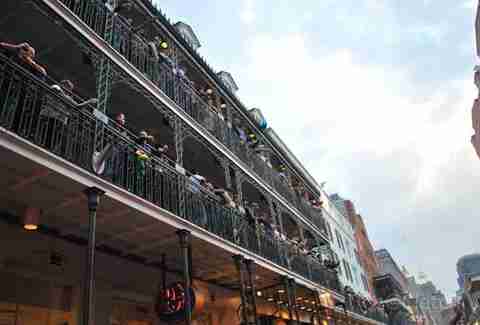 26. View Mardi Gras or the St. Pat's Day parade from a balcony
There's really nothing like being on high during the big parades. Or better still...

This is literally a bucket list item for many New Orleanians. And remember, if you don't have the political clout or the dough to join a fancy krewe like Rex, you can always roll with some of the newcomers like Chewbacchus.
26. View Mardi Gras or the St. Pat's Day parade from a balcony
There's really nothing like being on high during the big parades. Or better still...

This is literally a bucket list item for many New Orleanians. And remember, if you don't have the political clout or the dough to join a fancy krewe like Rex, you can always roll with some of the newcomers like Chewbacchus.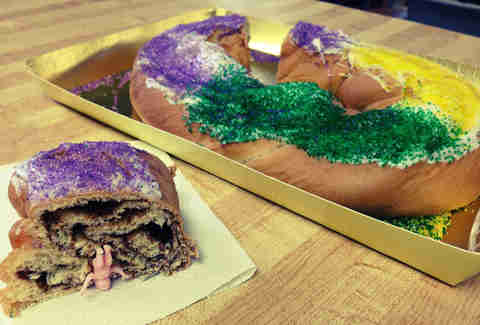 28. Find the baby (or bean, or trinket) in a slice of king cake
You will be the king of the party! You will also have to bring the next king cake. That's a solid tradition here.

29. Listen to WWOZ all day long
Granted, many New Orleanians do this on a daily basis anyway, but if you haven't done it, get on that, already. "OZ" is the finest local radio station in the country, and probably the world.

31. Go running with the "bulls"
And by "bulls," we mean "roller derby girls with inflatable bats." Also, take a run in a red dress, for that matter.

32. Spend Thanksgiving at the track
Turkey Day is also the opening of racing season at the Fair Grounds. A holiday visit to bet on the ponies is a time-honored New Orleans tradition, one that you should experience at least once before you meet your heavenly maker.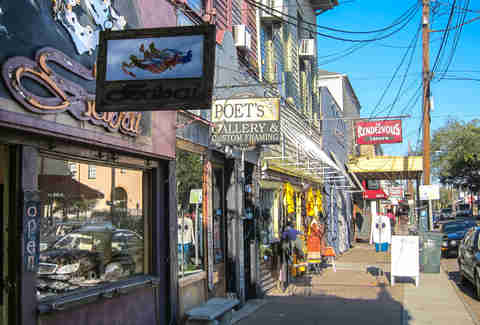 33. Bar hop all the way down Magazine St
With so many watering holes and restaurants, the only hard part is choosing your route (or you can see ours here). Well, that and staying vertical by the time you get to the end.

34. Hear the church choir at the St. Louis Cathedral
Religious music is far from boring in New Orleans. There's also the amazing Jazz Fest Shabbat at Touro Synagogue, the Trinity Church organ series, Soulful Voices Choir at St. Augustine Church, etc.

35. Disrobe at Snake and Jake's for free drinks
It takes some bravery, but hell, who lives forever, right? One local suggestion is keeping on your belt, just to add a little flair to your birthday suit.
36. Be an unashamed tourist and do unashamed touristy things
It's not routinely discussed, but from time to time, many NOLA natives and locals actually enjoy doing all the things tourists love to do. So eat some beignets at Cafe du Monde or Morning Call, ride the Carousel in City Park, take a horse and buggy-guided tour, watch the street dancers in Jackson Square, try on Carnival masks at a chintzy souvenir shop. Because why not? Life is for living, dammit!

37. Catch the Mardi Gras Indians on Super Sunday
Man, are they pretty! This is one not to miss. And while you're at it, visit some St. Joseph's altars around the same time.
38. FINALLY: Get interred in a mausoleum in one of NOLA's historic cemeteries
This, obviously, is the very finest way to conclude a life well-lived in the Crescent City.
Sign up here for our daily New Orleans email and be the first to get all the food/drink/fun in the Big Easy.