The United States is a pretty big place, with more than a handful of notable cities. There are big cities, quaint cities, cities known for their politics, their weather, the relative friendliness of their natives (or lack thereof, Newark), and so on. But there is no American city -- no city in the world, in fact -- like New Orleans. Nothing on the East Coast, West Coast, or even the South is quite like it. The Big Easy is possessed by a sublime weirdness and distinctive personality that's nonetheless crucial to the national identity, and so to fully complete the American experience, you have to pay it a visit. Here are 10 good reasons to get on that ASAFP.
1. Because it's a place of incomparable cheerfulness
In some towns, when the local sports team wins a championship, they celebrate with riots, looting, fires, fisticuffs, and overturned cars. Not in NOLA. The friendliness of the people here is so wonderfully innate, the Saints Superbowl victory in '09 might as well have been VE Day, Christmas, and Shark Week rolled into one: boundless hugging and dancing and loving life. That infectious merriment and good cheer are as New Orleanian as crawfish and gumbo. And speaking of which...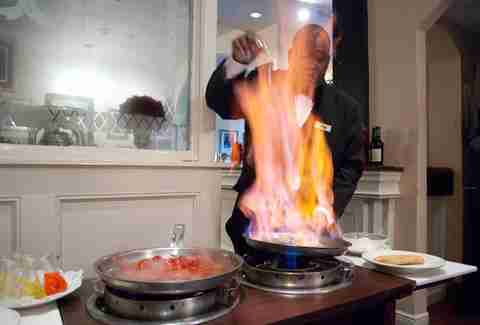 2. The food
Sure, there are great restaurants all over the USA, but the entire world knows that there's nothing like the cuisine in NOLA. From po-boys to cochon de lait, abundant and cheap oysters, gorgeous Gulf shrimp, and fish served up with classic flavors and unmistakable spices, you honestly cannot beat NOLA when it comes to food cities. Whether you're enjoying a muffaletta on a street corner or dining at a century-old Grande Dame Creole restaurant, you are absolutely guaranteed to eat well in this town. If you don't return home a few pounds heavier, you're clearly doing it wrong.
3. The drinking
That's right, not only was the cocktail invented in New Orleans, so were the "drive-through daiquiri" and the "go-cup." There are literally more bars per capita here than anywhere else in the country, most of which serve up perfect versions of the city's classic drinks -- see a sample of the best here. And our liquor laws are some of the loosest -- if not THE loosest -- in the nation, which results in an amazingly gratifying sense of freedom. Want to hit another bar but you still have a full beverage? Take it with you! There's nothing like strolling down the street with a cold beer or a stiff cocktail in your hand, taking in the sights and sounds like you don't have a care in the world. Try doing that in, say, Burbank California (or any of the other Burbanks) and not quickly finding yourself in the drunk tank, fella.
4. It's a sports fan's paradise
Recently, a major American city had to plant cops wearing the opposing football team's gear in the seats at their stadium to discourage and prevent their hometown fans from terrorizing and even attacking visiting fans. This is literally an unbelievable thought to New Orleanians, who pride themselves on treating visitors well. It doesn't matter where you're from or what colors you're wearing (even Atlanta red!), you can count on being treated like a champ just because you had the good sense to take a trip to New Orleans. It was even named the best city in North America for sports tourism a few years back. Whether it's win or lose, there's always a party after the game, and you, my friend, are always invited. It's an amazing thing: if you visit NOLA for sports-related reasons, there's a good chance you won't want to return home afterwards. Especially if you're from Atlanta.
5. The festivals
Nearly every weekend in New Orleans brings a new celebration. Seafood, Creole gumbo, art, oysters, tomatoes, Greek culture, literature, po-boys, film, the fact it's Thursday, you name it, we'll celebrate it. It's always a party down here, and that's the way we like it. Ever had someone cheerfully toss cabbages and potatoes to you from a parade float? Visit NOLA for St. Paddy's Day. Want to cross-dress in all red for a charity run or enjoy an entire weekend of world-class burlesque? Want to experience a "running of the bulls," where the "bulls" are actually roller derby girls? NOLA has that too.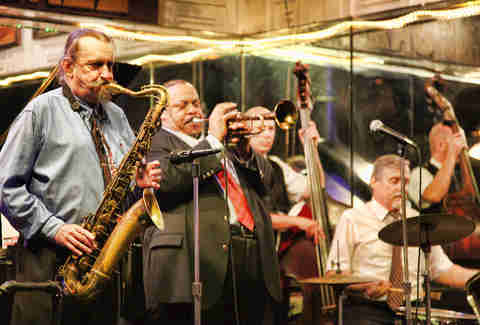 6. The music
Jazz was invented in the Crescent City, and that rich musical heritage has only gotten better with each passing year. You can find truly outstanding, often world-class music & musicians everywhere in town on any given night, ranging from traditional Dixieland to funk, kickin' brass bands and serious booty-shaking bounce rap, all of which call New Orleans home.
7. The history and natural beauty
Do you like amazing old stuff, like art and architecture and other high-minded cultural pursuits? Of course you do. And you'll find it in spades in New Orleans, from old Victorian mansions, to art ranging from folk to modern, from cathedrals to pirate's dens and everything between. Wanna talk about natural splendor? We got your natural splendor. Many of our avenues feature canopies of centuries-old live oak trees dripping in Spanish moss. Even the cemeteries are known for their beauty... and they're filled with freaking DEAD PEOPLE.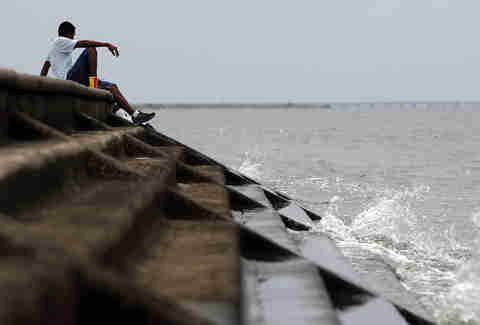 8. Because it's rebuilt and better than ever
There have always been people who've had unpleasant things to say about New Orleans, especially after Hurricane Katrina, when some of those asses actually suggested that everybody would be better off if we didn't bother to rebuild. Well, those haters get two giant middle fingers from New Orleanians, because the city is right now the best it's ever been, and it's only getting better. From local businesses to bars and restaurants, nightlife and music (see everything above, basically), NOLA is kicking some serious ass right now, and you're missing out if you're not getting in on the action.
9. Carnival
You've probably heard about Mardi Gras before, right? Technically, Carnival is a season, starting early in the year and leading up to Fat Tuesday, which is of course, the biggest, brashest, most insane party in the United States. It envelops the entire city -- no one goes to work, and the streets are filled with revelers at all points of the day and night, decked out in completely insane costumes. It's something you kind of need to see to believe.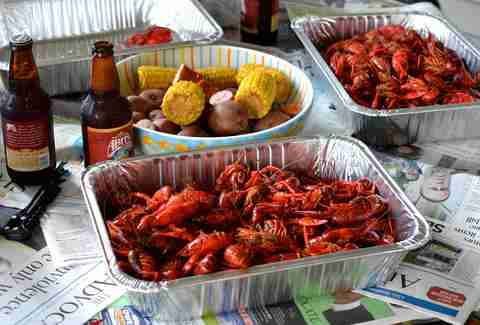 10. THE FOOD
This one clearly needs to be mentioned twice. If you derive even a shred of joy in your life from eating amazing (and American) food, you owe it to your taste buds to visit New Orleans.
Sign up here for our daily New Orleans email and be the first to get all the food/drink/fun in the Big Easy.