Trying to define your relationship in New York is like trying to decipher the weekend subway reroutes. It's exhausting, confusing, and you end up getting lost AF anyway. Fortunately, I've pulled together this handy decoder guide for you as you try to navigate what you two "are," exactly. Because "single" and "not single" just won't cut it in this city anymore.
The Just Sex Relationship
Your means of communication are limited to late-night misspelled and/or abbreviated texts, typically in the form of "U out?" or "U up?" As long as you're both very clear that this will never be more than a string of 3am drunken encounters, then sit back and enjoy the carnal delights. Just be aware that neither of you is getting brunch out of this, unless brunch is the same thing as a quickie before the walk of shame.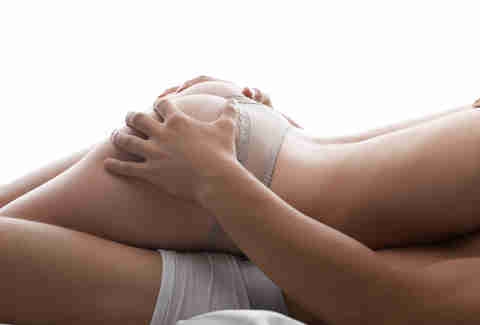 The Friends With Benefits Relationship
You don't hold hands or share food. You NEVER talk on the phone and your texting is limited to only the days you know you're hanging out. You don't really show much attention to each other at all unless you're tagging him/her in the latest @fuckjerry Instagram post. You're JUST friends... except for the times when you get naked. You definitely enjoy each other's clothed company more than if you were at the Just Sex level, but for you guys, a Yankee game just isn't a Yankee game without taking your pants off together afterward.
The Hanging Out Relationship
No one actually DATES in New York anymore, unless of course you are actually dating. But we'll get to that. Confused? Of course you are. Dating (sorry HANGING OUT!) in New York is confusing. Hanging out implies that you see each other on a semi-regular basis, however semi-regular may be defined for you. This could be once a week or once every few months when you both get a break from work, friends, Barry's Bootcamp, and/or your shift at the Park Slope food co-op. You've definitely determined that there is an emotional and physical connection beyond friendship, but this doesn't preclude you from having similar "emotional connections" with three or four other people simultaneously. You just don't talk about it. You MIGHT get brunch if you're "hanging out."
The in It for the Amenities Relationship (aka the Seasonal Dating Relationship)
The change in seasons in New York sure can be magical, but it also sure can be a rude awakening when things like Nor'easters shut down the city in winter, or it's too hot to do anything but sit around in your underwear in the summer. A select group of New York daters, however, have the system beat. We'll call them Seasonal Daters. These savvy individuals are ready to lock it down with a seasonal snuggle buddy come Christmas "cuffing season," when the promise of sweatpants, Seamless, and sex wins over actually going outside to meet people. These same discerning daters will be single by Memorial Day and then coupled up again in July with someone new who has central AC and very little worry about that monthly ConEd bill. These are probably the same people who use Tinder as a way to eat for free in New York.
The Office Dating Relationship
You two aren't actually a couple. In fact, you both might be in legitimate relationships with other people. Still, there's something about that other person that makes you want to spritz that extra puff of cologne before heading into work. You get a small rush when their name pops up in your Gchat window. You live for those encounters on the way to the bathroom where you engage in annoyingly flirty banter. You spend so much time at the office together kicking up all kinds of sexual tension that everyone else who works with you is moderately uncomfortable and wishes the two of you would just get drunk enough at a happy hour to end this charade.
The Romantic Roommates Relationship
You two DEFINITELY like each other. No one is arguing that. You just might not like each other as much as you like the possibility of cutting your rents clear in half. Sure, you do all the New York things together and have adult sleepovers four nights a week and perhaps even made some room in the closet for each other. It's only a natural jump to actually living together. But for most in New York this critical relationship step is rushed way ahead of schedule thanks to the promise of being able to afford things like nights out, food, and electricity. It usually does not end well.
The Actually Dating Relationship
You've done away with your Little Black Book (or at least saved it to the Cloud in case of a breakup), and have actually bestowed the BF/GF titles upon each other. Congratulations, you rare breed of New Yorker, you! These legitimate daters carve out specific, consistent times on their calendars for intimate moments, otherwise known as dates. You do things like eat in candlelit restaurants in the West Village, go away for long weekends to the Hamptons or the Berkshires, and maybe even show affection in public. Whether or not this is a four-month stint or a lifelong commitment remains to be seen, but for now, actual daters are just fine throwing around that word "we" without subsequently going white in terror.
The Married Relationship
This doesn't exist in NYC before the age of 35. And if it does, it's because both of them are originally from the Midwest or South.
Sign up here for our daily Thrillist email, and get your fix of the best in food/drink/fun.
Meagan Drillinger is a freelance writer for Thrillist and is very familiar with a choice few of these relationship types. Follow her on Instagram, Twitter, and Facebook at @drillinjourneys.