Make These NYC Music Venues Your New Mainstays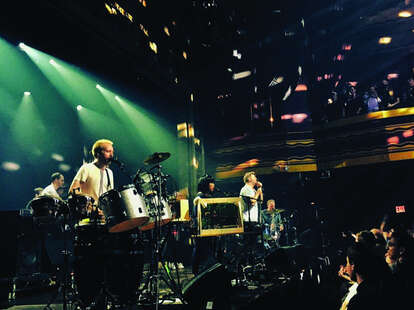 Flickr
Flickr
While Austin may call itself the "Live Music Capital of the World," let's not kid ourselves. It's still -- and always has been -- New York, the city that's produced some of the most legendary acts of all time, from The Talking Heads to A Tribe Called Quest, LCD Soundsystem to The Velvet Underground. It's no wonder that one of the most musically diverse cities in the world also has some of the best music venues.
For artists who don't count themselves amongst NYC's eight million-plus residents, virtually every band tours here. You've likely been to your fair share of their concerts at the bigger venues like Madison Square Garden, Barclays Center, and Terminal 5. But if you're looking to add some more live music into your weekly nightlife routine -- whether that's checking out an indie act on Tuesday night or hitting a dance party until the early morning on Saturday -- here's a rundown of where you should be going. These are the kinds of places where you're virtually guaranteed to catch a great show regardless of who's playing, and where you can realistically afford to return to multiple times a week.
East Village
Capacity: 1,400
Type of acts: Rock, rap, pop, electronic, you name it
What's great about it: Originally famous for its masquerade balls during the Roaring Twenties, Webster Hall began hosting shows in the 1950s and became a full-blown music venue in 1980, where the biggest acts of the decade, including U2, Guns N' Roses, and Duran Duran performed. It's been an iconic venue ever since, booking virtually every major artist at some point in their careers. Webster Hall recently reopened after a nearly two-year renovation -- kicking things off with a big bash that saw Jay-Z perform with former longtime rival Nas -- proving that the space is better than it's ever been.
Lower East Side
Capacity: 575
Type of acts: The best and the brightest
What's great about it: Bowery Ballroom is the most historic small venue in New York for a reason: The Lower East Side space has consistently hosted some of the most memorable concerts in the Big Apple -- from Yo La Tengo's annual Hanukkah shows to Tove Lo's recent album release -- since it was converted into a concert hall in 1998. Rolling Stone even named the venue, a two-story wood-finished room with a big window that looks onto Delancey Street, its No. 1 music venue in America back in 2013 for its great sound, sightlines, and old-school class. Bowery Ballroom routinely books some of the most-talked about acts in music that are on the come-up (Phoebe Bridgers and Conor Oberst's Better Oblivion Community Center and Julia Jacklin both played it earlier this year), but don't be surprised if a major artist books a last-second show here like Lorde did in 2017.
Bushwick
Capacity: 225
Type of acts: Local indie rock bands and DJs
What's great about it: Connected to the Middle Eastern supper club Turk's Inn, this music/restaurant combo has some of the tastiest doner kebabs in New York (and yes, that includes all of the great Halal carts you can find on virtually every corner), and one of the best rooftop bars in Bushwick. But the recently-opened venue itself -- located behind the restaurant -- is absolutely gorgeous, a kitschy '70s-esque room that makes you feel like you're in the jazz club from Anchorman. Inside, everything sounds incredible, and it's instantly become the most unique rock club in Brooklyn, even though it only hit the scene this summer.
Bushwick
Capacity: Hall: 675, Zone One: 250, roof: 500
Type of acts: Buzzy acts from all genres, including indie rock, pop, rap, electronic, and more.
What's great about it: Three venues in one -- a big main hall, an intimate smaller room, and a sprawling rooftop for summer concerts -- Elsewhere truly has it all. Since it opened in late 2017, the Bushwick venue has become the preeminent spot for hyped-up new bands from out of town to perform, while veteran acts further along in their careers routinely rock the main room (Jay Som and Chastity Belt, for example, are both coming up on the calendar). It's not uncommon to see two -- or even three -- shows in a single night across various stages (though you'll need separate tickets for each). During the summer, there are few places better than Elsewhere's rooftop, where DJs and various pop acts start a party just as the sun sets over Manhattan.
Bushwick
Capacity: 475
Type of acts: Soulful house and disco DJs
What's great about it: Ever wanted to dance beneath burlesque dancers flying on a trapeze? How about attend some of the most sex-positive and inclusive parties in the country? House of Yes is Saturday Night Live's Stefon character incarnate: It's the kind of place where anything -- and everything -- could happen. With a focus on theater and performance within club culture, House of Yes is the most unique music venue in NYC, one that you have to see for yourself to truly understand. Just make sure you wear a costume.
East Williamsburg
Capacity: 1,800
Type of acts: Major indie rock, pop, and rap artists
What's great about it: The massive Brooklyn Steel burst onto the scene in 2017 with a five-night LCD Soundsystem residency, which saw the Brooklyn rockers perform new music for the first time since 2010. Not a bad way to start out. Since then, the warehouse venue has seen some of the biggest names in music hit their stage, from Arctic Monkeys to Mitski. And given that the space is full of great sightlines and is one of the best-sounding rooms in the city, it won't be long before bands start releasing live albums from shows held here.
Flatbush
Capacity: 3,000
Type of acts: Major rock, pop, and rap artists who would rather play in an opera house than an arena
What's great about it: If the Kings Theatre was in Europe, you'd likely take a tour of it when you're on vacation. It's breathtakingly gorgeous, chock full of ornate gold decor and with a classic red curtain. Opened in 1929 as a Loew's movie palace, it closed in 1977 and sat vacant until it reopened it to the public in 2015 after a $95 million renovation. It was worth every penny. You will not see a show in a more beautiful venue in New York City, and maybe the whole country.
Bushwick
Capacity: 450
Type of acts: DIY punk bands and indie rock groups
What's great about it: There aren't many DIY venues left in Brooklyn -- most of them were shut down at some point over the last few years -- but Market Hotel is somehow still standing, despite shuttering its doors multiple times, most recently between 2016-2017. It's a major success story for the local punk scene (especially now that the venue has a liquor license). Market Hotel can get a bit rowdy (last year's Shame concert there is legendary), but it's also one of the most scenic rooms in Brooklyn: There's a huge window behind the stage where you can watch the J and M trains whiz by at the Myrtle Avenue stop. Occasionally, you'll even see an indie band book an underplay here, like Car Seat Headrest did in 2018.
Greenwich Village
Capacity: 60
Type of acts: Rising jazz artists
What's great about it: Smalls is a, well, small music venue. With a handful of chairs sprawled across its tiny, relatively unadorned room, you may have to wait awhile to get in, but it's well worth it. The venue has nurtured jazz's up-and-coming talents since 1994 (closing in 2002 but reopening two years later), and offers three different shows a night (7:30pm-10pm, 10:30pm-1am, 1am-4am), every night. Each show has a $20 cover charge, regardless of who is performing. Unlike other reservation-based venues in the neighborhood, it's first come, first served, so make sure you get there early. If you can't get in, don't worry -- every show is live-streamed (for free) and archived (for a fee) on their website.