A highly dangerous spider drops down on your hand while you turn off your lamp, killing you. A super-poisonous spider hides in your football helmet and bites you during drills, killing you. An EXTRA murder-y spider lays in wait on your shower curtain, or under your toilet seat, or any-fucking-where-else-'cause-they're-tiny-little-assholes before springing out at the worst possible moment and, yep, killing the shit out of you.
Those are actually scenes from the Jeff Daniels movie Arachnophobia. They were also my waking nightmares and how I imagined I would die through a large majority of my teenage years in the '90s.
Living in New York City, though, I don't encounter many spiders these days (plenty of cockroaches and rats, but as far as I know neither of those are poisonous), which led me to wonder: do spiders scare the crap out of Adult Me? To find out, I went to a preview of the Spiders Alive! exhibit -- which is returning to the American Natural History Museum from July 4th through Oct 29th.
The exhibit
It starts with us waiting outside. I'm sure they're just getting things ready, but I'm also sure this is part of some sinister plot to heighten my fear.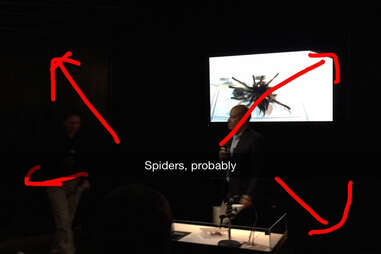 Along with about 15 other intrepid souls, we settle into a dark room for a presentation. I try to focus on some of the totally-not-terrifying points they're making, like how they have the world's largest collection of spiders at the museum, or how spiders pre-date dinosaurs, or how they live on every continent other than Antarctica.
But then, every so often, they slip in shit like this:
1. Spiders usually eat their prey by paralyzing them with their venom then regurgitating digestive juices into their bodies, that then dissolve them from the inside out. Then the spider essentially slurps them up like a slurpy.
2. While only 20 species of spiders are poisonous to humans, 40-75% of the species of spiders on the planet Earth haven't been discovered yet. Now I'm not a scientist, but I'm pretty sure that means that 100% of those could be poisonous dickheads.
None of this sets me at ease, and my attention drifts to a conspicuous container under the presentation desk (that can't be good) and to the fact that I'm in a dark room that right this very second is probably surrounded by spiders that escaped their containers and are crawling into my computer bag right now. I legitimately start to convince myself that maybe Antarctica isn't really that bad.
I was right, the container under the table ISN'T GOOD. It contains a Chilean rose hair tarantula named Jackie. I guess Shelob or Kyra The One Who Consumes were taken.
The presenter impressively keeps her cool and answers questions as The One Who Consumes fidgets and climbs the walls of her container, trying to "escape." HAHAHAHA hilarious joke, scientist.
We're invited up to look at her. I get closer to a giant spider than I am comfortable getting. I ask our charming presenter to shoot a video. And since Jackie can feel my hate towards her, she stops moving and sits there, boringly.
I'm now free to tour the rest of the exhibit. Yay?
I catch up with the funnel web grass spider, the Mexican red knee, and the Goliath bird-eater. They are horrible. I also swing by the tailless whip spider (which looks like that bug from Harry Potter that they Cruciatus Curse in Goblet of Fire), and also the giant vinegaroon, "which can spray a foul-smelling vinegar-like chemical from its abdomen if disturbed," which honestly... the fuck?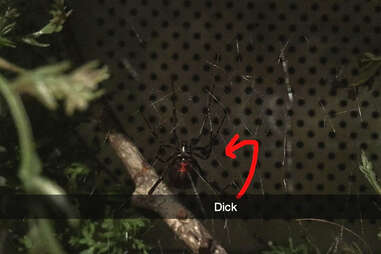 Even though I certainly don't want to run into any of those spiders, they weirdly aren't the living embodiments of my teenage terror. It's not that they aren't sources of immediate internal tension, they are. It's that they're too big, too obvious, too filled with foul-smelling vinegar. They represent none of the poisonous, creeping, assassin doom that consumed me when reaching behind the couch to plug in the vacuum cleaner.
Where are those spiders?
I corner Lorenzo Prendini, supervising curator of Spiders Alive! and curator in the Division of Invertebrate Zoology. I ask him to tell me all the terrible things about spiders and get my blood pressure up. It's all more than I care to recount here, but basically there are, reassuredly, few poisonous spiders that can crawl into my shoe when I'm not looking and kill the shit out of me. There are even fewer of these little bastards that are poisonous and aggressive. I feel moderately better. But not really.
They don't have any of the aggressive poisonous ones at the exhibit; the ones specifically mentioned by Lorenzo as among the most dangerous and aggressive include the Sydney funnel-web spider, which is one of the main reasons never to go to Australia, (and mercifully only lives in and around Sydney), and the Brazilian huntsman (which Google seems to think is called the Brazilian wandering spider), which has the added bonus of being new to me, so now I have another thing to worry about. Thanks Lorenzo.
They do have a black widow, which I've never seen up close before, and is much larger than I thought it would be. It's still small enough to climb out of my faucet and bite me while I'm wiping the steam from the mirror though.
Their poison is a neurotoxin that can spread throughout your body, causes severe pain and stiffness, and when you die from it, it's often because of asphyxia. Which, coincidentally are a couple of the symptoms I feel while pressing my phone against the glass case to get a picture. I begin to imagine every itch on my body is an eight-legged toxin delivery system. This one is a total dick.
The brown recluse is the other killer they've got here. Their poison is a cytoxin, and from what I understand, basically it just destroys your flesh. Which is also what the blood from Aliens does.
Although it's not indigenous, this is the one that's most likely to show up in the dustier, isolated corners of NYC. None of the other ones, I'm told by Lorenzo, could survive in our harsh, wintered, urban environs.
This also happens to be the one that was most terrifying to me. It flies under the radar; it kind of just looks like any ol' spider. It doesn't have any flashy branding like the black widow. It's not big like a Goliath bird-eater. It's the perfect size and color to go totally unnoticed at the bottom of a bag of Dipsy Doodles at a picnic. It's in a jar inside of a glass case, but I think I actually start to sweat being this close to it. Fuck you bro.
So, did confronting my bygone fear and hatred of spiders conjure up anything more than my own fleeting feelings of terror? Honestly, not really. I'm not a 10-year-old anymore. I live in NYC, where getting hacked with a machete or drilled by falling debris happen much more frequently than spider bites. But did confronting an age-old fear cure me of any of my John Goodman-less arachnophobia? No, no it didn't. Will I ever go back to obsessively shaking out my shoes, lifting toilet seats, and jostling lamp shades? Probably not. But will I ever move to Sydney anytime soon? No, no I won't.
Sign up here for our daily NYC email and be the first to get all the food/drink/fun New York has to offer.
Andrew Zimmer is Thrillist's NYC editor and he thinks it's cool if you're not afraid of spiders. Really, tell him how chill they are. He doesn't mind. Follow him on Twitter and Instagram.