Just because you came in first in the loser's bracket of your fantasy league does not mean you're a seasoned gambler, which is why we're here with an easy-to-follow guide on how exactly to make money at the racetrack, whether you're a beginner, a veteran, or just a really, really rich person who is bored of only hanging out on private islands.
Horse betting for beginners
Once you enter the Grandstand -- the area where everybody hangs out and gambles -- you'll need to know a few things to start tapping that bankroll and making a penny or two. Here's a basic horse-betting primer:
Since the dawn of time, the most common horse-betting increment has been $2. Sure, you can bet a crisp $100 bill, too, but we'd suggest starting with a two-spot.
If you bet the favorite (or the "chalk") every time, you'll have approximately a 33% chance of winning. Not bad odds, right?
You'll be betting in a parimutuel environment, meaning all bets of a specific type (see bet types below) are put into a pool. Winnings come out of that pool. So it's unlike poker or blackjack, where you're betting against the dreaded House. Here, you're up against other horse bettors.
Normal or "straight" horse bets come in three forms: Win - You're betting on the horse to cross the finish line first -- i.e., to win the race. Place - You're betting on the horse to come in either first or second. Show - You're betting on a horse to come in first, second, or third. NOTE: The last two bet types are the easiest way to get acquainted with playing the races. We'd suggest making a couple of these before dropping serious dough.
Horse betting is all about the odds. If you bet $2 on a horse to Win with 2-1 odds, you'll more than double your money to $6. In other words, multiply $2 x 2/1 + your $2 initial bet. Third-grade math skills go a long way in adult life.
At the track, beginners should place bets at a betting window, manned by a human being. There is a level of comfort you reach standing face-to-face with a person and reading your bet to them -- rather than using an electronic gambling machine or ADW (which we'll touch upon later).
Horse betting follows a sequence. Let's say it's the 5th race and you want to bet on horse No. 4: approach the betting window and declare to the teller, "At Aqueduct, in the 5th race, I'd like to put $2 to win on the No. 4 horse". That's how you place a bet at any track: Racetrack, Race, Dollar Amount, Bet Type, Horse Number.
Once your bet has been placed, the teller will hand you a ticket, which will have your exact bet on it -- and, like a lottery ticket, you can exchange it for cash later if your bet is "in the money". So keep it safe in your sweet fanny pack.*
*please do not wear a fanny pack, no matter how sweet.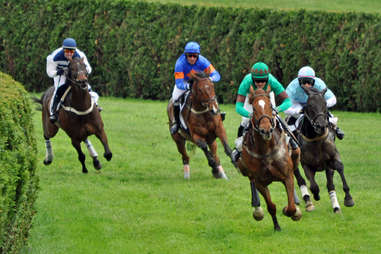 Degenerate gambling veterans
Typically, it takes awhile to get good at horse betting, so don't get down on yourself if you lose some money upfront. Being a degenerate gambler is not really about how much you make, money-wise; it's more about the thrill of the game, being a savvy operator, and beating the odds. Here's a primer for taking the leap into multi-wager or "exotic" betting:
The horse-betting veteran will be looking at just about every piece of data in a horse's past and present to try to get an edge on an upcoming race, including: the horse's trainer, its bloodline, the day's weather report, racetrack conditions, how fast the horse ran in his/her previous race, and even the equipment on the horse (those little black patches over some horse's eyes are called "blinkers" and affect its racing ability).
You will have bought the Daily Racing Form, basically the Bible of past-performance data for horses. NOTE: For an even fresher perspective, you may have also brought the day's paper, which has some local handicapping information in it. For example, the New York Daily News' horse racing analyst is Jerry Bossert. He is constantly tweeting from Aqueduct, too.
Bets can be combined in a number of ways to maximize your winnings. They cost a little bit more to place, but the payouts can be much higher, depending on the horse's odds. Here are the basics: Exacta - You pick the first two horses in order, the Win and the Place horses. Quinella - You pick the first two horses in either order. Trifecta - You pick the first three finishing horses in a row: Win, Place, and Show. Daily Double - You pick the winners of two consecutive races.
At Aqueduct, besides the normal multi-pick wagers, you have the chance of picking even more winners and getting even bigger payouts. File these under "almost impossible", but as a savvy horseplayer, it's entirely possible that you'll hit one or more of these a year, if you do your homework: Superfecta - Pick the first four horses in order; i.e., Win, Place, Show, 4th Horse. Grand Slam - Pick a horse to finish in the top three in three straight races, capped by the winner of the fourth race in the sequence.
Pick 3, Pick 4, Pick 6: These are as they sound -- pick the winners in 3, 4, and 6 consecutive races. The races are predetermined by the track, so you can't just pick any three races. Here's an example of how to bet a Pick 4 at Aqueduct using an online tool called TicketMaker.
As we mentioned above, the degenerate gambler is not fenced in by one single track -- he'll be betting at other racetracks across the country, too. These races are "simulcasted" on TV screens in specific locations in the Grandstand area. For example, if Santa Anita Park racetrack in California is racing the same day, you could potentially wager a Pick 6 there, while logging a Pick 4 at Aqueduct. Just imagine the payouts if you hit both!
How to bet like a total baller
Taking the above strategy a step further, betting like a baller should be done only if you are comfortable throwing around high-dollar amounts for all of these types of bets. It helps if you wear fur coats and tell everyone they're made of "endangered sable".
If you're going to bet like a high roller, we'd suggest using $100 increments or greater on Exactas & Trifectas, all while winking at random people and buying vodka sodas for that "model" you hired to escort you to the track.
We'd suggest paying somebody else -- ideally much shorter than you -- to make your picks -- whether it be at the teller window or via the electronic gambling machines. That way, if that much shorter person messes up, you know who to blame for your massive losses.
Some high rollers who may be betting that day at Aqueduct are doing it via an off-site ADW -- Advanced Deposit Wagering platform -- a legal way to gamble online in most states, including New York. Aqueduct's website has its own, which is called "Toteboard" and has special buy-in bonuses and promotions.
Once you're a top-notch degenerate with a bottomless payroll and tons of islands, we'd suggest entering the National Thoroughbred Racing Association's annual National Handicapping Championship. If you qualify, you could make your way to Treasure Island in Las Vegas, where you have a chance of winning upwards of $1 million, which is pretty good, even for a guy wearing an endangered sable coat.
Sign up here for our daily Thrillist email, and get your fix of the best in food/drink/fun.