The fact that frat dudes make up less than 7% of NYC's undergraduate student body, and all lack a proper frat castle, has somehow still never stopped them from raging in cramped apartments and dirty LES bars on a Saturday night.
And since I know all you do is lay awake at night, wondering which NYU fraternity is the coolest (and also because being judgy is super fun), I ranked all of the NYU frats from worst to best, considering the four pillars of Greek life -- service, brotherhood, leadership, and scholarship (this is NYU, we hang out on the 5th floor of the library like it's cool, for God's sake) -- along with a few, much more shallow criteria tossed in for fun.
10. Alpha Kappa Psi (AKPsi)
As their T-shirts ensure you know, their slogan is "AKPsi means family". But don't let that subtle nod to Lilo & Stitch fool you, this fraternity means business. HA, 'cause they're a business frat, get it? Okay. Word on the street is they have one of the most intense pledging processes in town. Hope you enjoy being woken up at 4am to deliver a surprise stock pitch, because I sure wouldn't! (This is not a joke.)
 
9. Delta Phi
I'm pretty sure this is a fake fraternity. Do they even go here?
8. Delta Lambda Phi (DLP)
The most quintessential of all the NYU fraternities, Delta Lambda Phi is (surprisingly?) NYU's only gay fraternity. Voted "most fun at brunch" by a yearbook I just made up, they've got an annual Drag Race charity event that benefits HOTT, the Health Outreach To Teens.
 
7. Delta Kappa Epsilon (DKE)
Every joke has to have a punch line. This one's is DKE. Deke is the Welcome Week frat party you thought you were, like, SO cool for going to, despite the fact that 3,000 other people were also invited to the Facebook event. They keep almost getting kicked off campus, but no one really knows (or cares?) why.
6. Sigma Phi Epsilon (SigEp)
There's something... off about SigEp, but it's not entirely obvious. There's nothing wrong with them, per se -- they're perfectly nice gentlemen. SigEp just exudes the same type of vibe that a room with bad feng shui does; something feels out of balance. In a sentence: they'd definitely hold the door for you... when you're juuuust far away enough for it to be uncomfortable.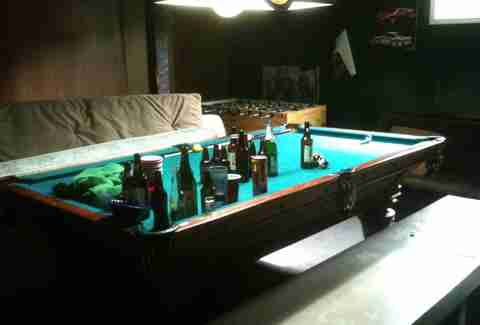 5. Phi Gamma Delta (Fiji)
You can't always see Fiji, but somehow, like the NSA, you know they're there. In lieu of actual information about this absentee parent of the fraternal world, here are some keywords that I feel like I'm supposed to associate with them:
-Small
-Sports
-Solo cup
-Uninvolved
-Close-knit
-Weird in a good way
-Party
-Basement
4. Zeta Beta Tau (ZBT)
There comes a time in every girl's life when she realizes, "hey, douchebags are not cool!", and when that fateful hour arrives, who you gonna call? ZBT. I'm not a big fan of using the word "nice" as a main way to describe someone, but these guys are NICE. And how nice are they? SOOOOOOOOOOO nice. Like, Mother Teresa nice. Like, a 75 degrees with a mild Northwest breeze nice. For some reason beyond my comprehension, college girls hate nice guys. But we won't be in college forever. Maybe they're boring now, but to be honest, thinking about raising children with any of the top three slots churns my stomach harder than the colonial woman on the wing of that plane in Bridesmaids churns butter. Maybe they don't have Pike looks, AEPi $$$, or Zeta Psi (???), but they're damn good people.
Just watch this video about ZBT's relationship with Christian, a little boy who recently passed away from cancer that they met through The Andrew McDonough B+ Foundation. See?
3. Zeta Psi
OLE-OLE-OLE-OLE. Z-PSI! Z-PSI! STOP, WE GET IT. Though Greek life at NYU is small, it's grown more over the past few years than it had over the previous decades, causing record-high numbers of guys who come out to recruitment. And all the poor, hopeful bros with visions of pledging dancing in their heads need somewhere to go when they don't get into Pike and AEPi. Enter Zeta Psi, quite the mixed bag of characters. Your "stereotypical Zete" does not exist because that would insinuate that any more than two brothers have anything in common. Similar to the North Shore High School cafeteria, this brotherhood has hotties, JV jocks, nerds, burnouts, sexually active band geeks, and maybe even some of the coolest people you'll ever meet!
Okay, that last part's an exaggeration, but in all seriousness, the top two houses should be watching their backs harder than Kanye and Jay-Z are watching the throne. These dudes actually have their act together.
2. Alpha Epsilon Pi (AEPi)
At a school lovingly dubbed "NY-Jew", it's not surprising that a Jewish fraternity would weigh in at number two on the list. Some AEPi guys are genuinely nice, and some are just painfully awkward. To be fair, I'm sure AEPi guys face a difficult reality, eternally struggling with the dilemma of needing to respect women like their Jewish mothers taught them to and wanting to hit it and quit it like their hormones demand they do. Hang in there boys.
AEPi isn't crazy-involved on campus, but they do have some shining moments, like when they FINALLY won first place at Greek Games in 2012 (the one year Pike was disqualified after a nine-year winning streak), and their annual "Rock-a-thon" where they set up camp in front of NYU freshman dorm Weinstein for 72 hours straight to raise money for their philanthropy Save A Child's Heart.
Avoid planning mixers on Shabbat and other holidays, and you could have some serious alumni connections and job offers coming your way. Or a nice Jewish husband who's gonna bring home bank. Mazel!
1. Pi Kappa Alpha (Pike)
Imagine the most douchey (and not in the good way, if there is a good way) kid you knew in high school. Now picture that kid in a room where something went horrifically wrong, resulting in him being cloned 80 times. That's Pike.
These are the kind of guys who would have played JV football for four straight years in high school. Sure, they may be the "most athletic" fraternity here, as evidenced by their almost-perfect track record when it comes to Greek Night, but keep in mind that NYU's best attempt at real sports is its DIII basketball team. To give them credit, they do kill it annually at Relay For Life, and are extremely involved in Inter-Greek activities, which is probably the main reason they beat out their closest competitor, AEPi, if only by just a sliver.
Most importantly, though, for America's gene pool: they're still hands-down the best looking frat on campus (this is the only part that any of them will remember in five minutes).
Sign up here for our daily NYC email and be the first to get all the food/drink/fun New York has to offer.
Anonymous NYU Sorority Girl is in a sorority at NYU and she likes judging and brunch, probably. You can't follow her on Twitter or Instagram because, duh, she's anonymous, but you can aggressively agree or disagree with her in the comments.