Dating in New York City is hard work. We get it. But don't make it harder than it has to be by subjecting your date -- and yourself -- to a painfully ordinary night of dinner and drinks. No matter how well you two know one another -- whether it's your first Tinder date or you've made it to the one-month mark -- the city is full of ways to actually have fun on an early-in-the-game date. We've broken down the very best options, based on what date you're on.
FIRST DATE
Get distracted at Fat Cat
West Village
On a first date, it's vital to have available distractions should the banter come to an agonizing halt. Every night of the week at this underground West Village bar you'll find live music (Latin jazz, for example) and games like foosball, ping pong, and chess -- all of which guarantee there will be zero awkward silences.
Say hi to the sea lions
Lenox Hill
Who isn't instantly won over by cute animals? Three times a day at the Central Park Zoo (11:30am, 1:30pm, and 3:30pm), visitors can watch the sea lion feedings before taking a stroll around the central gardens.
Slurp cheap oysters during happy hour
Multiple locations
While the whole aphrodisiac thing has mostly been debunked, oyster happy hour is never a bad idea (assuming your date isn't allergic to shellfish...). And the good news is, no matter what neighborhood you're in, there's bound to be a great one nearby.
Hop on an old-school merry-go-round
DUMBO
After dinner or drinks in DUMBO -- Juliana's for pizza or Gran Electrica for a tequila drink -- make your way over to Brooklyn Bridge Park to check out the beautifully restored Jane's Carousel, which is enough to conjure romance worthy of a Nicholas Sparks book.
Smell the roses at the Brooklyn Botanical Garden
Prospect Heights
During the summer, stick to the neat rows of roses or follow the crowds to the flowering cherry blossom trees. Come winter, warm up in the greenhouses or while admiring the museum-like collections of bonsais.
SECOND DATE
Let your date in on a secret
East Village
An unmarked side door next to Village Yokocho, an East Village Japanese restaurant, leads to Angel's Share -- a speakeasy-style cocktail bar and one of NYC's best worst-kept secrets. Groups larger than four are strictly prohibited, and nothing says "I like you enough for a third date" more than a dapper bartender in a tuxedo.
Take in a jazz show
Harlem
If you're looking for great music with your second-date drinks, hit up Shrine, Harlem's bodega-meets-world-music venue, which offers $3 draft beers during happy hour with live music. In addition to jazz, performances range from indie-folk to reggae, R&B, and even traditional Senegalese.
Learn a bit of drunk history
Williamsburg
Love Comedy Central's inebriated series Drunk History? This is basically that in real life. Once a month at The Bedford, the Society for the Advancement of Social Studies hosts hilarious (and totally free) lectures on a wide range of bizarre topics like German sabotage in New York City during World War I or an ill-fated American history theme park in the Bronx. Come early to grab a bottle of wine and a seat.
Dive into a hotel pool
Manhattan
You don't need to be staying at a hotel for access to the rooftop pool -- you can easily pay for a $40 day pass to La Piscine at Hotel Americano or $65 for The Beach at the Dream Hotel (among others) and pretend you're miles away from Manhattan.
Show off your sense of humor
Long Island City
There's nothing worse than bad stand-up comedy, but if you're committed to making your date laugh and want to go somewhere where it's guaranteed things won't get awkward, head to Long Island City's The Standing Room, which serves great cocktails and nightly stand-up from a mix of established acts and newbies trying out material.
Take a boat ride
Hudson River
From Pier 81, board Fish Bar -- one of the city's newest floating lounges -- for free sailing to the Statue of Liberty. Guests are encouraged to buy a dining or beverage package, though it's totally possible to board, buy a round of drinks for you and your date, and peace out when the boat docks 45 minutes later.
Go on an island getaway
Governors Island
Summertime second dates are best spent on Governors Island, which officially reopens May 1. Bring or rent bikes to enjoy the expansive network of cycling trails, plan your trip around a special event (like the annual interactive FIGMENT art installation or the Jazz Age Lawn Party), or check out the new zip-line course.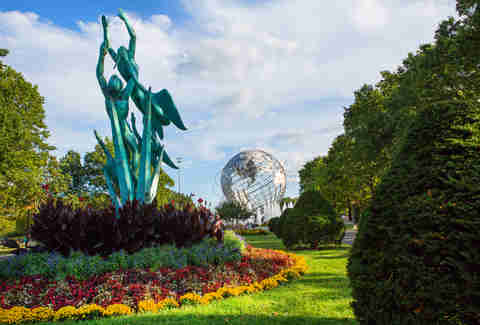 THIRD DATE
Test your trust falls
Gowanus
Start building trust early on at Brooklyn Boulders: a massive 22,000sqft converted warehouse that's now a popular rock-climbing gym and AcroYoga spot. Take a class on one of the bouldering walls and bet on who can get to the top first (loser buys the first round of drinks after at the nearby Strong Rope Brewery).
Dinner and a movie 2.0
Downtown Brooklyn
Alamo Drafthouse has super-comfortable seating (reserve seats in the first row if it's that kind of date and you want to recline) and a lengthy menu of dishes like pancetta mac & cheese and jerk chicken sandwiches. Save room for one of the throwback shakes or floats.
Get cultured at MoMA PS1
Hunters Point
On Sundays, MOMA offers its celebrated PS1 Sunday Sessions, where you and your date can experience live art performances and exhibitions without having to pretend you understand art.
Go camping (sort of)
Boerum Hill
Before you try camping under the stars together (which is a whole different level of commitment) head to Camp, a bar in Brooklyn with a hunting lodge vibe. Between rounds of Big Buck Hunter and cheap beers, you can roast s'mores over a mini-fire at your table and see how you'd actually do with the real thing.
Have a picnic
Washington Heights
Pick up a $30 lined wooden basket from Dean & Deluca and fill it with charcuterie and cheeses, crackers, and roasted nuts before heading uptown to Fort Tryon Park, where you can grab a spot overlooking the medieval-style Cloisters.
Explore old World's Fair grounds
Corona, Queens
Take the 7 train all the way to the Mets--Willets Point station. From there, it's only a 15-minute walk to Flushing Meadows Corona Park: the site of two 20th-century World's Fairs. There's something decidedly eerie about the Tent of Tomorrow and Observation Towers, but the Unisphere globe, commissioned for the 1964 fair, is the perfect backdrop for your first selfie together.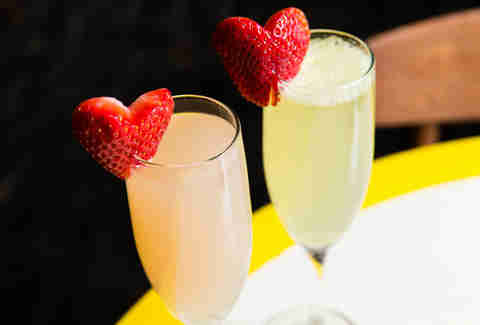 FOURTH DATE
Do a boozy brunch
Multiple locations
There's no better way to get to know someone better than over unlimited mimosas at one of the city's countless boozy brunch options.
Kayak down the Hudson
Hell's Kitchen
Kayaking is a perfect daytime activity when the weather's nice, but for an even more unique date experience, go on one of Manhattan Kayak + SUP's night tours, so you can take a look at the glittering skyline while you paddle.
Check out an urban winery
Red Hook
If you know your date is into wine, head to Red Hook Winery for a $15 flight of four Red Hook Wines. Plan for a Saturday or Sunday, when you can tag along on a free 15-minute tour at 1pm. For something more in depth, reserve a barrel tasting for $35 per person.
Score cheap seats to a show
Times Square
Be total tourists together and head to Times Square, where cheap seats go on sale at the TKTS booth. Nothing will impress your date more than 50% off major Broadway show like A Bronx Tale, Miss Saigon, and Cirque du Soleil's Paramour.
Take a day trip to Jersey City
Jersey City
Take the ferry across the Hudson to Jersey City for a full-on day trip. Stroll around historic Downtown, pop into the local shops like Iris Records, and admire the views from Liberty State Park before grabbing a carafe of roja sangria and duck confit nachos at Orale.
Gaze up at the stars
Upper West Side
Because stargazing isn't really an option in NYC, head to the American Museum of Natural History, where you can venture deep into the cosmos with 30 minutes of stargazing at the Hayden Planetarium (bonus points for narration by Neil deGrasse Tyson).
Visit a literary bar
East Village
If you've already shared your most recently read books with each other, head to the East Village's KGB Bar for a free, intimate reading over a beer -- Sunday evening brings literary fiction, while Monday is poetry night.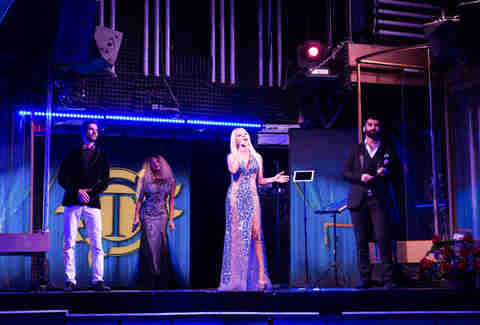 AFTER A MONTH
Escape the room together
Midtown
Work together with your date (and figure out how well you'll handle your first real fight) at Escape the Room. The interactive adventure game requires puzzle-solving and serious creativity to get out of places like an office, a Victorian home, and even a submarine.
Bake a cake together
Williamsburg
Improve your baking skills (and subtly celebrate the achievement of making it a month) by taking one of Milk Bar's Bake the Book classes. On Wednesdays and Saturdays, for $95 per person, you can learn to make the bakery's famed cakes and crack pie (and take home everything you bake!).
Sing your heart out
East Village
Or don't. At Sing Sing on St. Marks, you can watch people serenade total strangers all night long. But if you've got the vocal chords to impress, no one will stop you from belting out one of the 120,000 songs to your date. Take the mic for only $2 with a one-drink minimum.
Learn a few new positions
Garment District
Yoga positions, that is... Stretch, bend, and soar into partner poses during a session (or a week of sessions) of AcroYoga at the Om Factory. Single classes start at $25, but new students can purchase a week-long trial for $50.
Talk about sex, baby
Flatiron
The Museum of Sex -- or MoSex, as it's affectionately called -- is a strange mix of erotic and clinical. Exhibits range from sex in the animal kingdom to nearly 20,000 artifacts (vintage condoms, erotic sculptures) and will, at the very least, strike up some interesting conversation.
Hang out with other people's pups
Park Slope
Mission Dolores is a former tire shop-turned-dog-friendly spot with plenty of outdoor seating, classic board games, and excellent craft beers. If you're itching to meet each other's friends, it's the perfect place to convene with all of your friends (and their pets).
Take in a Russian supper club
Brighton Beach
Part authentic Russian dinner, part raging nightclub, Tatiana in Brighton Beach is a dying breed -- think bottles of Russian vodka, endless food, burlesque, magic acts, and belly dancing.
Sign up here for our daily NYC email and be the first to get all the food/drink/fun New York has to offer.