Discovering something new in NYC is one of the best things about living here, unless of course it's in your apartment, and it's moving. Everything else, though -- from supper clubs and speakeasies, to secret subway stuff and sex clubs -- is pretty damn magical. Here's the best of it that's worth checking out in 2015.
The NYC secret bar primer
This year, we thought it was time to revisit a few of the bars around town that are above, below, or behind something that makes them generally less-than-easy to locate. Here's our beginner's guide to all the secret bars in NYC... READ MORE
21 New York City secrets you didn't know existed
There are always a billion cool things to see in New York City, and as a sophisticated reader of Thrillist, you know about 900 million of them. Still, there are a few city secrets that even the most seasoned New Yorker might not know about... READ MORE
There's a secret door to a sex club in my NYC apartment building
"I've walked by it a thousand times -- a nondescript "door" in the middle of my apartment building's lobby with no knob and no real reason to be there. And I know what you're thinking -- it probably goes to the Super's office or a maintenance room. Because that's what I thought. Instead though, it leads into a darkly lit, decades-old swingers club..." READ MORE
5 places to find secret late-night ramen in NYC
Keeping a secret in this city is next to impossible, but not all the way impossible, thanks to these five after-hours ramen operations that stay hush-hush-hush by only being open crazy-late at night... and only in other people's restaurants, and only until the broth runs out (so, 2am or 3am)... READ MORE
21 Brooklyn secrets you didn't know existed
Turns out, there's more in Brooklyn's secrets bag than just those warehouse parties your cool friend took you to once. We actually found 21 totally awesome ones: everything from hidden rooms inside the Brooklyn Bridge to -- DUDE THERE ARE HIDDEN ROOMS INSIDE THE BROOKLYN BRIDGE... READ MORE
Artisanal donut shop opens up in a car wash
Dirty cars and donut cravings finally have something in common: the Westside Highway Car Wash... READ MORE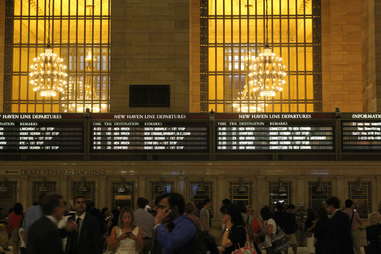 11 secrets of Grand Central
You've been to Grand Central, whether it's to visit the new Apple Store, eat at the iconic Oyster Bar, grab an awesome brew at the Beer Table Pantry, or, you know, actually commute somewhere. Turns out, there's a lot more hiding under those vaulted ceilings... READ MORE
NYC's 8 most badass supper clubs: an insider's guide to scoring a seat
Everyone loves to be in on a secret, especially when that secret involves the Ya-Ya Sisterhood. Or NYC supper clubs. But mostly the Sisterhood one. Navigating the murky, hidden, and clandestine waters of underground dining can be a real challenge for the uninitiated, so we collaborated with Mike Lee from the always awesome Studiofeast Supper Club to handpick the most badass ones in NYC, and then tell you how to get into every single one... READ MORE
Sign up here for our daily NYC email and be the first to get all the food/drink/fun New York has to offer.
Andrew Zimmer is Thrillist's NYC Editor and obviously he is absolutely horrible at keeping a secret. Follow him on Twitter and Instagram.