The Best Movies That Capture What It Means to Be a New Yorker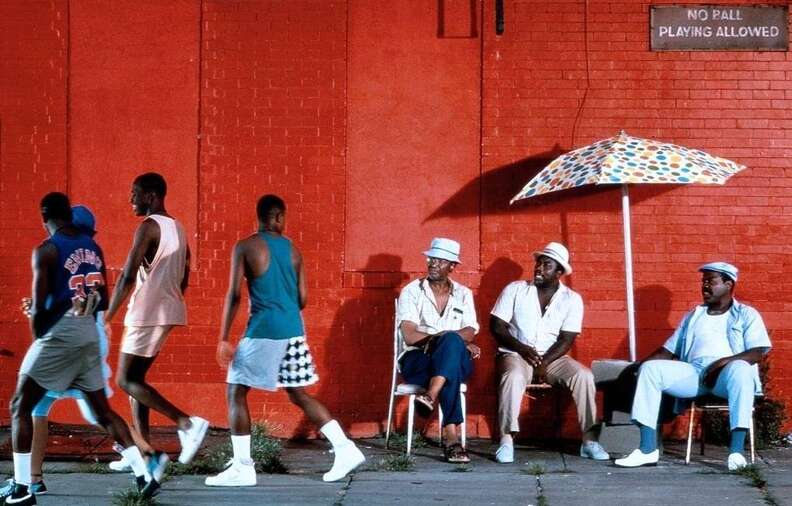 Do The Right Thing

| Universal Pictures
Do The Right Thing

| Universal Pictures
The best New York movies offer a type of travel: to subcultures most won't have access to, or to versions of the city that no longer exist (or never did). In a Bed-Stuy pizza parlor in Do the Right Thing, or at Katz's Deli in When Harry Met Sally, moviegoers can experience versions of Gotham that exist beyond the shimmering lights and throngs of tourists in Times Square. For locals in particular, New York City cinema offers an opportunity to see the everyday peaks and valleys of trying to make it here, writ large.
These films enable us to commiserate, to feel a little less alone, and, at their very best, remind us of all the things there are to love about the five boroughs. We've compiled a few of our favorites, including the classic, the goofy, and the downright strange. There are thousands of great movies set in New York, and this a list of just 10, so try not to freak out if your favorite Woody Allen flick isn't here. (Spoiler: It isn't.)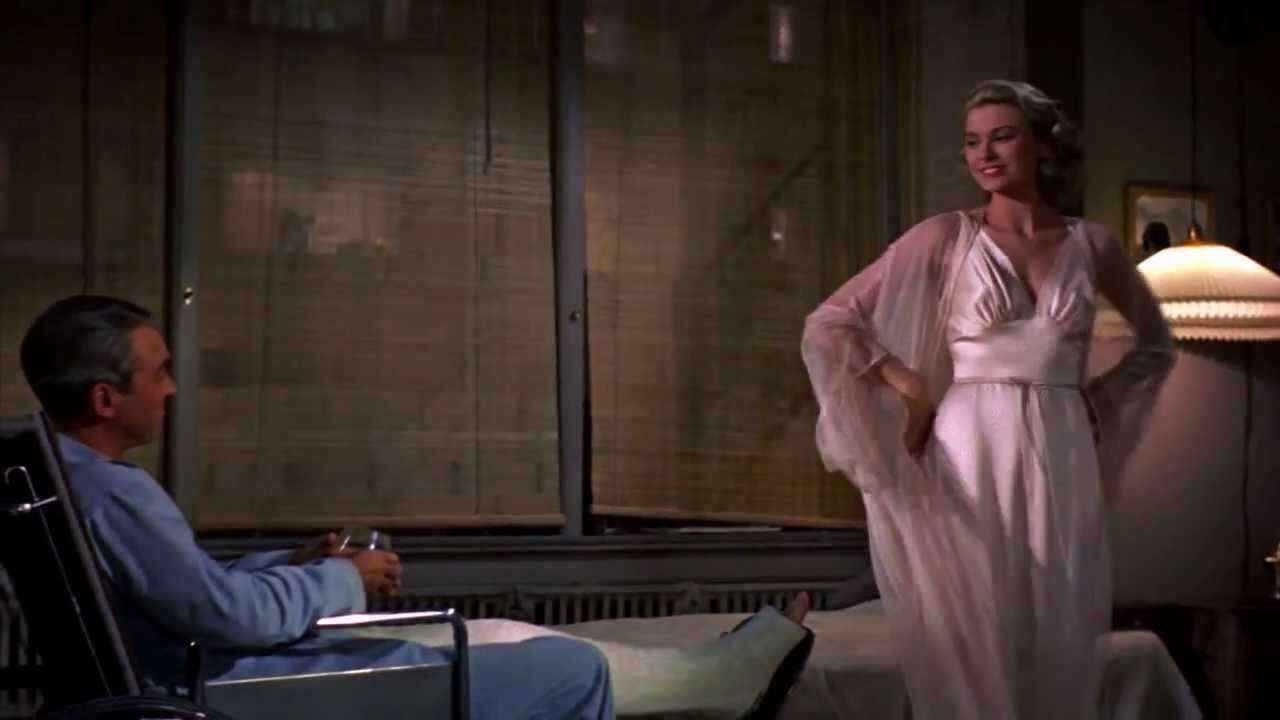 Rear Window (1954)
The hero of this Alfred Hitchcock classic never actually sets foot on the NYC streets. Jimmy Stewart's photojournalist (Jeff) has suffered a broken leg, and finds himself homebound in his Greenwich Village apartment. While recovering, he has little else to do than observe his neighbors through a back window -- essentially spying on struggling pianist, a voluptuous dancer, and a man Jeff believes to have murdered his own wife.
Though most New Yorkers won't witness a murder from their apartment, the film captures a much more mundane, but inescapable element of life in New York: the sense of constant immersion in the intimate lives of strangers, while remaining in relative isolation. Background car horns, birds, and kids playing were all filmed live -- lending an authentic quality that betrays Rear Window's LA soundstage shooting location.
Available for streaming on: Amazon Video, YouTube, Google Play, iTunes, free for Starz subscribers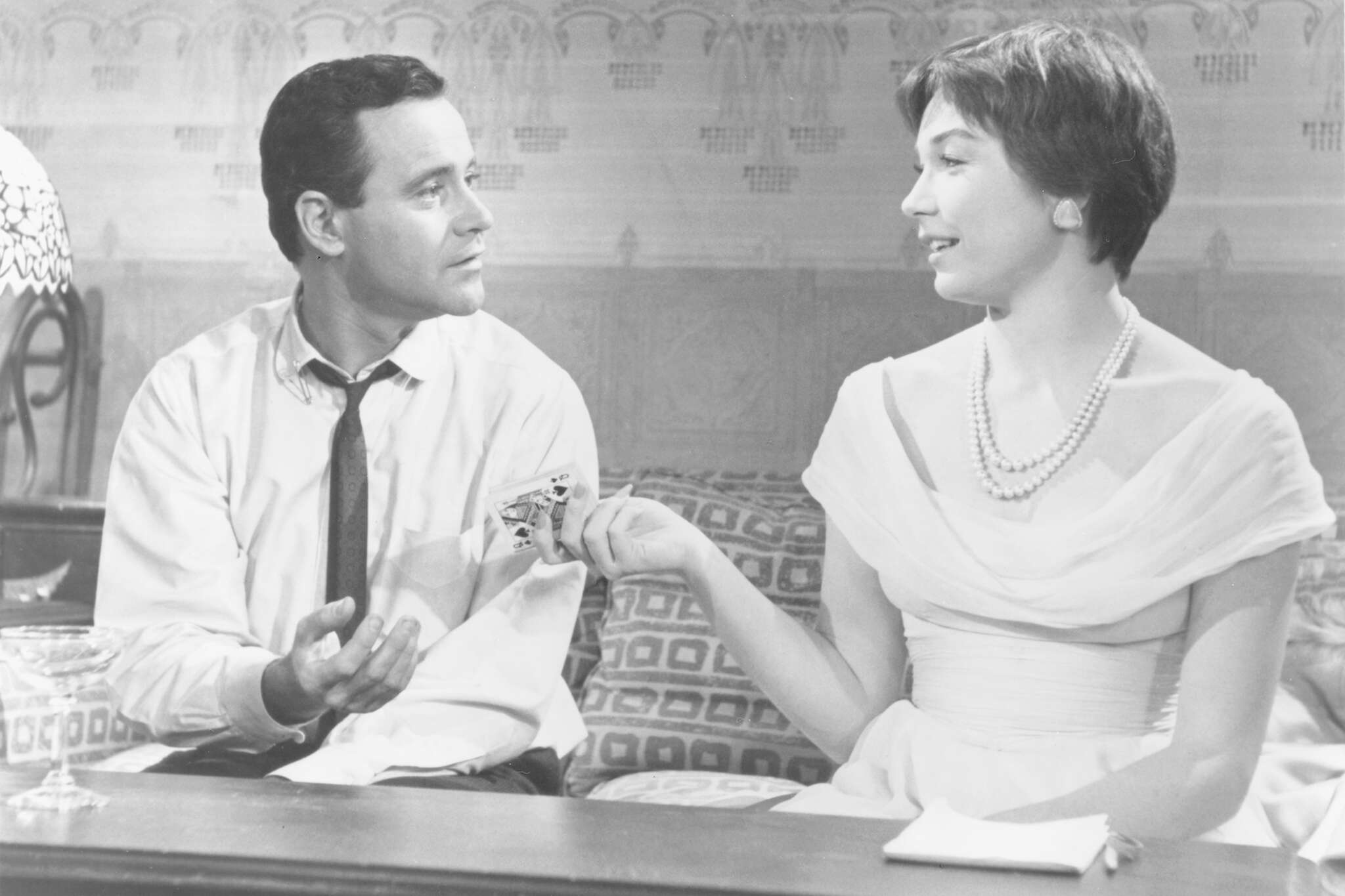 The Apartment (1960)
"On November 1, 1959, the population of New York city was 8,042,783. If you laid all these people end to end, figuring an average height of five feet, 6.5 inches, it would reach from Times Square to the outskirts of Karachi, Pakistan."
The camera sweeps over late 1950s New York City as Jack Lemmon says the first line in Billy Wilder's The Apartment. Lemmon's Buddy is an insurance company dreg. His life revolves around numbers, repetition, and a sense of anonymity. In a futile effort to get ahead, he pimps out his apartment to company executives to use for their affairs. Meanwhile, he starts to fall in love with a waif-like elevator operator, played by Shirley MacLaine, who is having an affair with one of the execs.
Many of the early laughs rely on the usual screwball comedy of the era, but when MacLaine tries to kill herself in Buddy's apartment, the story takes on a darker, richer narrative about loneliness, love, and the connections forged by strangers in the big city.
Available for streaming on: Amazon, Google Play, iTunes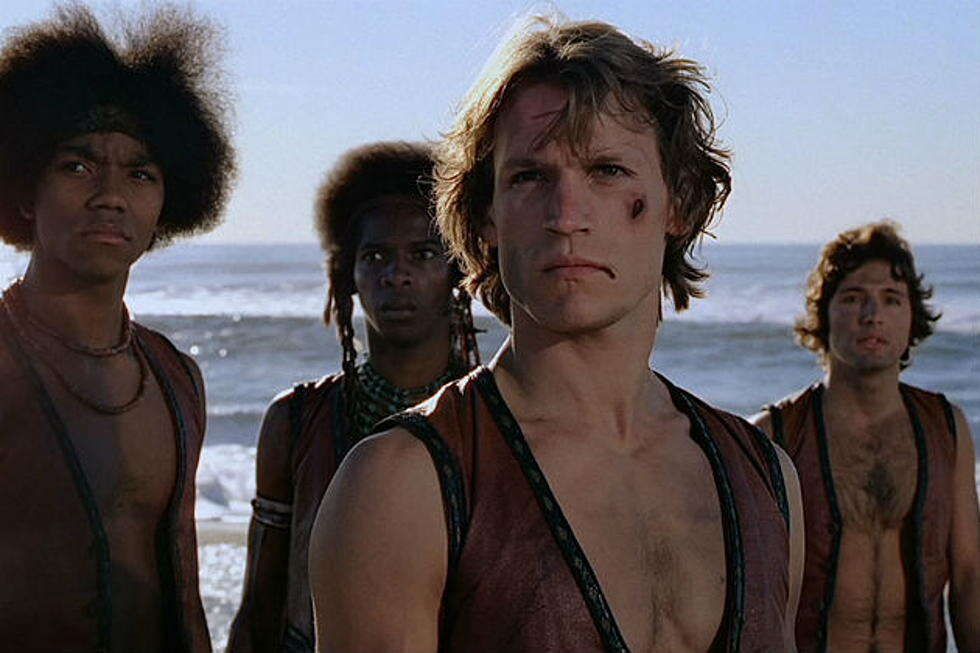 The Warriors (1979)
"Can you dig it?!" Hundreds of New York gangs converge in the Bronx to sign a truce brokered by the most powerful gang leader in the city. But when he's assassinated and Coney Island group The Warriors is framed for his death, they have to make it back to Brooklyn all while dodging both cops and rival gangs (the latter group resembling RuPaul's Drag Race softball teams). The movie was considered so violent that politicians blamed its influence for a spate of vandalism and homicides following its release.
Despite its flamboyant edge and some very late '70s vibes, much of The Warriors still reads like your stuffy relatives' worst fears about the big, bad city. The vision it paints of New York is one of anarchy: complete with showdowns under bridges, switchblades tucked into waistbands, and villains driving a graffitied hearse. The cult classic blows these fears up to caricature size proportions, poking fun at the paranoia that some outsiders project onto New York life.
Available for streaming on: Amazon, YouTube, Google Play, iTunes, free for Starz subscribers
Muppets Take Manhattan (1984)
The Muppets, Joan Rivers, and Liza Minnelli are all trying to make it on Broadway. The Muppet gang -- Kermit, Ms. Piggy, Cookie Monster, and Rizzo -- attempt to move their stage act from a college town to the Big Apple, encountering all manner of obstacles and crooked producers along the way.
Amid all the fun of watching the Muppets explore tourist-packed Midtown (with a giddy enthusiasm no real New Yorker still has for that hellscape), the most relatable line goes to Gonzo, when the gang spends the night sleeping inside the lockers of a bus station. It could just as easily be applied to any number of shoebox apartments scattered across New York City. "It's great -- much better than that cement mixer I used to live in," he says.
Available for streaming on: Amazon, YouTube, Google Play
Moonstruck (1987)
Moonstruck follows widow Loretta Castorini, played by Cher's heavy "Brooklyn" accent, as she navigates her burgeoning feelings for her new fiancé's one-armed brother, played by Nicolas Cage. Loretta lives humbly in a small apartment, rarely taking risks until she meets Cage's character Ronnie, who loves opera and romance.
The movie's crowning moment is when Cage and Cher hit the Met Opera clad in a dapper tux and a gorgeous strapless gown. Every other scene is a loving ode to New York's old ethnic neighborhoods, but this moment of glamour deftly captures a sort of parallel reality in New York City -- the glitz that exists only a subway ride away, but is inaccessible to most working-class people, save for brief glimpses. As the crystal chandeliers dim in the opera house, and the music swells, and Cher's eyes water, yours will, too.
Available for streaming on: Amazon, iTunes, YouTube, Google Play
When Harry Met Sally (1989)
New York City-centered romantic comedies abound, but few have launched quite so many clichés as When Harry Met Sally. The Nora Ephron film famed for reigniting the debate about whether men and women can be friends, as well as that iconic fake orgasm scene at Katz's Deli. A peerless number of scenes simply show a sun setting over New York landmarks while soft jazz plays in the background.
That fake orgasm moment may be the most frequently quoted scene from the film, but a more relatable, anachronistic moment involves the late, great Carrie Fisher as the archetypal best friend. Fisher and Ryan are having lunch in Central Park, bemoaning their singlehood. Fisher takes out a Rolodex and starts flipping through it, commenting on each man in an attempt to find Meg Ryan a date in the pre-Tinder days. While Rolodexes might be a thing of the past, the camaraderie forged by friends while trying to find love and balancing all of the other demands of the daily grind is certainly something that resonates with today's New Yorker on the dating scene.
Available for streaming on: Amazon, iTunes, YouTube, and Google Play
Do the Right Thing (1989)
Do the Right Thing remains eerily prescient nearly 30 years after its release. The story follows a handful of locals as racial tensions boil over in a Brooklyn neighborhood on a sweltering hot, summer day. What starts as an argument in a pizza shop ends in riots, police brutality, and death. The film, shot in Bed-Stuy, is a tense reflection about who has the right to space in New York City. The story casts an eye on the problems of gentrification and racial tensions that have also characterized the narrative of this city — even if that's a story that doesn't always make it into film. "Do the Right Thing still holds up a mirror to our society, and it makes us laugh and think, and challenges all of us to see ourselves in one another," former President Barack Obama said of the film that he saw on his first date with Michelle Obama.
The movie has a quieter side, too, depicting aspects of New York City community that shape daily life. It looks at the role of mom and pop shops in neighborhood communities, the shared desperation of collectively trying to beat the heat with a popped fire hydrant, and the way pizza shops can become de facto town squares. Part of what makes living in New York unique is having these meeting points between often isolated existences, the comfort in sharing a conversation on a stoop or over a slice.
Available for streaming on: YouTube, Google Play, iTunes
Devil Wears Prada (2006)
Anyone who has ever had a truly terrible boss has likely watched this movie at some point with great glee. The central struggle might not be the most noble -- college-educated girl comes to the city to make it big in her chosen field -- but that very narrative has brought thousands upon thousands of similarly annoying Anne Hathaway-types and their terrible friends to Manhattan.
Meryl Streep is a treasure as a thinly veiled stand-in for Vogue Editor-in-Chief Anna Wintour (herself a New York City institution), a woman who can make anyone cry with a single click of the tongue. Her performance alone could inspire even the most beleaguered fashion intern to stick it out another week.
Available for streaming on: Amazon, YouTube, Google Play, iTunes, free for HBO subscribers
Frances Ha (2012)
A black-and-white mumblecore movie starring Greta Gerwig as a struggling dancer, Frances Ha is a love story between two best friends. Unlike so many films about young women coming to New York, romance is never the central theme, and it focuses instead on the intense relationship between Frances and her best friend Sophie. In one fight, Frances screams: "I fucking held your head while you cried. I bought special milk for you. I know where you hide your pills. Don't treat me like a three-hour brunch friend!"
The protagonists' struggle to get by in New York is neither glamorous nor dire. Instead, it examines the specific angst of being in your 20s, feeling like you need to get your shit together, and just not seeming to be able to. Frances' saga to find and keep an apartment is the thread of this strife throughout. In the final scene, she adds her name to the buzzer of her very own apartment -- a milestone moment for many New Yorkers. The story told through apartments -- weirdo roommates, illegal studios, maybe one day scoring a place with on-site laundry -- mimics the stages of making it in NYC.
Available for streaming on: Netflix, YouTube, Google Play, iTunes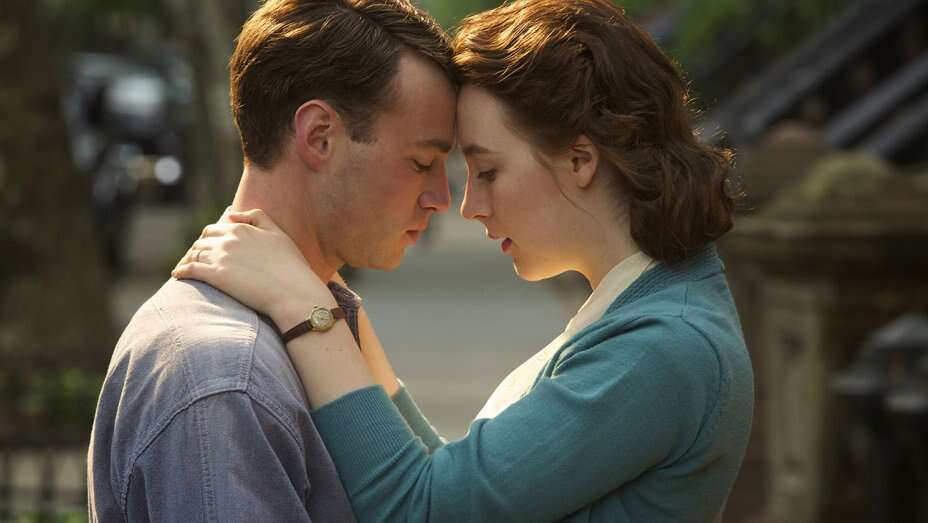 Brooklyn (2015)
Brooklyn is part of a long, cinematic canon of stories about who gets to make it in New York City, and what life is like for some of the millions of people who have immigrated here over the past couple hundred years. The film follows Ellis Lacey, a young woman who leaves her native Ireland in search of a better in life in New York City in the 1950s. Living in a boarding house and working at a department store, all while suffering from crippling homesickness, she meets a young Italian-American named Tony at a dance.
Their romance faces trials over cultural differences (yes, this was a thing between Irish and Italians at the time), as well as the constant tug from her homeland. It's a poignant love story, but also one about how New York City becomes a type of chosen family for so many people -- a new homeland.
Available for streaming on: Google Play, iTunes
Sign up here for our daily NYC email and be the first to get all the food/drink/fun New York has to offer.