The best New York City lists that we didn't write in 2014
This might surprise you, but we like lists. But what we like even more than lists are lists OF OTHER LISTS. So we made one of those: here's a rundown of our favorite New York lists that we didn't write in 2014 -- some useful, some interesting, and some BOTH. SON.
 
New York Times
Lest you think listing is below the denizens of the Grey Lady's ivory towers, it's not -- first of all, they've been doing it since 1976, and second, they actually had a couple of good ones this year. But this was our favorite, because we like a good glass of wine, they call out some of our favorite restaurants, and we love a good surprise (unless it involves a clown -- then we hate it).
Grub Street
See, if we had written this it would have just said "Everywhere", but theirs is probably a much more tactful approach.
 
First We Feast
We like this whole series actually, but we like this one because portions of it could theoretically be turned into a pretty outstanding food crawl. Also, bonus mention for the too-long-to-be-a-list-but-still-great guide to where Patrick Bateman would probably eat in 2014.
Frances F Denny
Eater
We're pretty much always raving about how much we love burgers here, and this is a great compilation of where to get those funky, meaty, dry-aged versions of them that hold a very special place in our beating-slower-than-normal hearts.
 
Zagat
We're on board with all these up-and-comers, plus, a few years ago we went to the 30 Under 30 party and played Champagne beer pong with Eddie Huang, and he has a TV show based off of his life now.
Punch
We're not sure why "my apartment while watching True Detective repeats" wasn't on this list, but otherwise it's got some damn solid spots to imbibe vino.
 
Supercompressor
Our brother site has built a pretty great list of apps to make sure you pretty much don't have to do anything for yourself ever again. Click it, then sit back and watch the clean laundry roll in.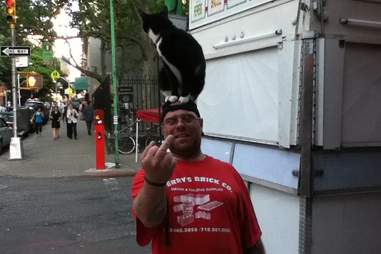 David Blend
Brooklyn Magazine
One magazine perfectly takes down BuzzFeed's article in this incredible list, and trust us when we say you're not going to believe number 59 (you will believe number 59).
 
BuzzFeed
On the other hand, sometimes it's okay to read BuzzFeed.
Tasting Table
Doesn't it seem like you or someone you love has a birthday almost every week? This can be a helpful point of reference for that next party.
 
BrickUnderground
Paying a fee is dumb and seemingly crazy, especially for the tiny closets we're all living in, so these guys rounded up some sites to help us get around that.
Immaculate Infatuation
Plenty of chefs and celebrities out there are probably dicks off screen, but Fieiri is actually a decent dude who will feed you nachos if you meet him in person. Probably.
 
New York Observer
We didn't realize we would be this curious to know that Jasper Johns is worth $300 million or enraged to know that T. Swift made almost $40 million last year, but we were.
Kyle Johnson
Time Out NY
We still like this list despite the fact that it somewhat egregiously left off our go-tos: "Un-Break My Heart" and the "Humpty Dance".
 
The New Yorker
This is the man that wrote classics like "Six movies in which Burt Reynolds went off-script to kiss someone" and "Thirteen geniuses who are actually stupid idiots". Bow down.
Sign up here for our daily NYC email and be the first to get all the food/drink/fun New York has to offer.
Andrew Zimmer is Thrillst's NYC Editor and the top two ways you can follow him on social media are Instagram and Twitter.