Before you turn your attention toward pumpkin spice lattes, leaf peeping, apple cider donuts, and ever-heavier sweaters, savor these last few warm days and spend them doing something awesome outdoors, like sailing on Long Island, air ballooning over the Finger Lakes, or surfing waves and sipping wines in Newport. Here're 10 end-of-summer weekend roadies, ordered from the closest to the farthest.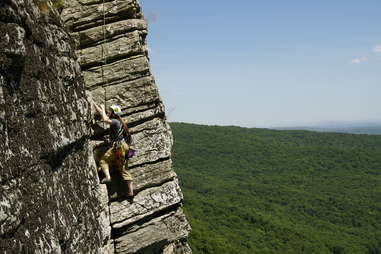 Rock climbing in New Paltz
Do your best 127 Hours impersonation (minus the having to cut off the limb thing) by booking a rock climbing trip to the Gunks, an hour and a half North of NYC. When you're done scaling the side of a mountain and taking in the rewarding views at the top, slow your heartbeat at newly opened restaurant The Huguenot with their NY cheddar and smoked & caramelized onion-topped house ground burger, or Rock & Rye with a classic Sazerac. And you can always make it an overnighter with a stay at the Mohonk Mountain House, which, with paddle boarding, hiking, disc golf, and lawn games, is pretty much just summer camp for adults.
Get there: Take the Adirondack Trailways bus or drive 1.5 hours to New Paltz.
Getting romantic in Kent
If you look beyond the polo matches of Greenwich and Frank Pepe pizza in New Haven, there's a beautiful little village in the Northwest hills of Litchfield County that's worth getting all romantic in. This is off-the-beaten-path at its best: hike a waterfall in Kent Falls State Park, dine on some PBR-steamed mussels on the patio at Gifford's, and lounge by the pool and cozy up by the fire at the Inn at Kent Falls. Time it right and you might be able to grab a pint of farmhouse ale at soon-to-open Kent Falls Brewing Company, otherwise it may mean a return trip is in store.
Get there: You can take Metro-North to Harlem Valley-Wingdale, which is just 15 minutes from the Inn at Kent Falls, but we'd recommend you have a car in order to best explore the area. The drive from NYC to the village of Kent takes approximately 1 hour and 40 minutes.
Unplugging in the Hudson Valley
It takes approximately five seconds for Kinderhook, a 1200-acre working farm and animal sanctuary, to make up for all the crazy in your life. There's no Wi-Fi (#latergram), no TV, and the closest thing to a bar is a donkey named Ginny. This is the real deal. You'll embrace the unplugged world by collecting eggs, napping in the hammock, hiking through woods and mooing pastures, playing croquet, swimming in secluded streams, and cooking fresh food from the well-stocked fridge in your cozy barn. After the best kind of long day, you'll toast marshmallows around the fire pit, stargaze, and forget that there're such things as emails, until you come back and have to answer approx. 20,000 of them.
Get there: A 2.5-hour drive or 2.5-hour Amtrak trip up to Hudson station, then a 15-minute taxi ride to the farm.
Catching dinner in the Catskills
Wade into the West Kill creek in the backyard of the Spruceton Inn, where you'll have just one thing on your mind: dinner. As you toss the line hypnotically back and forth, hunting for brook trout (assuming you've got your one-day $10 fishing permit and some direction), you'll experience a sense of peace that most New Yorkers dream about but seldom experience. After you've picked up snacks, drinks, and dessert at the Inn's bar and canteen, slap your catch onto a Weber grill and try to save room for s'mores.
Get there: Drive 2.5 hours or take Adirondack Trailways to Phoenicia, then call owner Casey at the Inn to coordinate your arrival from there.
Smooth sailing on Long Island
A few months from now, when you're cold all the time, you'll be happy you memory banked some time with Little Dutch Sailing Charters, a brand-new operation out of East Hampton that'll accommodate up to six people and whisk them away to places as near as Shelter Island and Gardiners Bay and as far as Block Island and Martha's Vineyard. Missy Mellor, a US Coast Guard captain, stands at the helm of the beautiful Whitby 42 from June through October and knows how to ensure a good time -- that is, if you like a BYOB policy, grilling in your swim trunks, and permission to jump overboard whenever you darn well please.
Get there: Ride the LIRR or Hampton Jitney 3 hours to East Hampton. Take a 10-minute taxi to Three Mile Harbor where the boat is docked. The Whitby 42 can also pick up passengers in Sag Harbor, Greenport, Shelter Island, and Montauk.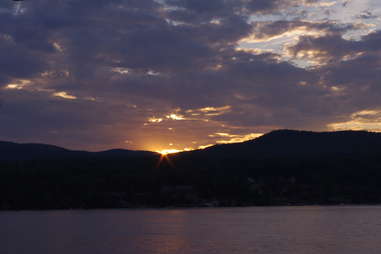 Camping on Lake George
While this might be the best time to plan a camping trip to Lake George, home to 395 islands and countless ways to enjoy a memorable late-summer adventure, you actually have until mid-October to book a site. The weather is ideal in September though -- boat traffic and tents have dwindled and the leaves are a mix of green, orange, and red. Rent a canoe at Bolton's Landing then set out paddling with your camping gear for a woodsy waterfront spot among The Narrows. If you've already woken up to crickets, crows, and a rippling tide this season, book a room at the luxurious Sagamore Resort on Bolton's Landing instead.
Get there: Drive 3.5 hours to Bolton's Landing. If you're staying at the Sagamore, take a 4-hour Amtrak trip to Fort Edward station, roughly 10 miles South of Lake George. For pickup, call the resort's transportation line at 518.743.6018 at least two days prior to arrival.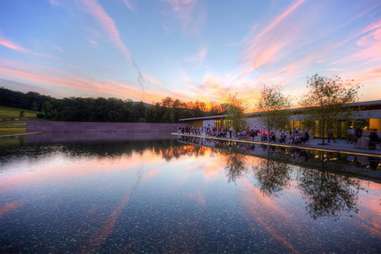 Exhaling in the Berkshires
Whether harnessing your chi at the Kripalu Center for Yoga and Health, swinging tree-to-tree at just-opened Ramblewild, or hiking on a free Housatonic Heritage tour, visiting the Berkshires is all about taking a deep breath and letting it out. The region may be an old stomping ground for many urbanites seeking a country respite, but there's some worthy fresh fare and new lairs to hit up throughout the region like Pleasant & Main, Six Depot Roastery & Café, and Housie Market. Don't head home without 1) finding yourself in the middle of 140 lush acres at The Clark Art Institute in Williamstown, which recently finished a major expansion that feels like no other place you've ever been, and 2) swinging by Ye Olde Forge for some amazing beers and what might legit be the best wings ever.
Get there: Rent a car and drive the 3-4 hours or take the Peter Pan bus ride, which lasts less than 4 hours and drops passengers off at various points throughout the Berkshires, including in front of the historic Red Lion Inn in Stockbridge.
Unwinding in Newport
Nowhere in the Northeast quite epitomizes summer like Newport, Rhode Island. The beaches, seafood, and surfing are top notch, and September means more locals and fewer tourists (even during the 9th annual Newport Mansions Wine & Food Festival on September 19-21). Stroll along the popular Cliff Walk, ride waves at Easton's Beach, and bite into one last lobster roll -- or make that two when you order the "Famous Twin Lobster Rolls" with boardwalk fries, all for $11.95 -- at Easton's Beach Snack Bar. Stay at the reasonably priced 1830s Yankee Peddler Inn or the new boutique hotel The Attwater.
Get there: Drive 3.5 hours, or take the Bonanza Bus to Providence from Port Authority or an Amtrak train from Penn Station. Once in Providence, hop RIPTA's #60 bus from Kennedy Plaza towards Newport. Get off after about a 1.5-hour ride at the last stop at Newport Gateway Center on America's Cup Ave.
Floating in the Finger Lakes
With full-on Netflix marathon hibernation on the horizon, there are only so many days left to get pushed by warm winds inside the thrilling cocoon of an air balloon. Into October, the Chalet of Canandaigua will prepare your picnic and the balloon company will set up on the hotel's front lawn so you don't have to lift a finger to lift off. You'll skim the water, hover over trees, and soar several thousand feet above vineyards and lakes. Be it a morning or evening flight at $250 a person, the clouds are a fine place to close out summer.
Get there: Drive 5.5 hours or take a 6-hour Shortline or Greyhound bus to Geneva, then a 30-minute taxi to the Chalet.
Distillery Districting in Toronto
Toronto may occasionally be overshadowed by the city of festivals to the Northeast, but this transit-friendly town on the tip of Lake Ontario puts food on a pedestal and you in a sated state of mind. Besides Toronto's Little Italy, Little India, Little Portugal, and two Chinatowns, markets like St. Lawrence are a grand affair here. Local blogger Karen Kwan of Health & Swellness suggests a visit to the Evergreen Brick Works Farmers' Market on Saturday mornings and taking breakfast along on the surrounding hiking trails. For a taste of the Toronto sun any day of the week, there's Sugar Beach, HTO Park, and Centre Island for a picnic and bike ride or, according to Kwan, you can head to the historic Distillery District, which doesn't actually have a ton of distilleries, but does have great spots to eat and drink, including the patio at El Catrin Destileria or one of the many other open-air restaurants in this hot new neighborhood. And if a self-guided culinary tour doesn't make you fall for TO, Nuit Blanche (October 4) or a subway bar crawl will.
Get there: A 7.5-hour drive or take a 1.5-hour nonstop flight from NYC.
Sign up here for our daily NYC email and be the first to get all the food/drink/fun New York has to offer.
Lauren Matison is the co-founder and editor of offMetro.com. She thinks the secret to a happy life has something to do with biking, books, and baking fruit tarts. Follow her on Twitter.