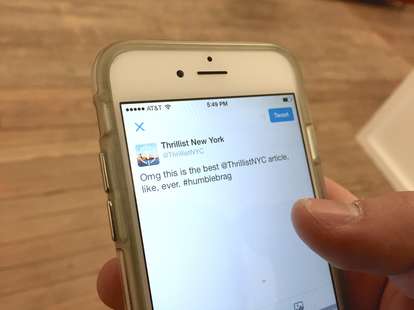 Thrillist
Thrillist
Your Snapchat is stocked with Meow Parlour stories. Your Instagram is filled with a million pictures of things covered in snow. And your Twitter? Well, what it lacks in pretty pictures and cats, it more than makes up for in words. Funny, interesting, sexy words. ESPECIALLY if you're talking about one of these 42 accounts. #Takealook. #Hashtag.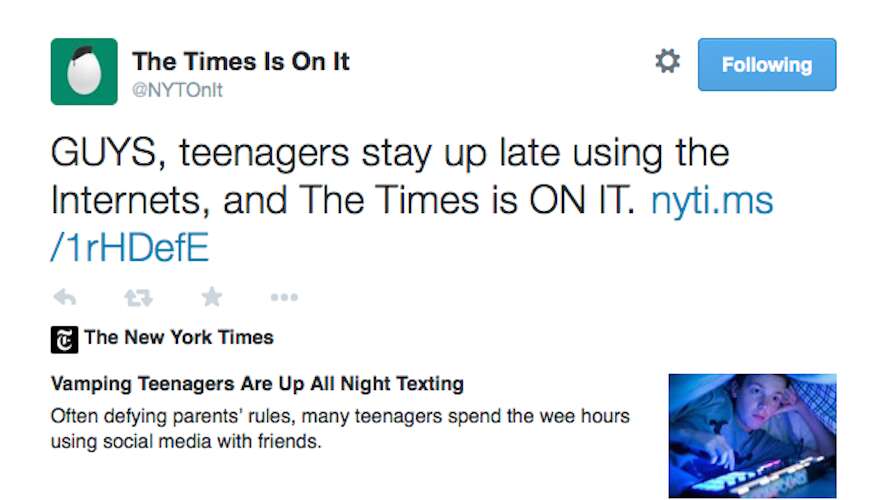 This parody account hits the New York Times where it hurts, which is apparently coverage of 13- to 19-year-olds.

The cobra who escaped from the Bronx Zoo in 2009 is alive, well, and still using Twitter.

The Times' restaurant critic Pete Wells isn't afraid to tell us how he really feels about key lime pies that taste like crumbled dry kitchen sponges on Twitter.

No East Village neighborhood news is too small to report for the EV Grieve.

What do out-of-towners talk about in the privacy of their yellow cabs?
If you aren't following a street art parodist, revered for slapping Tom Hanks' head on Banksy's well known sketches, you're doing it wrong.

For those who want nothing more than to live vicariously through every dog owner in Manhattan, this dog-photo-documentary Twitter account is here for you.

Andy Borowitz is a humor writer for The New Yorker who just barely has more followers than you (500,000+).

Alex Stupak, king of the Empellón restaurant empire, is also king of completely calling NY eaters out on their crap.
For when you want to know why you're train is actually delayed.

Yeah, it's boring, but waiting for a delayed train that's never coming is much boring-er.

This parody biker-advocate account was made famous when the Manhattan DA, while investigating the Brooklyn Bridge flag incident, subpoenaed their account.

Chris writes for SNL, Broad City, The Onion, and Funny or Die. In short, he's hilarious. In long, still hilarious.
She's got three restaurants, two Michelin stars, one cookbook/memoir, and zero filter when it comes to #spongebob.

Keep up to date on the publishing industry with @GalleyCat. You know, so you can sound smart and stuff.

Nick Carr worked as a movie location scout in NYC, and now he awesomely documents anything and everything in New York on his Twitter.

You may know her as Hillary Clinton, or Miley Cyrus, or Snow White. But you definitely know her from Saturday Night Live.

Derek is editor-at-large of Harper's Bazaar, Vmagazine, and VMAN. That's a lot of Vs. Random #Oscars fact: this year's best supporting actresses have a combined 25 nominations. Which isn't THAT impressive since 19 are Meryl's.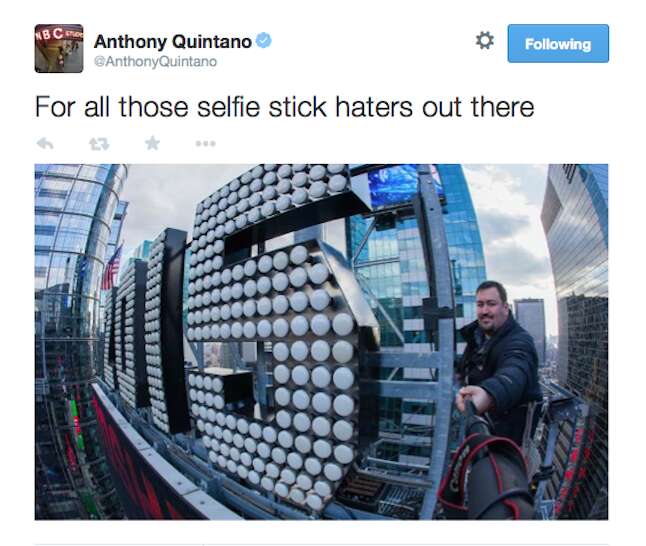 Anthony is capturing some of the best photos in NYC. Period. Per. Iod.

An expert in comedy writing with a slew of books to show for it. And his Twitter handle has the word "sacks" in it.

Director of social for Fallon Tonight, Marina keeps the promos to a minimum and the hilarious NYC musings to a maximum.

Sal works at UCB AND is a producer for Late Night with Seth Meyers. Win-win... -win-win-win-win.
No introduction necessary.

Ditto.

Jerry and Kramer are still alive. And they live at this Twitter account.

Julia Moskin is a New York Times dining reporter. If you're not sure where to eat tonight, check her last Tweet.

It doesn't produce a whole lot of its own content, but does a great job of linking you up to the World Wide New York City Web.
If you're hungry, do yourself a favor and don't look at this Twitter. No dude. Don't. DON'T.

Because you know everything that goes on in NYC at all times. And you just follow this Twitter to confirm all of it...

Pat is a news anchor at NY1/ hero.

Kate Hendricks nails her satirical character -- the privileged, WASPy woman.

His identity may have been exposed, but GS Elevator Gossip is still going strong.
A lot of cool stuff happens at Milk Studios. This Twitter account is proof.

When something major happens on Wall Street, "Downtown" Josh Brown, CEO of Ritholtz Wealth Management, is Tweeting about it.

Two million followers. Geez.

Lawrence Schlossman is the editor-in-chief of Four Pins, an online men's fashion magazine that's apparently only marginally active on Pinterest.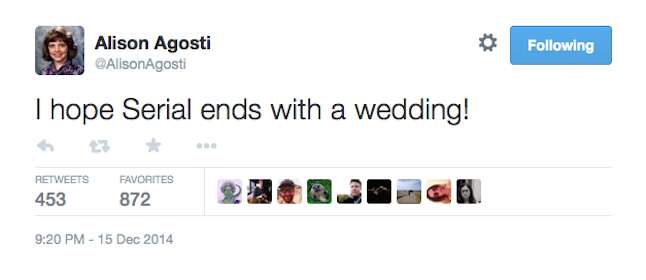 A writer on Late Night with Seth Meyers and all-around hilarious Brooklynite.

If you're into the Yankees you're gonna also want to be into Sweeny Murti's Twitter.

About to hang out with a Mets fan? Ugh, I'm sorry. Read Newsday reporter Marc Carig's Twitter. It'll at least make the time go faster.
"Sarcastic, narcissistic, materialistic, voyeuristic."

Anna is a freelance writer for Cosmopolitan. She Tweets about sex a lot. It's great.

Author of every cookbook ever and keeping us updated on foodie drama. Also: Tweets far less about sex.
Sign up here for our daily NYC email and be the first to get all the food/drink/fun New York has to offer.
Rebecca Dolan is an Editorial Intern at Thrillist. She likes Twitter, but sometimes finds it hard to express herself in 140 characters or le