As Ned Stark's (spoiler alert!) ghost will no doubt tell you in season 15 of Game of Thrones, "Spring is coming." To help you adequately prepare for a season that's frankly much, much better than Winter, we went to the future, did the 12 funnest things you could possibly do during Springtime, and came back to tell you exactly what they are.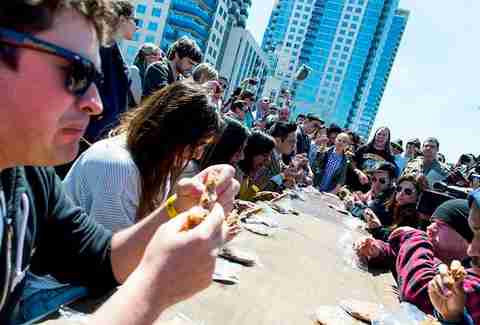 What: Go to the NYC Hot Sauce Expo
When: March 29th & 30th
Where: Penn Plaza Pavilion
Melt your face off like that one nazi in Raiders of the Lost Ark, by tasting a ton of the hottest sauces around, then cool off with some beer and a Bloody Mary competition.
What: Watch March Madness (and the NIT!)
When: April 1st-3rd
Where: Pennsylvania 6
Camp out at Pennsylvania 6 and watch the tournament on their massive screens, then switch modes and just head on over to MSG, and watch the NIT live.

What: Do a rooftop bar crawl or do a ferry bar crawl -- your choice!
When: The second it gets nice enough
Where: Crow's Nest / East River ferry
Go from the East River to the Hudson without ever leaving the skyline, or just hop on the East River ferry and ride it to glory... and a crazy, day-drinking, Brazilian dance party.
What: Tribeca Film Festival
When: April 16th-27th
Where: Bow Tie Cinemas in Chelsea (and other location around the city)
You can bone up on your film knowledge and then check out, like, a billion movies in between trying to find Bobby De Niro to ask if you can milk him.

What: Five Boro Craft Beer Fest
When: April 25th
Where: Studio Square
Unleash your inner-beer geek and have him run wild all over the place, at this beer garden event with unlimited tastings, eats to soak it all up, and live music.
What: Sneak a flask into the NY Botanical Garden and enjoy some nature at the Orchid Show
When: Through April 21st
Where: NY Botanical Garden
You can also do this without a flask, because nature's majesty is intoxicating and beautiful... but then again, so is a nice whiskey.
What: Warm up the grills on the Brooklyn waterfront
When: When the sun is out and the grilling-mood strikes
Where: Brooklyn Bridge Park
You should definitely know that these grills right on the waterfront exist and are open to the public, because they're amazing and make not being able to get away for the weekend much better.
What: Manhattan Cocktail Classic
When: May 9-13th
Where: New York Public LIbrary (and bars all over the city)
Dress to the nines and head out to the opening party at the New York Public Library, then spend the rest of the weekend drinking in bars and claiming that you're celebrating "cocktail culture".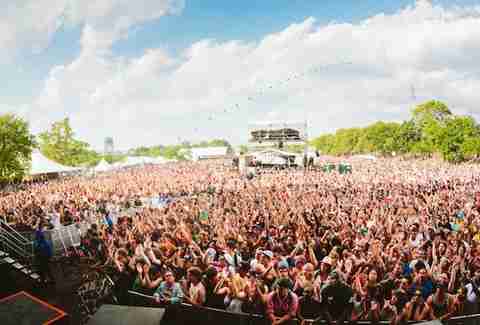 What: Go to Governors Ball
When: June 6th-8th
Where: Randall's Island Park
Pray there isn't knee-deep mud this year, and enjoy Outkast, Vampire Weekend, and Jack White.
What: Get everything on the menu at Stephen Starr's new Mexican spot
When: Opens in April, so anytime after that
Where: El Vez
The top-notch Philly Mexican joint from the guy who brought us Morimoto and Buddakan is finally making its way here. Now if only he could also give us LeSean McCoy...
What: Big Apple BBQ Block Party
When: June 7th-8th
Where: Madison Square Park
The pinnacle of the recent boom in smoked meats, impress all the aficionados there with your vast smoked meat knowledge (or just stuff your damn face with everything and not talk to anyone... either way it's a win).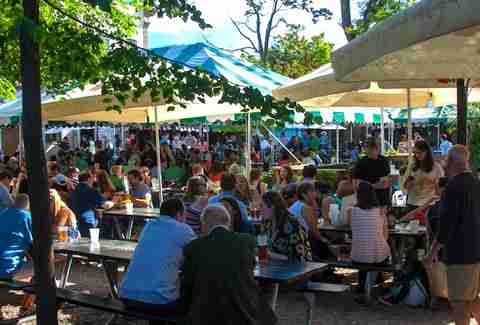 What: Kick-off the World Cup
When: June 16th
Where: Bohemian Beer Hall in Astoria
If you watch soccer in a European-style beer garden, you immediately understand soccer 96% better. It's a scientific fact.
Andrew Zimmer is Thrillist's New York Editor and loves Spring break even more than James Franco and Vanessa Hudgens combined. Follow him on Twitter and Instagram.