Between long work days, small living quarters, and the general crippling anxiety and stress that comes with living in New York City, getting away for the weekend is completely essential. Especially when you can spend it drinking local wine, going on waterfall hikes, biking to seafood shacks, and roasting marshmallows like you're in a campy '80s movie. To help you accomplish just that, we've broken down 12 perfect weekend getaways from NYC, all accessible within five hours by public transport or car.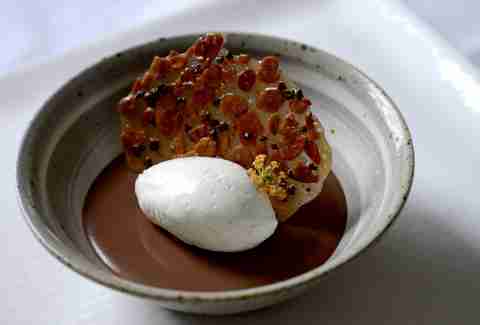 Best Food Getaway: Hudson, New York
With tons of destination eateries and boutique hotels like The Hudson Milliner and The Barlow, this riverfront city rivals any restaurant row in the five boroughs. Upon arrival, go for brunch in the lush garden at Red Dot, then walk off that mussels mariniere and frites at all the galleries and vintage shops along Warren Street. After that, stop by café-motorcycle shop Moto Coffee Machine and bring an iced latte to Basilica Hudson -- an art and performance space where something's always happening.
 
You've got several options for dinner. Hip farm-to-table spot Swoon Kitchenbar offers fresh seafood like pan-roasted salmon and oysters on the half shell, while Wm Farmer & Sons has cozy sidewalk seating and a creative cocktail program of reinvented classics and carefully considered whiskey flights. 2016 James Beard award winner Zak Pelaccio's Fish & Game is also worth a visit, with a regularly changing à la carte menu featuring dishes like venison saddle and wood oven-roasted snails.
By public transit: Take Amtrak from Penn Station and get off at Hudson in two hours. Main Street is within walking distance of the station.
By car: Two-and-a-half hours
Best Outdoor Getaway: Harriman State Park, New York
There's plenty of great hiking to do near NYC, but Harriman State Park -- the second-largest state park in New York with over 47,000 acres and more than 200 miles of hiking trails -- has it all. There are waterfalls, expansive views from atop Long Mountain, hammock-friendly trees by the lake, and few, if any, passersby to interrupt the peace and quiet.
For accommodations, choose between a cabin at the Harriman Outdoor Center, setting up camp at the park's rustic Sebago Cabins, or booking the Adirondack Mountain Club's Camp Nawakwa, then hike the 4.5-mile Pine Meadow Trail that skirts an inviting lake decorated with "no swimming" signs that everyone ignores.
By public transit: Take NJ Transit's Port Jervis Line out of Penn Station to Tuxedo in two hours. The 42-seat Harriman shuttle bus transports hikers from the Tuxedo train station to the trailheads for $5, and stops at a local farmers market and deli on Saturdays.
By car: One hour, 15 minutes
Most Affordable Getaway: Catskills, New York
A popular '60s retreat (hello, Dirty Dancing), the Catskills has experienced something of a summer renaissance over the last few years, while still remaining in reach of budget travelers. Though it'll cost you just $35 to get to Phoenicia on the bus from Midtown, your best bet is to rent a car so you can make the most of your time in the Catskills. There are countless hip and affordable hotels to stay in, including Graham & Co (from $125 on off-peak nights) in Phoenicia; Spruceton Inn (from $179 when booked two weeks in advance at publication time) in West Kill; Kate's Lazy Meadow (from $249 during peak weekends) in Mount Tremper; and Getaway (two-person cabins start at $199) in Catskill. Once you're there, fly-fish, roast marshmallows, and tube Esopus Creek like Swayze would want you to.
For sustenance in Phoenicia, opt for the thin-crust wood-fired pies at old-school neighborhood joint Brio's Pizzeria or cornmeal waffles at the Phoenicia Diner -- both of which will give you all the fuel you need to climb the highest peak in the Catskills (nearby Slide Mountain). In Bethel, home of the 1969 Woodstock Festival, start things off with a plate of fried chicken at The Dancing Cat Saloon, then walk next door to the Catskill Distilling Company to sip The Most Righteous Bourbon while looking out at a Storm King Art Center-inspired landscape.
 
By public transit: From Port Authority, ride the Adirondack Trailways bus for three hours to the center of Phoenicia.
By car: Two hours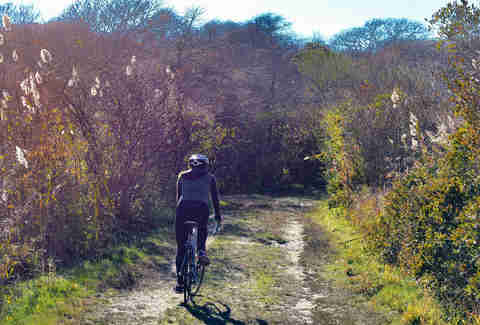 Best Bike Getaway: Montauk, New York
Board a morning train with your two wheels (remember to bring that $5 lifetime bike permit) and get off at the Westhampton station. From there, pedal about 45 miles along waterfront roads, through the Hamptons and out to Ruschmeyer's hotel in Montauk, where you'll drop your backpack, change into a bathing suit, and cruise eight minutes to the 82-year-old Duryea's Lobster Deck for a big, buttery lobster roll.
Next, take a dip at Ditch Plains Beach and grab a Driftwood Ale at nearby Montauk Brewing. Reward a long, calorie-burning day with an Applewood-smoked bacon and an egg-topped burger and fries at The Gig Shack, conveniently located around the corner.
 
By public transit: Ride the LIRR from Penn Station two hours to the Westhampton station, where you'll start your two-wheeled trip.
By car: Two hours
Best Beach Getaway: Newport, Rhode Island
The waves in this quintessential New England maritime town are clean, the seafood's fresh, and the beaches are uncrowded. After paddling out at either Easton's Beach or Sachuest Town Beach (known locally as First and Second Beach), dry off with a plate of fried clams at Flo's Clam Shack, explore Fort Adams State Park, visit the Tennis Hall of Fame, experience Newport's Gilded Age along the Cliff Walk, and grab a burger at Mission.
 
Newport has a variety of accommodations year-round, whether you want to splurge at Castle Hill Inn, unwind at the design-driven Gilded, or enjoy the affordable 300-year-old charm of The Clarkeston. Take home a bit of the Rhode Island seaside by picking up a bottle of Newport Sea Salt Co.'s hand-harvested sea salt from the Newport History Museum shop.
 
By public transit: Take a Peter Pan bus from Port Authority or an Amtrak train from Penn Station to Providence for about three hours. Once in Providence, ride the Seastreak Ferry one hour to Newport.
By car: Three-and-a-half hours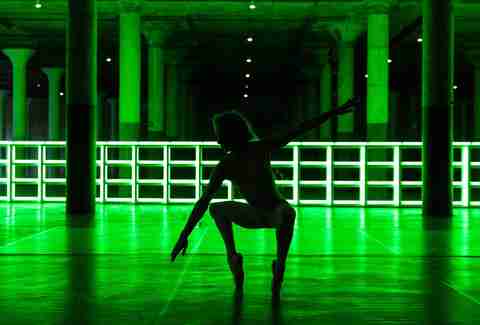 Best Cultural Getaway: Beacon, New York
Once an old factory town, Beacon has completely remade itself into both an art and food destination. Though it's just an 80-minute rail ride up the Hudson River, boutique newcomers like the Inn & Spa at Beacon and the Beacon Hotel make it worthy of an overnight stay (if you're into hammocking on a rooftop garden and waking up to views of Mount Beacon, that is).
On Main Street, fuel a day of gallery-hopping -- or refuel if you hiked nearby Breakneck Ridge -- with a cold brew from café-cum-gallery Bank Square Coffeehouse, a donut from Glazed Over Donuts, or a bacon, egg & cheese from Mr. V's Deli. Between visits to the myriad galleries, quirky independent shops, and hand-blown glass studios like Niche Modern and Hudson Beach Glass, pause at the Hudson Valley Brewery for a crowler (32-ounces in a can) of Hudson Valley Pirouette: a sour IPA brewed on-site.
Leave a few hours (and plenty of phone storage space for impromptu photo shoots) for Dia:Beacon, a 300,000 square foot former Nabisco factory that houses a collection of monumental contemporary works Like Richard Serra's Torqued Ellipses, Dan Flavin's light installations, and Sol LeWitt's Isometric wall drawings. 
For dinner, opt for Roundhouse Beacon, where you'll find yourself in front of floor-to-ceiling views of Beacon Falls while dining on charcuterie, cast iron octopus, and duck breast. Afterward, head to Denning's Point Distillery, for the $5 tour and tasting of three different spirits, or try a refreshing cocktail at the bar -- and make sure to bring home a bottle of the award-winning Beacon bourbon made from New York-farmed grains.
By public transit: Take an 80-minute Metro-North ride on the Croton-Harlem line to Beacon Station. It's a five-minute walk to Dia:Beacon and 10 minutes from the hotel and Main Street.
By car: One hour, 45 minutes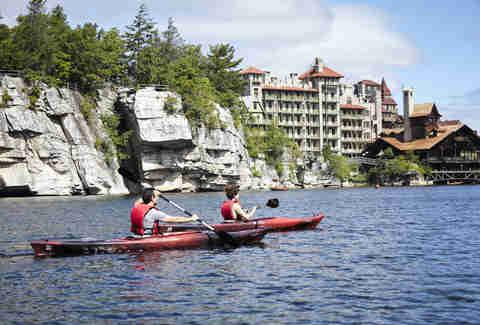 Best Family Getaway: Mohonk Mountain House, New York
Perched on a cliff in New Paltz, the grand Mohonk Mountain House is a 150-year-old, all-inclusive resort for adults and kids. Throughout the 1,325-acre property, you'll find tennis, golf, yoga, a spa, an indoor pool, boating on the lake and 85 miles of hiking trails -- all easily accessible with a complimentary hotel ride from the nearby bus station.
 
By public transit: Ride the Greyhound bus to New Paltz station in one hour and 35 minutes or take Metro-North two hours to Poughkeepsie.
By car: Two hours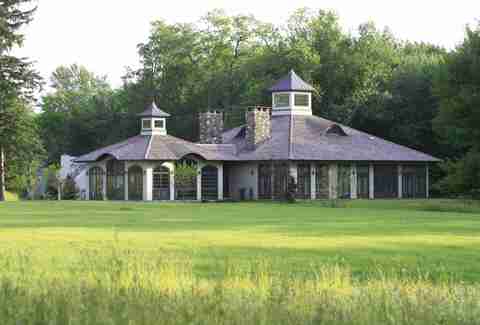 Most Luxurious Getaway: Winvian Farm, Connecticut
As you pass through the white gates of Winvian, revel in the feeling that you've done something right in your life. The resort sprawls over 113 acres, where 18 designer cottages include a 35 foot-tall treehouse, a "secret society" temple, and a multi-level stable.
Activities include garden education and cooking classes, complimentary bicycles, spa treatments, swimming in a 40-foot pool, and seasonal feasts at The Restaurant. All of the cottages are completely unique, but equally outlandish -- you can even sleep inside a fully restored 890-square-foot 1968 Sikorsky Sea King Pelican helicopter once used by the Coast Guard.
The hotel can also arrange off-site diversions like horseback riding, hot-air ballooning, clay shooting, and river tubing, and the 4,000-acre private White Memorial Nature Preserve is an eight-minute drive up the road for those looking to do a relaxed hike.
By car (your best option): Two hours. The resort is also directly accessible via helicopter, if you're feeling particularly lavish.
Most Underrated Getaway: North Fork, New York
Kick off your weekend in the Napa Valley of the East Coast (there are at least 60 vineyards!) with a glass of stainless steel-fermented chardonnay at Sherwood House Vineyards, then move farther East to Lieb Cellars -- tucked away on Oregon Road -- for Bridge Lane rosé and bucolic views. Get a grown-up grilled cheese at the North Fork Food Truck and take it to Nassau Point, a beautiful spit of sand (unknown even among locals) in Cutchogue. Next, head to the new Greenport Brewing outpost in Peconic for live music, a pint, and fish tacos. Be sure to stock up on fresh produce at Sang Lee Farms, 8 Hands Farm, and Country View Farm Stand before heading home.
 
The best North Fork experience is had on a whim, be it by car, or with Dan's Bike Rental, which will meet you at the train station with a bike -- but a four-hour chauffeured outing with the East End Wine Tasting Tours is your best bet for pre-planned fun.
 
By public transit: Board the Hampton Jitney for a three-hour ride or the LIRR from Penn Station to Mattituck in two hours and 40 minutes.
By car: Two hours
Best College Town Getaway: Hanover, New Hampshire
Ivy League towns don't get better than Dartmouth's home of Hanover, New Hampshire with its stunning green backdrop, great local food scene, vibrant art collections, and old-fashioned Main Street -- where you can even start hiking the Appalachian Trail.
Check into the Hanover Inn, which overlooks the Dartmouth Green, and consider your options: grab a six-pack of Smuttynose and a sandwich from Umpleby's and lounge in the grass; kayak on the Connecticut River; visit the Hood Museum of Art; or simply roam the charming Downtown and regal campus. No matter how you spend the day, you're starting with "The Big Green" platter of French toast, two eggs, cob-smoked bacon, sausage, home fries, and a muffin at Lou's (a local breakfast tradition since 1947), having dinner at celebrated farm-to-table restaurant Pine, and nightcapping (pregaming?) at Murphy's on the Green.
By public transit: Dartmouth Coach departs East 42nd between Lexington and Third Avenue and drops passengers off next to the Hanover Inn in under five hours.
By car: Four hours
Best Romantic Getaway: Finger Lakes, New York
If North Fork wine country isn't enough of a far-flung weekend destination, consider a trip upstate. The Finger Lakes region is known for its 11 lakes, beautiful rolling farmland, quaint towns, and outdoor adventure -- but its vineyards are the main draw.
 
Drink Thirsty Owl Wine Company's riesling along the Cayuga Lake Wine Trail, sip the sauvignon blanc at Fulkerson Winery, or tap into the burgeoning brewery scene -- Climbing Bines on the Seneca Lake Loop beer trail offers 10 tastings and Frisbee golf. Break up all the boozing with an outdoor activity: a visit to Watkins Glen State Park with its 19 waterfalls, a bike ride along the lakes, a Canandaigua Lady cruise, or a visit to the newly expanded Corning Museum of Glass. For lunch, settle on Red Newt Bistro's patio with beautiful country views, gourmet grilled cheeses, and a riesling flight, then enjoy whichever romantic package you've booked at Mirbeau Inn & Spa.
 
By public transit: Take the ShortLine bus from New York to Elmira for five hours.
By car: Four hours
Best Mountain Getaway: Hunter, New York
Hunter may be primarily known as a popular ski destination, but there's plenty to do off the slopes, like hiking to Kaaterskill Falls, mountain biking, and flying over 50 mph on the longest and highest zip line in North America. Check in to the ultra-modern Scribner's Lodge, a 38-room former 1960s motor lodge that offers 270-degree deck views of the Catskill Mountains, an outdoor fire pit, and a mountain concierge for all your adventure needs. Prospect, the hotel's on-site restaurant, offers sharable Alpine-inspired and Hudson Valley-foraged dishes. In nearby Tannersville, get the blueberry pancakes at Maggie's Krooked Café and Mama's Boy Burgers' grass-fed cheeseburger.
By public transit: Take Adirondack Trailways bus from Port Authority to Tannersville for three hours, then a five-minute cab ride to the lodge.
By car: Two-and-a-half hours
Sign up here for our daily NYC email and be the first to get all the food/drink/fun New York has to offer.