This article reveals minor details about the first episodes of Better Call Saul and major spoilers if you haven't already seen Breaking Bad, though at this point you really should have.
Remember that scene in Season 4 of Breaking Bad where Gus mercilessly slits Victor's throat with a box cutter, both because Victor was a liability and because of his sheer frustration that his plan to replace Walt with Gale is totally screwed up by Jesse shooting Gale in the face? You don't? THEN JESUS CHRIST STOP READING THIS. Seriously, if we're going to enjoy our time together here (and we probably will), it's going to first require that you go watch Breaking Bad -- which, if you haven't, you should.
We'll wait.
...
Annnnnnnd we're back! Okay, so in case you hadn't heard/didn't read the headline above, there's a Breaking Bad spinoff that's about to be a thing. It's called Better Call Saul, and obviously focuses on Walter White's shady-but-not-altogether-lacking-a-conscience-maybe lawyer Saul Goodman.
If you watched Breaking Bad (which you totally did, like, two paragraphs ago, remember?), you're gonna watch this, you know you are, and you're gonna be praying this thing is more A Different World, and less Saved by the Bell: The College Years. Well, pray no more, we got early access to the first three episodes, and huzzah, they were totally Bob Golic-free. Here's a mostly spoiler-free (warning: we give away some minor background) primer on everything you need to know about Better Call Saul before you start super-obsessively watching it: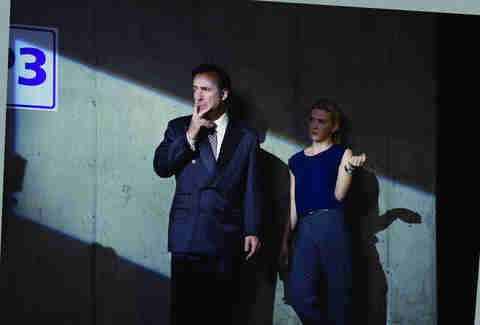 It's set in 2002
Which means it's a prequel, which means Saul isn't Saul yet (he goes by his real name, Jimmy McGill, and he's a public defender), which means Saul's fix-it man Mike isn't Saul's fix-it man Mike yet (he's a former Philly cop-turned-parking attendant at the courthouse Saul works at), which means this. Show. Is. Awesome. Every character Walt murders in Breaking Bad? Totally alive again.
But it's not entirely set in 2002
Oh, you were hoping for a flash-forward to see what happened to Saul post-Heisenberg? Well, lucky you. There's one in THE FIRST EPISODE.
 
There's a scene in the second episode where someone pulls out a box cutter
And a million more just like it, scenes that bring back brain-melting memories from Breaking Bad, where your heart will suddenly start to pound out of your chest in anticipation of someone getting shot or blown up or stabbed to death with a box cutter and then BAM, they use the thing to just cut some rope. Breaking Bad sets the entire Better Call Saul series on an edge it doesn't yet have, and it's fantastic.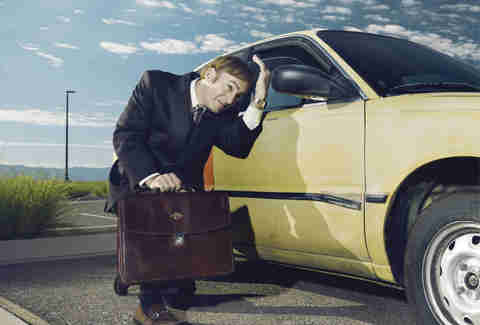 But don't worry, it's still violent
Not Landry from Friday Night Lights shooting a little kid on a bike or Walt letting Jane choke to death on her own vomit violent, but still, legs get snapped in half, people get impaled with canes -- it's got the same half-flinch violence that drew you to its predecessor, without the OHMYGODINEEDTOVOMIT sensations.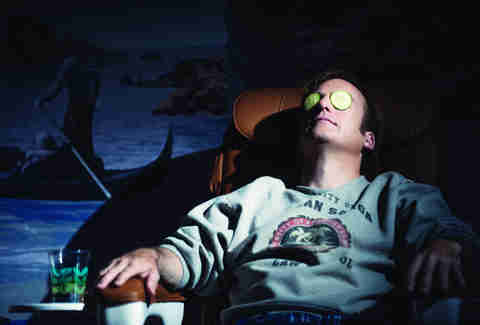 Saul (Jimmy?) is shady, but not THAT shady
Not yet anyway, which is kind of the early beauty of the series: knowing that eventually Jimmy will turn into Saul. That at some point the public defense lawyer, who's broke and trying to make a buck without crossing any lines that are too thickly drawn in the proverbial conscience sand, will turn into the American Samoa-educated, money-laundering, low-budget-TV-commercial-making judicial arm of the criminal underworld. Granted, it's not a huge leap -- he poses as a British secretary and an FBI agent, and isn't above scamming his way to landing a case -- but there's still a pretty sizable divide between this Saul and our Saul.
 
Just because Jimmy isn't Saul yet, doesn't mean he doesn't talk like him
Describing a fancy boat parked in someone's driveway: "It's like a stripper pole in a mosque."
It premieres February 8th and 9th (two-night special!!!)
10/9pm Central.
Sign up here for our daily NYC email and be the first to get all the food/drink/fun New York has to offer.
Grant Marek is a Senior Editor at Thrillist and will be doing episode recaps for Better Call Saul all... season... long. Or Saved by the Bell: The College Years ones. Whichever you guys prefer. Follow him on Twitter: @grant_marek.